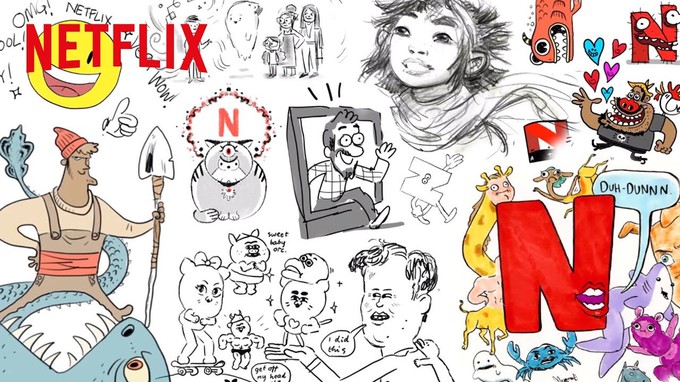 Hola Dannie aqui,
Today Netflix release a trailer/advertisement entitled "Drawing" promoting the wide range of animated projects they have lined up to be released and those already nestled in their net. The video features talents like Glen Keane (animator "The Little Mermaid," "Beauty and the Beast," and Netflix's upcoming "Over The Moon"), Jorge R. Gutierrez (animator "El Tigre," "Book of Life," and Netflix's upcoming "Maya and the Three"), Shion Takeuchi (writer "Gravity Falls" and Netflix's "Disenchantment"), Alex Hirsch (writer "Gravity Falls," and "Fish Hooks"), James Baxter (animation director "The Lion King," "Beauty and the Beast," and "Kung Fu Panda"), and many many others singing the praises of Netflix. The creators all cheering the new creative freedom allowed while working with the streaming titan.
Here is the trailer/ad/thing.

Netflix gave no real discription of what this video was, all they had to say was-
"Netflix is the world's leading internet entertainment service with 130 million memberships in over 190 countries enjoying TV series, documentaries and feature films across a wide variety of genres and languages. Members can watch as much as they want, anytime, anywhere, on any Internet-connected screen. Members can play, pause and resume watching, all without commercials or commitments." #Netflix #GlenKeane #DrawingNetflix

What did all of you out there in Geeklandia think of this promo? I enjoyed the glimpse at some of the creatives behind the scenes, and look forward to seeing more animated goodness from Netflix.
Stay Strong, Live Good, Love Movies!
Dannie aka Pekosa Peligrosa