This all started when A DOCUMENTARY titled THE PROBLEM WITH APU criticizes that the character Apu of the SIMPSONS is portraying an offensive South Asian stereotype. It came out earlier this year. More recently, a report surfaced claiming that the producers have been pushed to just simply remove Apu from the show entirely because of the criticism...But this appears to be false? Or true. Or false.
Adi Shankar, a producer (DREDD, CASTLEVANIA) and YouTuber, claimed that Apu was to be written off of the show. He has claimed to have heard this from three of the people who work on THE SIMPSONS, and that one of those sources works directly with Matt Groening.
Indiewire reported: "Reached for comment on Shankar's allegations, a representative for "The Simpsons" at Fox provided a cryptic response: "Apu appeared in the 10/14/18 episode 'My Way or the Highway to Heaven.'" In the episode, Apu only appears in a single wide shot (below) that showed dozens of characters gathered around God."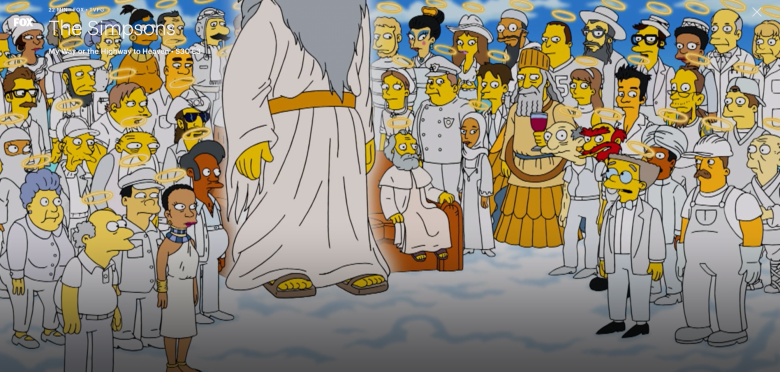 Apparently back in April Shankar decided to hold a contest for a fan script, calling for aspiring writers to improve, evolve, or subvert the Apu as a response to the documentary. The contest winner is Vishaal Buch, a family doctor in Bethesda, Maryland. Shankar promises that he will have the show animated to look just like THE SIMPSONS if the producers don't pick it up. This video here is an example of what we will get if they don't.
An actual producer from the show shut down Shankar with a single tweet, but we must still consider the response that the Fox representative shared about Apu in heaven.
Adi Shankar is not a producer on the Simpsons. I wish him the very best but he does not speak for our show.

— Al Jean (@AlJean) October 28, 2018
Looks like some back and forth is ahead of us on the issue. What do you guys think about all of this?
Also please euthanize THE SIMPSONS.
~Big Eyes