Good tidings, readers! McEric here with something new for ya: a comic book that fans of The Evil Dead, The Army of Darkness, Bruce Campbell, Mummies and similar otherworldly baddies, and Blue Suede Shoes are all going to need to get their hands on: The Army of Darkness/Bubba Ho-Tep Crossover series from Dynamite Entertainment and IDW Publishing!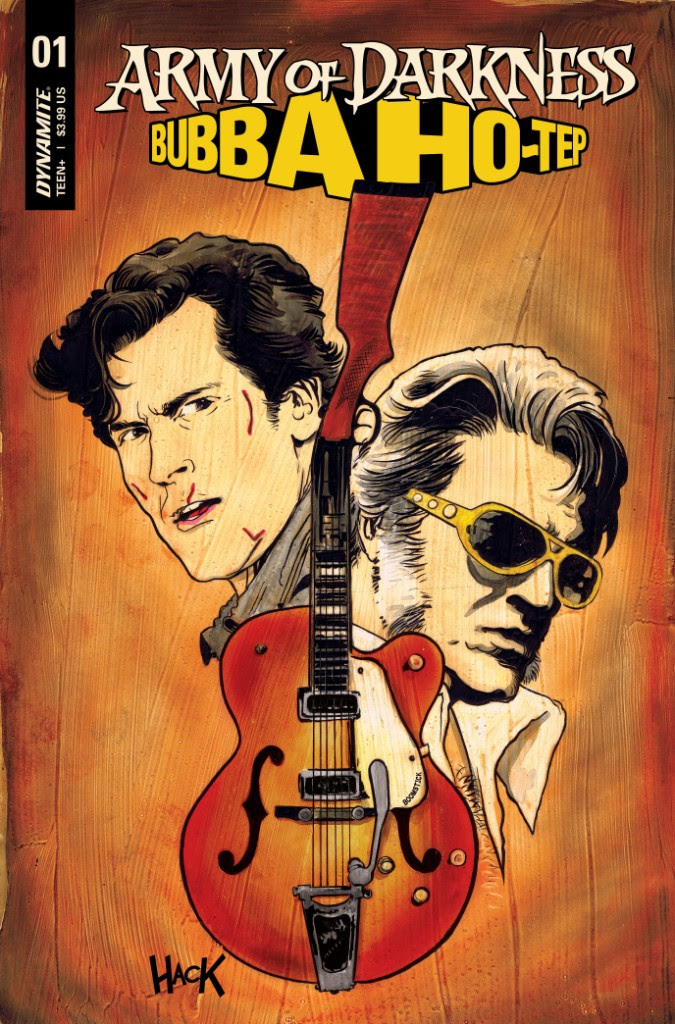 Dynamite has been releasing Army of Darkness comics since 2004, expanding Ash Williams's efforts to combat the deadite hordes of evil from mucking up his chances of getting laid regardless of the time or reality in which he exists. Similarly, IDW released a new Bubba Ho-Tep storyline, "Bubba Ho-Tep and the Cosmic Blood-Suckers" earlier this year in May. Author Scott Duvall got the great idea to bring these two characters together, along with artist Vincenzo Federici, and has sparked excitement in both comics houses as well as a rousing endorsement from original Bubba Ho-Tep author Joe R. Lansdale.
Here's a quick synopsis from the Dynamite Comics Press Release:"In Army of Darkness/Bubba Ho-Tep, Ash embarks on a soul-searching road trip to Texas on a hunch that Elvis Presley may still be alive and kicking (and supposedly vanquished a mummy)! What follows is a series of universe-spanning events that involve an Elvis jumpsuit with special time-travel abilities, a trip to 70's Vegas, plus the reveal of an evil new Book of the Dead, the Necronomicon Ho-Tep."
The initial release will feature multiple cover variants from talented artists around the industry's imprints and is scheduled to be released in February of 2019.
Until next time, I'll see you at the movies! (Or the Comics Shop!)
-McEric-