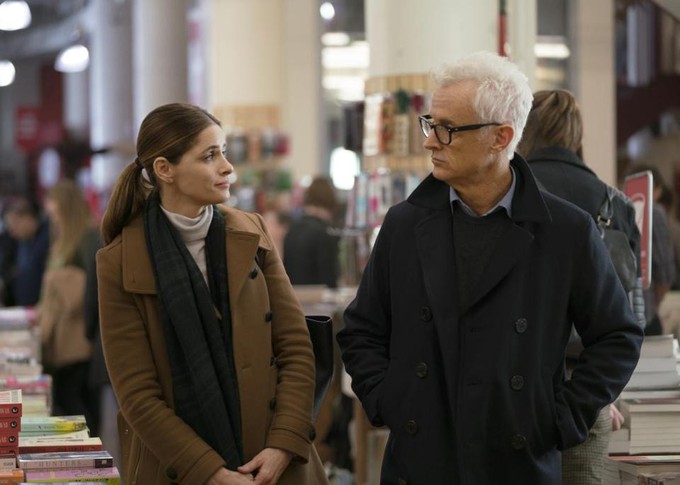 The Romanoffs 1.4 FAQ
What's it called?
"Expectation."
Who's responsible?
"Mad Men" mastermind Matthew Weiner directs from a teleplay by longtime "Mad Men" writer Semi Chellas.
What says Amazon Prime?
"Over a single day in New York City a woman is confronted with every lie she ever told."
How does it start?
A barefoot Amanda Peet unloads a dishwasher, then receives an alert. "Excuse me!" is the first line of dialogue.
Tell us about this "woman."
Her name is Julia Wells, even though IMDb identifies her as Olivia. She has a super extra pregnant daughter. Her husband believes he and his daughter descend from the Romanovs.
How does this episode compare to the prior three?
I love every episode so far, but they have gotten progressively better, and I judge episode four the best so far.
And this is the first time Weiner's name does not appear on the episode's teleplay?
Yes. It confuses me slightly as well.
John Slattery plays the same character he played in episode two?
He does! Romanovs expert Daniel Reese.
Does the fourth episode feel like a late-career Woody Allen movie?
Yes. As did the first three.
Who else appears?
Diane Lane, Mary Kay Place, Jon Tenney, Michael O'Neill and Emily Rudd.
Were you again disappointed by the ending?
No! This is the first episode that, in my view, sticks the landing.
The big news?
We learn this week that Slattery's character has a not-insignificant connection to last week's Christina Hendricks episode (as well as, obviously, the Kerry Bishe second episode in which he appears).
What else is Amazon not telling us?
This episode is shorter than the others, only 63 minutes in length. Also? There is an uncharacteristic surfeit of dialogue-free flashbacks. And a handful of dialogue-rich flashbacks.
What's great?
The surprisingly moving components of the enterprise. "I'll figure it out." "It's not why people do that." "Romanovs were a bunch of witches!" "I'm never going to be that hot girl again." "That's literally patronizing." "I have to tell you something." "Do you want to call him?" The misdirection. The phone charging in Times Square. The calm and self-awareness of the pregnant daughter. The suspense. Emily Rudd. Jon Tenney. John Slattery. Amanda Peet.
What's not so great?
The wait until episode five.
How ends episode four, spoiler boy?
"I love you too."
11:59 p.m. Thursday. Amazon.