Morning, geeks!
This is such great news! Guillermo Del Toro has just been announced to be co-directing a stop-motion version of PINOCCHIO! Del Toro has been just on fire since his win for an Oscar for THE SHAPE OF WATER (not my favorite movie, but he still did an amazing job directing the film). We've seen some CG animation from him, including TROLLHUNTERS, but I think this is the first time I have seen him take on stop-motion. I believe it will be a very good medium for him to illustrate another one of his own tellings of a dark fairy tale.
Just take a look at this concept art! Snagged from SlashFilm. I just look the lanky figures with their stylish points and curves.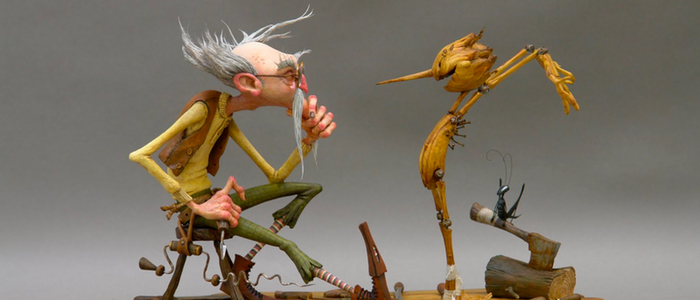 This story apparently has had a lot of false starts and cancellations, but supposedly this time it's actually happening after 8 years when it was first announced.
The script is coming from Patrick McHale, of OVER THE GARDEN WALL and ADVENTURE TIME. Del Toro will be teaming up to direct with FANTASTIC MR. FOX animation director Mark Gustafson.
Del Toro told Deadline:
"In our story, Pinocchio is an innocent soul with an uncaring father who gets lost in a world he cannot comprehend. He embarks on an extraordinary journey that leaves him with a deep understanding of his father and the real world. I've wanted to make this movie for as long as I can remember. After the incredible experience we have had on Trollhunters, I am grateful that the talented team at Netflix is giving me the opportunity of a lifetime to introduce audiences everywhere to my version of this strange puppet-turned-real-boy."
Very cool. We'll get to see this on Netflix.
~Big Eyes