Wow, an actual teaser already! You guys ready to hear Will Smith sing "Friend Like Me?" Will the routine be as cartoony and fun as the original animated version with Robin Williams? If they do in fact have that happen, I'm not sure how that's going to play out. That routine was as ADHD as Williams himself, and Smith just seems a bit more slow going.


So that desert looks fake as heck. Surely the effects will look much better in the final product, though! So we saw Iago, Aladdin, and the Cave of Wonders. The "skyline" for Agrabah in the background of the desert shown during the daylight looks very different from how it looked in the cartoon. The palace isn't as ridiculously oversized, now. I'm not too thrilled with what we are shown in this teaser exactly, but I am quite optimistic about what we WILL see in the future, based off of what is shown here.


---
With word of all of these damned Disney live-action remakes, the actual media we have gotten for them has been few and far in between. I believe currently on the roster we are waiting for a live-action ALADDIN, MULAN, LION KING, THE LITTLE MERMAID, LADY AND THE TRAMP, and LILO AND STITCH. Those are the ones I can pick off the top of my head. Finally, ALADDIN has a poster!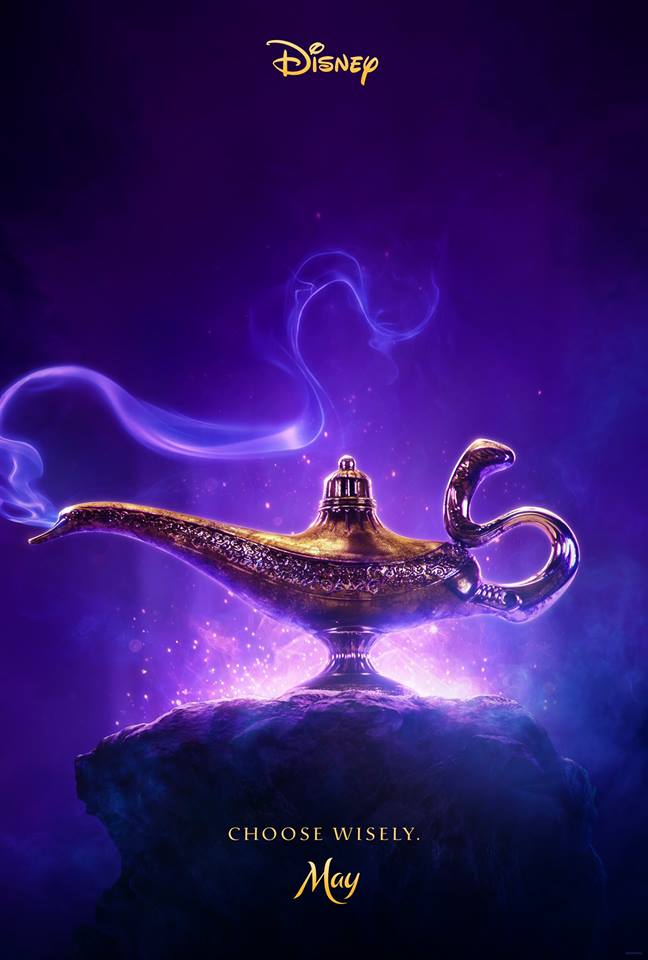 Looks great! Simplistic as heck, and doesn't give us much new information about the movie. As far as we know, it's going to be exactly like the old one. Minus Robin Williams, RIP. Instead, Will Smith has been labeled Genie. I am getting sudden flashbacks of Shaquille O'Neal in KAZAAM!
Mena Massoud (MASTERS IN CRIME) has taken on the role of Aladdin, and playing Jasmine is Naomi Scott (POWER RANGERS 2017).
Directing is Guy Ritchie with a screenplay penned by John August.
I'm feeling like a lot of things about this adaptation of ALADDIN is going to feel weird. It may even be the center of controversy for one stupid reason of another. As it is, I still can't wait to see it. But we'll have to wait until May 2019 for it to hit theaters!
~Big Eyes