Not that, but this: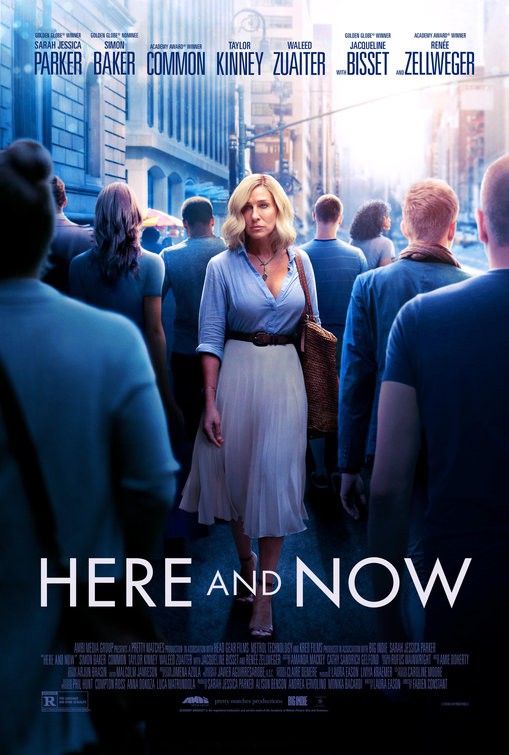 Howdy, y'all! Here at Ain't It Cool we strive to bring you news on any and everything peeking its head out of any crevice of entertainment, and we love sharing a good trailer when we come across it. That's why I'm happy to share this trailer for what appears to be a touching drama coming soon entitled OSCAR BAIT. Wait, no, sorry… I mean, HERE AND NOW. Let's check it out:
Now it's no secret that I don't like being told how to feel, and with the music and editing, long shots of forlorn faces, and dialogue snippets, it seems like OSCAR BAIT is trying to do just that.
That being said, it actually looks really good. I like the concept, and it looks as though the entire cast, led by Sarah Jessica Parker (MARS ATTACKS!, HONEYMOON IN VEGAS, HOCUS POCUS) is firing on all cylinders here. And now. Almost anytime music is used as the backbone of a feature, you're already playing with a stacked deck. Add mortality, multi-generational family, and award-winning performers to the mix and you're going to need some hankies. Perhaps what I like most about the apparent universe of HERE AND NOW is that Parker's protagonist is introduced as someone who genuinely values their life. I've seen dozens of these films where the clock starts to count down on characters that are nihilists or self-destructive and we feel no empathy for their predicament because they refuse to attach emotion to it. But this film looks to showcase a heroine who has a life worth living, making the drama all the more engaging.
I was pleased at the trailer for not explicitly stating what genre of singer her character was, and held on to some shimmer of hope that it'd all turn out to be the swan song of a death metal seductress. However, reading a few articles and the mention of the club Birdland should have made me realize she's a jazz singer. Oh, well. A man can dream.
Joining Parker on this long day's journey into night is Common (JOHN WICK 2), Renée Zellweger (ME, MYSELF & IRENE), Simon Baker(TV'S "The Mentalist"), Taylor Kinney (NBC'S Chicago-verse), Jacqueline Bisset (CASINO ROYALE [67], MURDER ON THE ORIENT EXPRESS [74]), and Gus Birney (TV's "The Mist").This film appears to be a fully-realized version of director Fabian Constant's short film BLUE NIGHT, and is set to be released in theaters November 9th. Just in time for, say it with me now, Oscar Season!
All kidding aside, HERE AND NOW looks like a decent drama with empathetic stakes, strong performances, and a sturdy musical backbone. I, for one, will be seeing it. On HBO in a year and a half.
Until next time, see you at the movies!
-McEric-