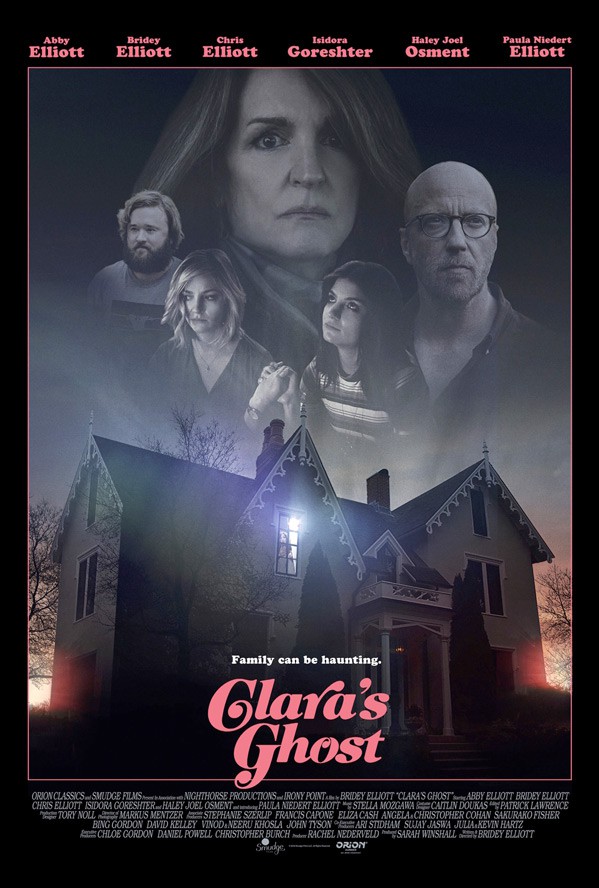 Hola Dannie aqui,
Today a brilliant trailer came out for "Clara's Ghost" an indie horror flick written and directed by Bridey Elliott. This is Elliott's feature directorial debut, and she also stars in the film! From what I have heard from the folks who caught it earlier this year at the Sundance film festival it is a captivating, humorous and terrifying film.
Orion Pictures describes the film as-

"Set over the course of a single evening in the Reynolds family home in suburban Connecticut, Clara's Ghost tells the story of Clara Reynolds who, fed up with constant ribbing from her self-absorbed showbiz family, finds solace in and guidance from the supernatural force she believes is haunting her."
Here is the haunting trailer for "Clara's Ghost."
"Clara's Ghost" stars Abby Elliott ("Teenage Mutant Ninja Turtles"), Bridey Elliott ("Silicone Valley" and "Battle of the Sexes"), Chris Elliott ("The Abyss," "Groundhog Day" and "There's Something About Mary"), Isidora Goreshter ("Shameless"), Haley Joel Osment ("The Sixth Sense," "Forrest Gump," "Pay It Forward" and "A.I." ), and is actress Paula Niedert Elliott's first film. So this film truly was a family project, that is pretty darn cool. "Clara's Ghost" is set to hit select theaters on December 6th and will be available on VOD and digital on December 7th. How many of you will be catching this one in theaters?
Stay Strong, Live Good, Love Movies!
Dannie aka Pekosa Peligrosa