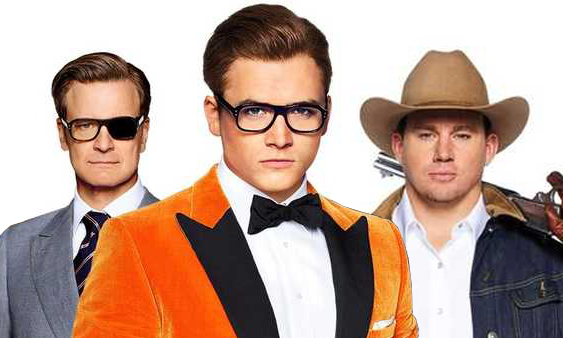 Hey folks, Dark Horizons has word that the third film in the KINGSMAN: THE SECRET SERVICE series has been planned for November 2019 release. When last we left the Kingsman universe, Agent Tequila (Channing Tatum) was strolling into the Kingsman shop in London. Given the level of consistency in the series so far, I'd be surprised if Halle Berry didn't return as Ginger and Tatum didn't come along for the next installment, too.
I still really like the first film, despite misgivings with the character of Princess Tilde and all dialogue associated with her. I believe they took great pains to fix her in the sequel, KINGSMAN: THE GOLDEN CIRCLE, without winking and saying 'errr, just kidding about the buttsex'. KINGSMAN: THE GOLDEN CIRCLE was so full of weird stuff, but it happened to be the kind of weird that I liked. Mark Strong singing 'Country Roads' chief among them.
There's no word yet on whether KINGSMAN: THE GREAT GAME, the prequel planned to shoot simultaneously with Kingsman 3, is also about to get underway, or if the Kingsman television series is building off any of the plot in the third film.
-- Precious Roy