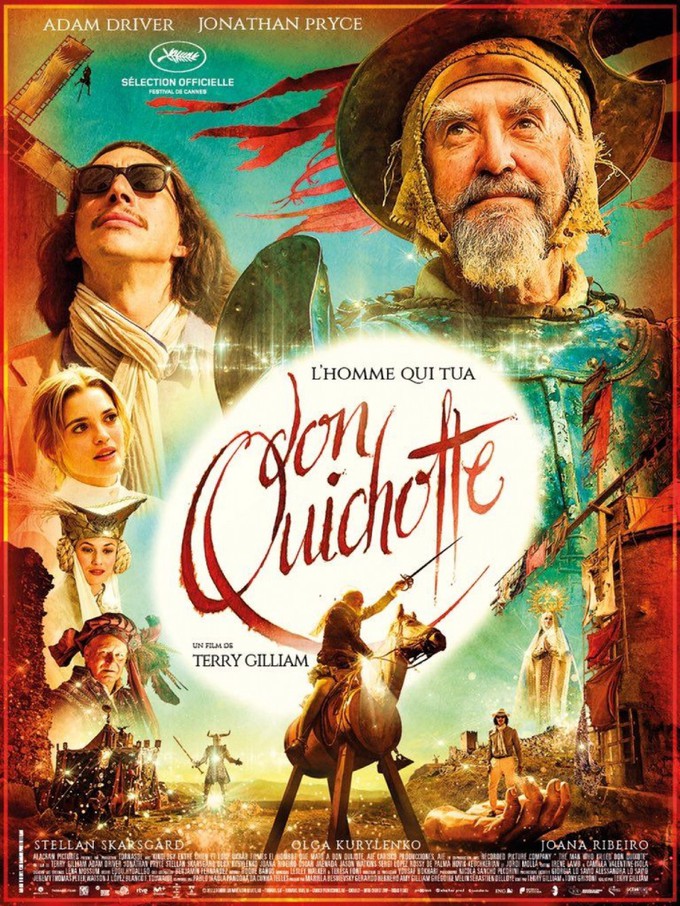 Hola Dannie aqui,
Today I had the pleasure of seeing Terry Gilliam's latest masterpiece "The Man Who Killed Don Quixote" a film audiences have waited over 25 years to see grace the silver screen. The film stars Adam Driver (Kylo Ren from "Star Wars" and from Spike Lee's "BlacKkKansman) as a jaded director and Jonathan Pryce ("Glengarry Glen Ross" and "Brazil") as a shoemaker turned actor possessed by the eternal spirit of Don Quixote de la Mancha.
The film exquisitely whisp's you away to the heavenly and sometimes hellish terrain of Spain, the cinematography by Nicola Pecorini ("Fear and Loathing in Las Vegas," "Tideland," and "The Imaginarium of Doctor Parnassus") leaves you in an almost dream state. For fans of Gilliam's work you will not be let down, the film revels in a handmade and weathered aesthetic, bringing about memories of "Time Bandits" and the horrific, twisted paintings of the Spanish master Francisco José de Goya with a sprinkle of Alejandro Jodorowsky but all Gilliam at his best. The film plays with not only the sanity of the characters within it but that of viewers as well. The storyline is poetic, comedic, tragic, and heartbreaking at times, needless to say; I am glad I brought Kleenex as two theatergoers next to me were also brought to tears by the end of the film.
Jonathan Pryce's performance left me in awe. His character starts out as a man grounded in the mundane reality of a simple life, that is then turned upside down when he meets an independent American filmmaker (Adam Driver) who challenges him with the role of a lifetime, that of Don Quixote. Soon Pryce's character is intoxicated by the task to the point of "madness." I fell in love with Pryce's Quixote, his performance in my humble opinion is more than Oscar worthy.
Adam Driver's performance was the best I have seen from him. Every moment of his torturous journey his cynicism echoing in every second as he refuses to believe in the magic and wonderment of an impossible adventure. Truly a realist trapped in the surreal landscape of España, blessed with an eye for character actors, a head for business, and a heart left unfulfilled. His character unwittingly epitomizes the role of Sancho Panza as a greedy, naive coward that under Quixote's wing is elevated to that of a chivalric Knight. Adam Driver has earned his stripes with this one!
The primary love interest and the walking epitome of beauty and youth we have actress Joana Ribeiro, as Angelica. Angelica was initially cast in the young filmmaker's first film, and with dreams of becoming a star later travels to seek out her destiny. Unfortunately the reality of her modern world whisps her away into a seedy underworld that she fears there is no escape from. Olga's performance was electric, her smile infectious and her dancing hypnotically seducing.
I could rant and rave for hours about the beautiful subtlety and grand nature of this film. I also am happy to say that before the film they announced that "The Man Who Killed Quixote" has garnered distribution across the grand U.S. of A. Good. This film is absolutely amazing and should be seen. You will be guided through a myriad of emotions while being visually swept away by the genius of Gilliam as well as the cast and crew. This is filmmaking at its finest, a mountain of talent that comes together seamlessly.
Stay Strong, Live Good, Love Movies!
Dannie aka Pekosa Peligrosa