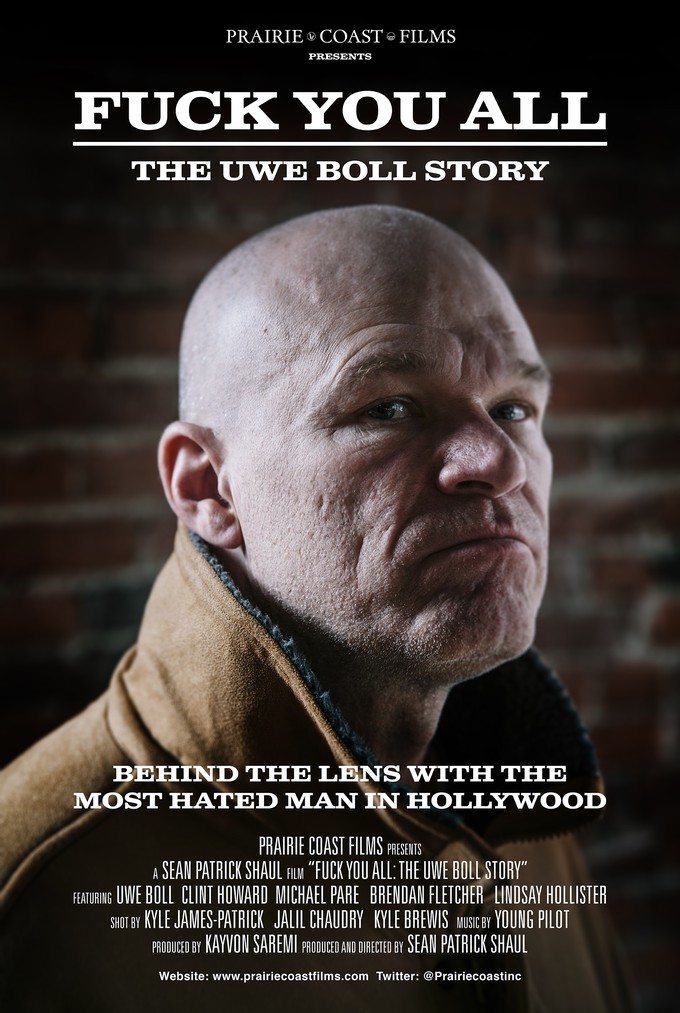 Hola Dannie aqui,
Today AICN has the pleasure of sharing a trailer for "FUCK YOU ALL: The Uwe Boll Story." Uwe Boll is a filmmaker credited with directing 32 projects, produced over 50 projects, has written 19 films. Uwe is a controversial man, who does not censor himself for any man, woman, or child. He also has a colorful history of interactions with AICN's founder Harry Knowles and other past contributors as well as many critics around the world. Personally, I love Uwe. He is like a force of nature when he speaks. He is an immovable filmmaker who obviously has a burning passion for making films and gives no two shits about what others think of his work, however, he will not back down and will verbally (sometimes physically) as well as very publically attempt to dismantle the critics. I think that courage and tenacity is commendable.
Some of Boll's films are "Rampage: President Down," "In the Name of the King: The Last Job," "Suddenly," "Assault on Wall Street" "Blubberella," "BloodRayne," "Far Cry," "German Fried Movie," "Attack on Darfur," "Postal," and "Alone in the Dark."
Uwe Boll described himself on IMDB as-
"As a child, he produced a number of short films on Super 8 and video before beginning his studies as a film director in Munich and Vienna. He also studied literature and economics in Cologne and Siegen. Uwe graduated from university in 1995 with a doctorate in literature. From 1995-2000, he was a producer and director with Taunus Film-Produktions GmbH. Boll is currently Chief Executive Officer of Bolu Filmproduction and Distribution GmbH which he founded in 1992. He continues to direct, write and produce feature films. His main companies are Event Films in Vancouver and Bolu Film in Germany."
- IMDb Mini Biography By: Uwe Boll

Here is the fucking foul-mouthed motherfucking trailer fuckers!
I could not do this write up in good conscious without sharing "Uwe Bolls Tribute To Harry Knowles- The Worlds Fattest Predator." My reaction to this YouTube post was a big bag of mixed feelings, I was repulsed, offended, and I also laughed. He is a ruthless ripper who I think brought up a couple of good points. Someday I would love to speak to him.
Here is the rude, crude, and socially unacceptable Uwe Boll trying to make sense of the Harry scandal and at the same time rip Harry apart limb by limb.
Also, there was that time Uwe Boll boxed the founder and owner of the Alamo Drafthouse Tim League at Fantastic Fest.
Here is part 1.

Here is part 2
And here Uwe Boll beats the ever-loving shit out of four of his most hated critics!
"Fuck You All: The Uwe Boll Story" has yet to announce a release date, I am praying it plays at this year's Fantastic Fest. I also hope Uwe Boll comes, if he does I would kill to sit down and chat with the cussing cinephile. What do all of you out there in Geeklandia think of Uwe Boll? What do you all think of his films? Any Boll boys and Uwe ladies out there?

Stay Strong, Live Good, Love Movies!
Dannie aka Pekosa Peligrosa