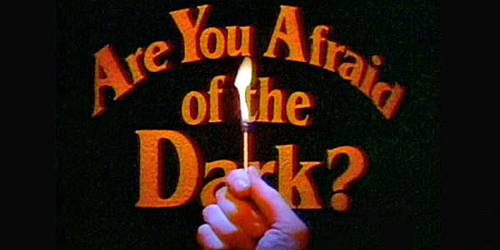 Morning, geeks!
Some cool new updates on a movie I'm personally looking forward to! Back in the 90s, on Nickelodeon there was a block Saturday nights called SNICK! As I recall, they always closed out with a show called ARE YOU AFRAID OF THE DARK. It was basically THE OUTER LIMITS or THE TWILIGHT ZONE for kids. You could say it was my gateway into those other shows. I was watching that version of THE OUTER LIMITS that was out around that same time during the early to mid 1990s as well… the line "Bear-Bear can talk" scared the pants off of me!
Rightfully so, IT co-writer Gary Dauberman (NUN) has been attached to pen the script! I much rather this movie come out this October over the next GOOSEBUMPS (It looks like an ass sandwich.)
SlashFilm had a lovely little interview with Dauberman, where they drew out some details on AYAOTD. Apparently the movie will not be based off any of the stories previously told in the TV series!
"It is a completely original story I came up with, but it still has the Midnight Society and it still has the campfire. It's still a story being told."
Dauberman also shared some interesting philosophy about raising children. Worst or best dad?
"I think fear is healthy for kids. I don't think we have to always sand down the edges of things and that's something I really wanted to do with Are You Afraid of the Dark. I think it is scary and I think kids will be scared watching it at times, and also they'll laugh at times. I think it's got a great message. I think it's got a great heart to it but it is still scary. I think that's great. I think it's going to open it up to a wider audience."
ARE YOU AFRAID OF THE DARK is currently set to come out late 2019!
~Big Eyes