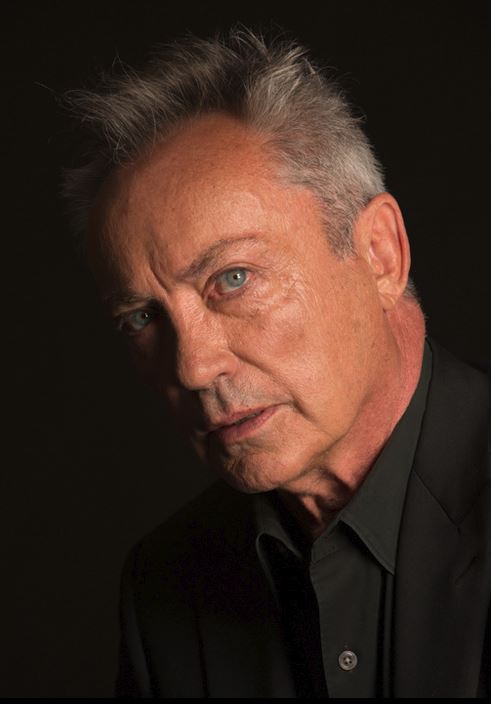 Udo Kier has had a legendary career. He has appeared in countless films and television shows since the 1960's with roles that ranged from the romantic lead to cold-hearted monsters. He has done it all and seen it all. He's worked with everyone from Andy Warhol to Gus Van Sant. He's even done voice work for SCOOBY-DOO!
At age 73, Kier shows no signs of slowing down. His most recent role is that of Nazi toy maker, Andre Toulon, the titular puppet master of Fangoria's new film release PUPPET MASTER: THE LITTLEST REICH.
I recently had a chance to talk with Udo about that film and his career in general. He was funny and open as you will see when you read on. Our chat began just as he was finishing up an appearance for a podcast.
____________________
Udo Kier: Go ahead. I'm a talking machine now.
Wheels: [laughs] What attracted you to the role of Andre Toulon in PUPPET MASTER: THE LITTLEST REICH?
UK: S. Craig Zahler, who I think is an amazing writer, he wrote BRAWL IN CELL BLOCK 99, and he cast me for that film, which I did with Vince Vaughn. [One day], he called me and said, "I'm doing a film with Mel Gibson. I directed it, I wrote it, [we are shooting] it in Canada. I would like that you play a part in it." Which I did. Then he called me and said, "I'm writing the PUPPET MASTER, but I cannot direct it, and I would like that you play the puppet master." So, from all the PUPPET MASTER [flms], I remember the first one, of course, because it was, for the time in '89, there wasn't, of course, not the technology of today, sound wise or image wise, which I liked. Then I remember the puppet master painting the little white puppets and then with one hand shaking the head and say, "I take care of you." And I like that. That stayed in my mind, "I take care of you."
I haven't seen PUPPET MASTER 2, 3 or 4 or 5 or 6 or 7, and ... I always believe in films, it's the same with when I did BLADE. I believe in the first one. When I did SUSPIRIA with Dario Argento, I believe in the first one. Now that there's a remake [I don't know] ... I love Tilda Swinton, and I'm sure she's amazing in the movie. A great actress. So then, I did the PUPPET MASTER. I knew I didn't have a long time on the screen, but the wonderful thing for me was the preparation, being in the makeup chair in the middle of the room for four hours, and all I saw was fingers dipping in paint, and makeup, and I felt the fingers on my face. I did not look til I was done, and then I saw myself in the mirror, and I got a shock. Then I had a wonderful scene with the two girls in the bar [at the beginning of the movie]. I know the puppets, which I created, were being very evil like they learned from their creator.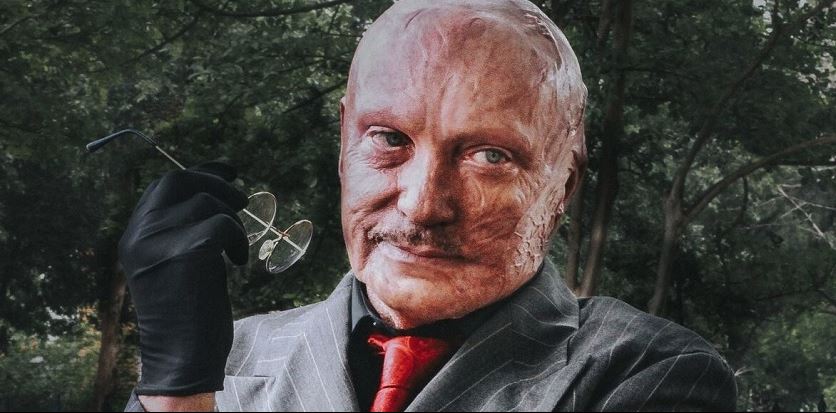 W: At this point in your career what do you most enjoy about acting?
UK: To be different people which I'm not. I like horror films because when I was basically in an airplane, and that's where I was discovered to be Frankenstein, and I did Dracula later. Frankenstein ... I didn't even know that was [in] me, but I met somebody sitting next to me in this airplane from a flight from Rome to Munich, and it was Paul Morrissey [director of FLESH FOR FRANKENSTEIN]. He wanted my telephone number, and a couple of months later, I got a call saying, "I'm doing a film in Rome for Carlo Ponti, and I have a little role for you." And I said, "What do I play?" He said, "You play Frankenstein." So that's when it all started, and then came Dracula.
The thing is, for me, I do films where I'm myself, like films with Werner Herzog, Rainer Werner Fassbinder, or my friend Lars von Trier, or Gus van Sant. And horror movies ... The fantasy has no limit. I prefer not to give big speeches as a vampire, but the action is important. Like in this film, the puppets take over. I'm not in the movie [much], but the idea of ... People say, "Oh, you're so evil in that movie." But they mean the puppets, which I created. It's like evil has no limits. You know, you look at the daily paper. A woman kills her baby and put it in the refrigerator, and the baby is there for months. That's real evil, but PUPPET MASTER who created puppets that kill people … have fun with it, that's okay.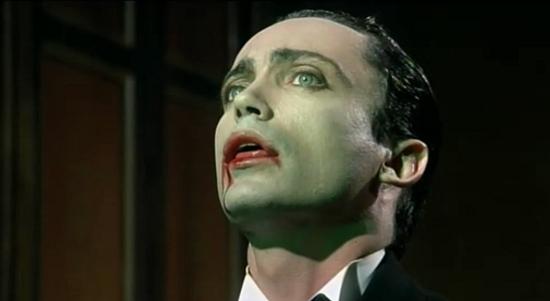 W: And the movie is a lot of fun. So, what do you dislike about acting?
UK: The waiting time. I have to wait for hours, and then all I get is two minutes of myself, or three or four minutes a day [ends up on screen]. No, I like it. You see, nobody is forcing me to do it. I can stop tomorrow, and my name still will be remembered til I die. So, it's not that I have to do it. I would never do anything which I don't like to do. That's why I'm very careful when people ask me, like Alexander Payne, to be in DOWNSIZING, and I like his work. I like Matt Damon. I like Christoph Waltz. So, I have a good time. That's how I ... I mean, I just don't do JUST any movie. People offer me a movie. I'm very careful because I have many fans who like what I do, so I don't want to disappoint them.
W: Well, you've never disappointed me, and I'm definitely a fan, sir.
UK: Thank you.
W: I mean that sincerely. So, what's your favorite role that you've ever played?
UK: Well, there's commercially, which is Dracula [in BLOOD FOR DRACULA]. Artistically, it was THE KINGDOM with Lars von Trier, where I play a baby. I'm going to be born onscreen. They build us this enormous body of the woman, and I was inside her stomach on a piece of wood with four wheels. My face was all blood and slime, and I heard the word ... and Lars says, "We cannot rehearse that because they have only one model." So then I heard the word 'action', and I push myself to come out with my head, and I went right away, going crazy, "Waaahhh!" That was maybe the most insane thing I remember that I ever did. I mean, who can say that they were born on screen?
W: That's very, very true. I've got one last question for you because our time is short. You mentioned Fassbinder, who was a wonderful director. Can you share any stories of working with him?
UK: Yes, of course. Fassbinder ... We know each other when he was 15, and I was 16. We met in a working-class bar in Cologne, in Germany. He went to high school, and I was learning a profession, like an accountant in an office. We met, and we had good talks, but not about films, not about theater. Years later, when I was 21, and I was in London learning English, I saw the magazine, a double page in Stern, which is like Vanity Fair. I open it up, and there was a picture, double page, of a portrait of Rainer Werner Fassbinder, and I thought, "I know him." [laughs]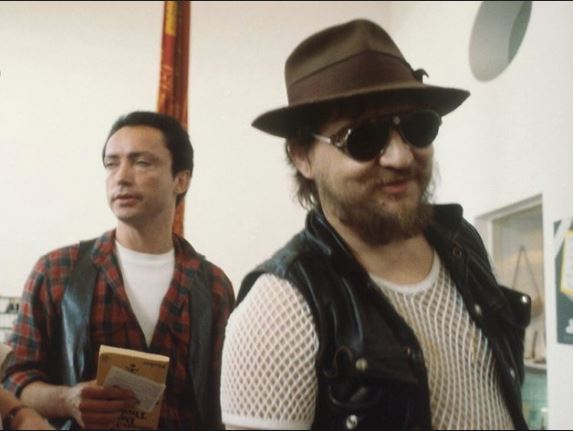 Then, he was already directing theater plays and making films. I met him when I was in Germany. He wanted me in a film, FOX AND HIS FRIENDS, and I didn't like it, my role. So then, he offered me THE STATION MASTER'S WIFE, which is about a woman with three lovers, and I'm the one who the hairdresser gets at the end. So then, our friendship became more and more. I did BERLIN ALEXANDERPLATZ and then THE THIRD GENERATION with Hanna Schygulla, and then one Sunday, a friend of mine called me from Paris, Raoul, and he said, "Rainer is dead." And I said, "I don't believe it." I had a secret number [to reach Rainer], and I called him, and the producers were answering the phone, so I knew it was true. I think that Fassbinder was one of the directors who reflected Germany after the war the best. All his films, HÄNDLER DER VIER JAHRESZEITEN [aka THE MERCHANT OF FOUR SEASONS] , really showed how Germany was after the war, and there were real stories involved, and that's why I liked working with him.
[After this answer Udo was interrupted by his cell phone ringing]
UK: I'm sorry. I'm back.
W: That's okay.
UK: So, one more question.
W: Okay! One more question. Let's see . . .
UK: [Playful tone] Think about it. Think about it. Last question.
W: Okay. Let's end on a fun one. Why do you think you've been cast in so many vampire films?
UK: Because, first of all, the history of Andy Warhol's Dracula and Frankenstein. Secondly, when people meet me, I'm totally the opposite. I'm a gardener, I rescue dogs ... I'm totally a different person, and when I accept a role, doesn't matter, like SHADOW OF THE VAMPIRE, any kind of film, I have fun with it. I don't be [too serious] ... It's because I'm a regular person, and then I play a vampire, or some horror film. I have fun.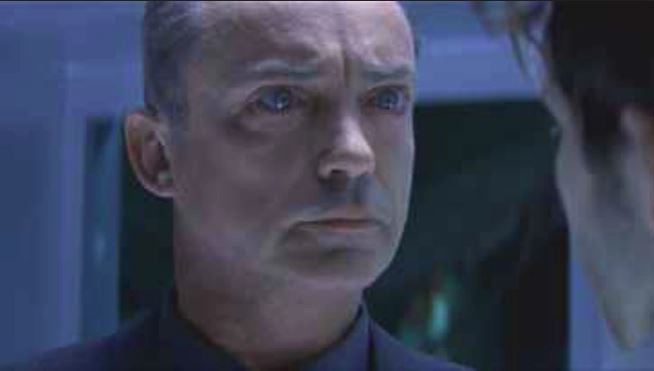 W: Well, that definitely comes across, sir. I'm not going to take up any more of your time. Thank you again for talking with me today.
UK: Thank you.
____________________
PUPPET MASTER: THE LITTLEST REICH is out now in select theaters and VOD.
-Wheels