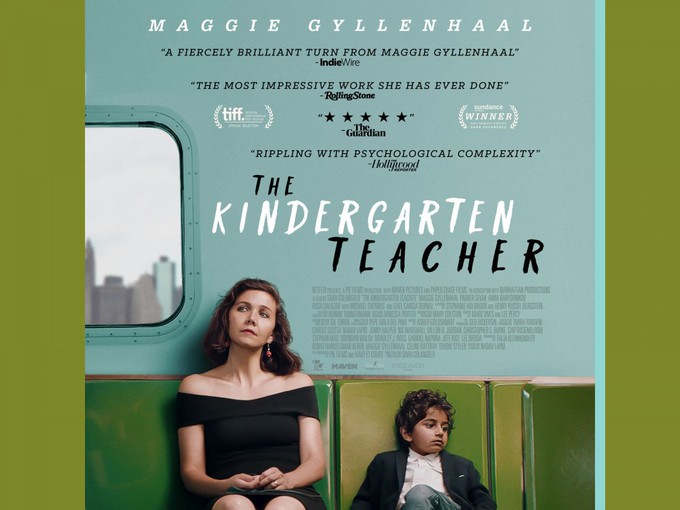 Hola Dannie aqui,
Netflix released a trailer for their upcoming film "The Kindergarten Teacher" directed by Sara Colangelo ("Little Accidents," and the short films "Little Accidents," "Un Attimo Di Respiro," and the documentary short "Halal Vivero"). Colangelo was joined at the writers' table by Nadav Lapid ("Policeman," "ROAD," and "Emile's Girlfriend"). The film stars Maggie Gyllenhaal ("Donnie Darko," "The Secretary," "The Dark Knight," "FRANK," and HBO's "The Deuce"), Gael García Bernal ("Y Tu Mama Tambien," "Amores Perros," "COCO," and "Bad Education"), Ajay Naidu ("Office Space," "Bored to Death," and "Bad Santa"), and making his cinematic debut the adorable Parker Sevak.
Netflix describes the film as-

"When a Staten Island kindergarten teacher discovers what may be a gifted five-year-old student in her class, she becomes fascinated and obsessed with the child—spiraling downward on a dangerous and desperate path in order to nurture his talent."
Here is the trailer-
Netflix's "The Kindergarten Teacher" hits television screens everywhere on October 12th. How do all of you out there in Geeklandia feel about this trailer? I believe kidnapping even for the best reasons will never be excused. However, this film is on my watch list because who knows where this will lead. I always enjoy Maggie Gyllenhaal and Gael García Bernal's work so I will have my remote ready!
Stay Strong, Live Good, Love Movies!
Dannie aka Pekosa Peligrosa