Hello, all McEric here with a fun interview I was able to conduct with SUMMER OF 84 actress Tiera Skovbye. We talked about the 80s-nostalgia thriller film debuting this weekend as well as her work on CW's RIVERDALE, her botched STAR WARS audition, and her eventual acceptance of Reese Witherspoon.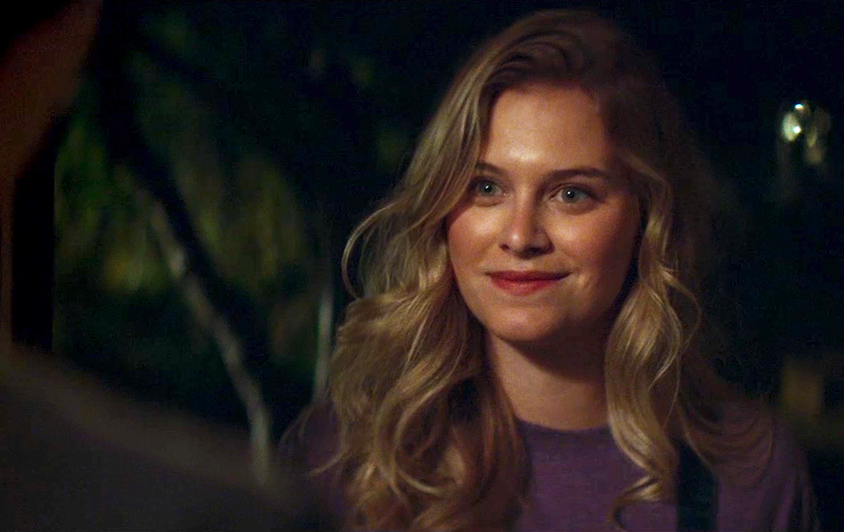 McEric: Tiera Skovbye, thank you so much for speaking with me today.
Tiera Skovbye: Of course, thank you.
ME: Let's just get right into it, shall we? Summer of '84 is being released this Friday after receiving accolades at several film festivals. Tell me about your character, Nikki Kaszuba.
TS: Well, Nikki is the girl next door who once was the baby-sitter for Davey and now is dealing with her parents' divorce while also trying to be supportive of him while he is convinced that his neighbor is a serial killer.
ME: I'm led to believe you put a lot of research into your projects. What kind of preparation did you undergo to step not only into the character of Nikki but also the era of 1984?
TS: A lot of the preparation came with the costumes and hair and makeup, helping me to feel that era and that age. Another thing was the differences in technology, as scripted, things that we have the luxury of now, like if we were in certain scenarios that the kids were in in the movie we would not have so much of a problem; we have cellphones. There are certain things that are much more modern now; it was really interesting to go back and be like "Oh hey they can't just like send a text to their friends, they have to have walkie-talkies" and all these things which I think makes it, you know, really interesting and I think, for me, it made it really easy to step into the character and the time period.
ME: Nice! Well, I noticed that Nikki had a lot of confidence and swagger and I know sometimes horror/suspense can have flimsy female co-leads. Where did you draw her strength from?
TS: I think for me the strength was drawn from the moments with Davey, you know the more intimate scenes with Davey where you do see her vulnerability. I think for me that shows the different kind of strength than just the exterior confidence, so I drew a lot of that from her ability to express what is happening in her life; to just be vulnerable with her friend Davey. I think that's what made her very cool, and the writing was very good and helped support that a lot.
ME: Yeah I saw that the screenwriters did pick up an award at the Cinepocalypse Film Festival in Chicago for Best Screenplay and I'm sure that it felt good to be involved with that.
TS: Oh, absolutely. It was a very special project for the writers and for them to have it acknowledged in that way was really special for all of us.
ME: So I noticed most of your screen time was spent with Graham Verchere, as Davey, and a bit with Caleb Emery. What was your experience working with the two of them?
TS: Well, it was amazing. We all hung out a bit before we started filming so our friendships became, you know, the on-camera friendship was not just as much an on-camera friendship; we all became good friends and are all still good friends. We're all excited to hang out this weekend and see the movie together and we went to Sundance together which was just ridiculous; we just had a blast! So I think people see this on-camera friendship and they don't realize that in real-life we actually all are really good friends. So working with them was like, you know, we were filming a movie about these kids going on an adventure in the summertime and we were going on our own adventure in the summertime.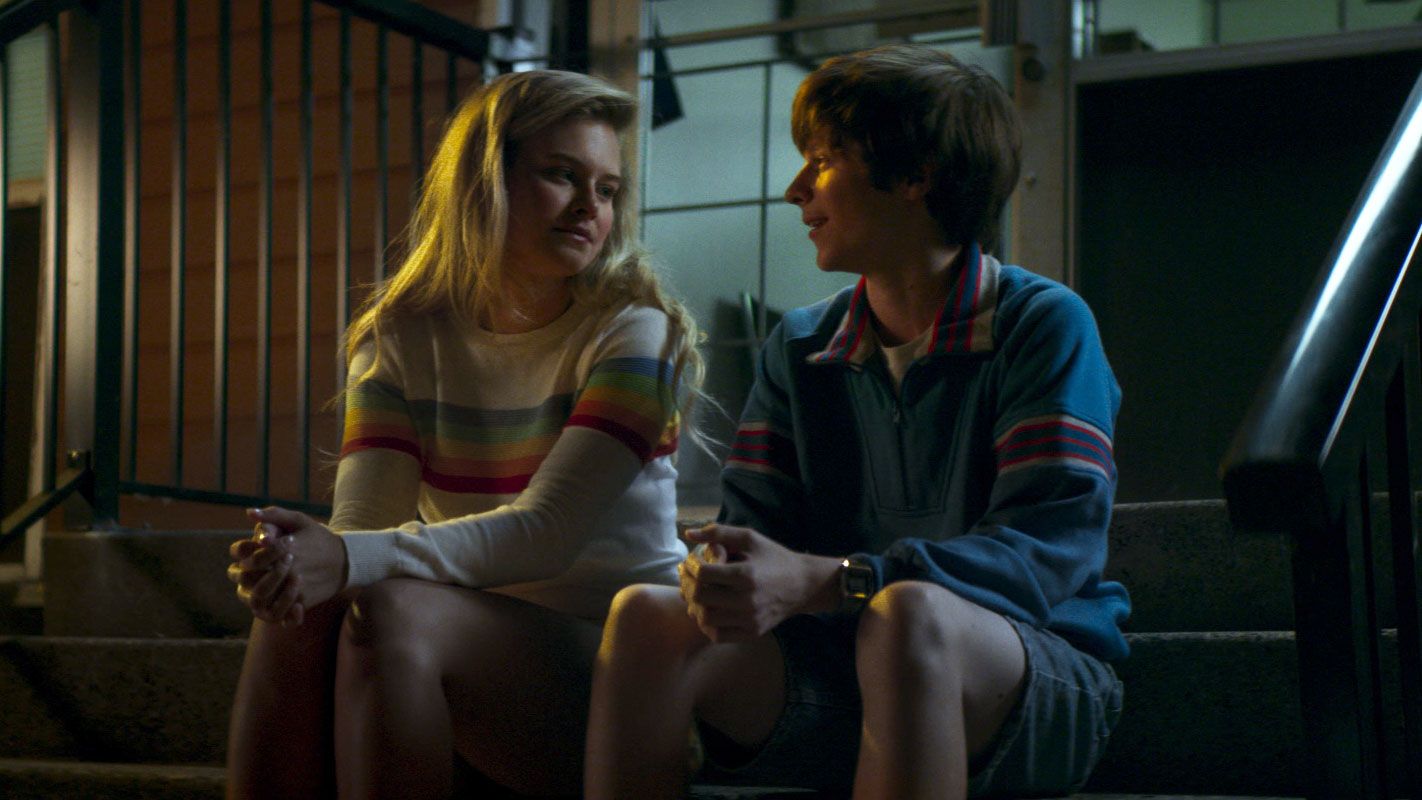 ME: [laughs] Very nice. How was a shoot with three directors? Were they all on set simultaneously or did they split the production?
TS: No, they were all on set at the same time, so me, initially, I was like "Oh my gosh; three directors? That's way too many cooks in the kitchen!" I was prepared to be overwhelmed. But they had it worked out so well so that each of them has their own individual job. Anouk [Whissel] is very specific with working hair and makeup and props and creativity and set [decoration] and all that kind of stuff and she kind of sees the overall aesthetic of the film. Then Francois [Simad] has the storyboard that they all already pre-discussed and he's talking to the DP and sees how they arrange the shots and lighting and all that kind of stuff and kind of overseeing the whole thing and making sure that it's cohesive with their original plan. And then Yoann [-Karl Whissel], his job, well the majority of his job, was just to speak with us actors so when there were notes from the three of them it was him who would give it to us. It wasn't three people coming at us at one time with a bunch of different things. They would kind of go into a huddle and speak in French [laughs] together and they'd come out and each do their own thing and then Yoann would come to us and give us the new direction.
ME: Alright! Is this your first production with you fiance, Jameson Parker?
TS: Um, it was my first bigger project. I had a very small role in his first film called PRODIGAL; I just played the bartender. It was kind of like "Oh, how can we get you involved?" I was a big part of watching him make it, I was on set a lot as it was his first film and I was just sort of around, around it from the beginning.
ME: Right.
TS: But yeah as far as auditioning for it, 'cause I auditioned for this film like normal. Actually nobody knew we were together until after I had been cast 'cause we wanted to keep it separate. Then once I had been cast, we were like "Okay, you know, now that she has got the part, just to let you know that we're together…" And it was a really fun experience to be able to do the movie together 'cause you spend so much time on the set doing projects and working that when you get the opportunity to do it together, it's wonderful.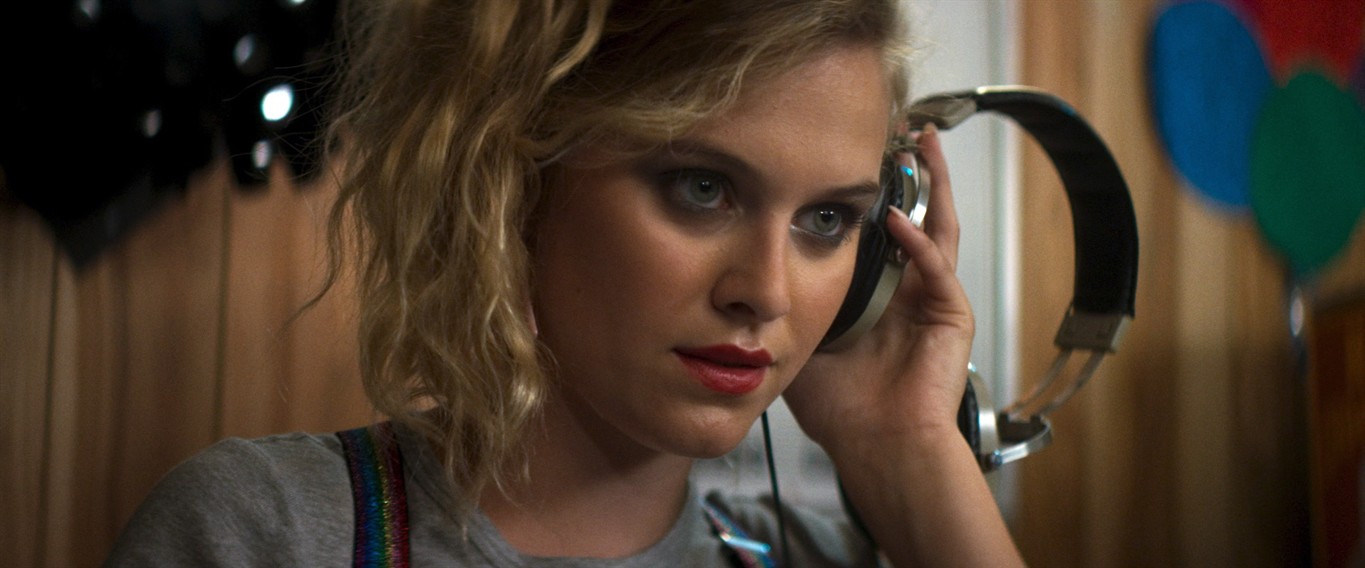 ME: Yeah. So, what's next for you?
TS: Right now I'm currently filming season three of Riverdale. Which is very exciting. Polly's back! And I just finished filming a feature film for the last five weeks, half in Vancouver, half in Hawaii, which will come out later next year.
ME: Excellent. Now just general questions, like what performers working today do you most admire, in terms of their productivity, choices, and range?
TS: Ooh, interesting.
ME: Not to exclude anyone, of course.
TS: Oh my gosh! I'm trying to think what I've watched recently. I've been so busy working that I haven't really, I haven't had much time to, like, watch anything. I mean, I really loved, I recently watched [HBO'S] BIG LITTLE LIES and I think watching that series was incredible. All these incredibly strong female actors in it, like it just blew me away. Nicole Kidman and Laura Dern and Reese Witherspoon. Reese Witherspoon used to kind of annoy me; I have a completely new respect for her. And Meryl Streep will be in the next season of it so I'm incredibly excited about that.
ME: Yeah, that is definitely something to look forward to; she is kind of amazing.
TS: Yeah, she is. She's always been my idol.
ME: Yeah, she's… if you're choosing one, definitely go for her.
TS: Over and over again. Every time.
ME: Every time. There are no shortage of tentpole franchises out there for the taking. Do you have any aspirations to join a Disney, Marvel, DC, or Star Wars-type project?
TS: I mean if the opportunity presented itself, of course. It's always an incredible thing to get so much exposure. I am a huge Star Wars fan. I actually auditioned for… Rey? Is her name Rey?
ME: Yeah.
TS: In the first one, which was really cool. I totally blew my audition because I was far too excited about the opportunity.
ME: [laughs]
TS: But, you know, if something came up, of course. It'd be incredible.
ME: You've done a lot of work with the CW network. What's it like working with that family?
TS: My experience has been incredible. I've worked for a lot of different people throughout it. Casting in LA has been wonderful. They've always been really supportive and had my back and rooting for me which is a really great thing to have. I've loved working with them, and especially my experience on Riverdale has been wonderful.
ME: Speaking of family, your younger sister Ali is quite the actor as well. Does the performance bug run in the family?
TS: It's funny, you know; nobody in my family has ever been in the industry before. It was something that kind of just happened by chance. I got scouted when I was a kid and my parents didn't know if it was going to be something that was kind of a hobby or something that I would continue to do throughout my life. And as my sister got older, you know, she was much shyer as a kid so we didn't really think it was something that she was going to want to do. And then she kind of decided one day, she woke up and was like "Okay, I'm ready now!" and she's just been on fire ever since.
ME: That's great. You studied Shakespeare extensively in Vancouver. Do you have a particular favorite by Shakespeare?
TS: I really love Much Ado About Nothing. That's one of my favorite plays. I used to do a kids' camp at Bard on the Beach in Vancouver and I did that play and I just thought it was so hilarious.
ME: Excellent. You mentioned in an interview earlier at the Leo Awards this year that you're not a singer. Any inclination to take lessons to add that to your repertoire?
TS: Oh, I am not a singer. No, it's never something that I've ever, uh, it's something that I do for fun; for myself. But, no. I feel like I want to be really good at acting and singing scares the crap out of me. It's not something I think I'm ever going to venture to do.
ME: You do quite a bit of your own stunt work, I've noticed. Do you have a dream action set piece you'd like to do?
TS: Uh, let me think. I don't know. Anything that kind of were to come up I always think is really fun. I'm a very athletic person and so the opportunity to do stunts and that kind of stuff is always very exciting to me. I really like harness work; I think the opportunity to do more of that, more harness work, would be really fun.
ME: I hear running from dinosaurs is a lot of fun. Maybe you can get smacked around.
TS: [laughs] Yeah, that'd be cool.
ME: That's always an opportunity. What's your latest obsession? What is the thing that you're just, like, "If I'm not on set, you can find me [blank]"?
TS: Well it's summertime in Vancouver right now, which as you know is just beautiful. So during the summer, anytime I've not been on set, I've been out enjoying the nature, whether I'm just doing different hikes or at the beach, going to different lakes and whatnot. Because Vancouver kind of comes alive with nature in the summer. We don't get that much opportunity to enjoy it because it's so wet 90% of the time.
ME: Right. I've noticed a lot of the filming you've been doing is in Vancouver and you were born there. There's almost no reason to go elsewhere, but if you were, where do you see yourself settling down?
TS: Well, you know, the last little while I've been going very much between Vancouver and LA and I think, it's just so close; it's like a two-and-a-half hour flight. I literally just flew in from Vancouver this morning and I'm in LA now. It's so easy so I think I'll always just go back and forth. But Vancouver will always be home.
ME: That's wonderful! Tell me what's happening with Polly Cooper in season three of Riverdale.
TS: Well, without spoiling too much, Polly's back and what I think is really exciting is we get to know much more about this mysterious Farm that's been talked so much about in season two, so that's really cool.
ME: Now when I hear "Farm" I immediately think of all the pets that I had that disappeared one day and I was told that they went up to a farm where they could run around and be free…
TS: [laughs]
ME: Tell me that's not what we're talking about.
TS: No, I think it's definitely much darker than that. A Farm-Cult type deal.
ME: What are your hopes and goals for the film SUMMER OF 84?
TS: You know my hopes for the film is just that it's coming out at the end of summer; it's the perfect time. It's a perfect summertime movie to watch with your friends. You know, have some jump-scares, have a good time, go on some adventures with these kids. I just hope that people enjoy watching it and have fun. It's a genre thriller, so just don't go expecting it to change your world, but go into it expecting to have a really good time and you will not be disappointed.
ME: I couldn't agree more. I watched it last night and I thoroughly enjoyed it.Thank you so much for taking the time to speak with me today.
TS: No problem. Thank you.
ME: Alright, you have a great day.
TS: You too.
ME: Bye.
SUMMER OF 84 begins its limited release Friday, August 10th, 2018.
Check out the trailer here
Till next time, see you at the movies!
-McEric-