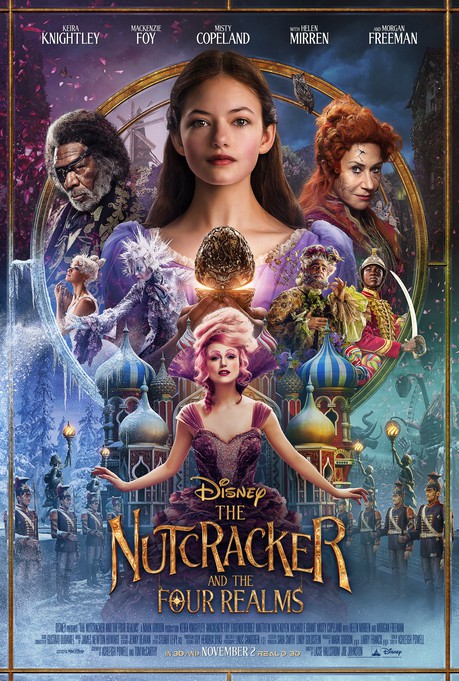 Morning, geeks!
We're just past the peak of the Summer, and Disney already wants us thinking about Christmas! They just dropped this sweet new poster and trailer today.
So was that creepy cover of No Doubt's "Just a Girl" not just a surprise?
This film is looking just visually fantastic, and I cannot wait to see it on the big screen.
I loved the heck out of THE NUTCRACKER story as a kid, and I've seen so many different versions of it. I'll be quite elated to see this big budget film with a bit of a spin on the story. Though it has THE NUTCRACKER in the title, this movie is feeling a bit more like it is about Clara and less about The Nutcracker. From the trailer, I'm not 100% certain who The Nutcracker even is! According to IMDB, Maxamillian Hofgartner plays the part of The Nutcracker. Hofgartner has very little known acting history. I watched the trailer a couple of times after finding his photo, and I don't think I'm seeing him in it. Either they're waiting for a reveal closer to the release or he actually has very little part in it!
Here's the description from the press release:
"All Clara (Mackenzie Foy) wants is a key – a one-of-a-kind key that will unlock a box that holds a priceless gift. A golden thread, presented to her at godfather Drosselmeyer's (Morgan Freeman) annual holiday party, leads her to the coveted key—which promptly disappears into a strange and mysterious parallel world. It's there that Clara encounters a soldier named Phillip (Jayden Fowora-Knight), a gang of mice and the regents who preside over three Realms: Land of Snowflakes, Land of Flowers and Land of Sweets. Clara and Phillip must brave the ominous Fourth Realm, home to the tyrant Mother Ginger (Helen Mirren), to retrieve Clara's key and hopefully return harmony to the unstable world. Starring Keira Knightley as the Sugar Plum Fairy, Disney's new holiday feature film "The Nutcracker and the Four Realms" is directed by Lasse Hallström and Joe Johnston, and inspired by E.T.A. Hoffmann's classic tale."
Ya see? The Nutcracker isn't even mentioned in this description! I'm not sure if he's in the poster either.
THE NUTCRACKER AND THE FOUR REALMS is slated to be released November 2, 2018.
~Big Eyes