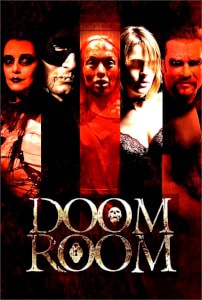 Hola Dannie aqui,
A trailer for the film "DOOM ROOM" aka "Nightmare Box" came out and it is a weird one. The horror film is written and directed by Jon Keeyes "Living and Dying," "Fall Down Dead," and televisions "Throwing Stones." Keeyes was joined at the writer's table by Carl Kirshner, and the film stars Debbie Rochon, Nicholas Ball & Hayden Tweedie.
"Nightmare Box" was released back in 2013 and "Doom Room" looks like the same film. I wonder if it is the precisely the same or if they added something?
Here is the trailer-

Well, what do all of you out there in Geeklandia think of the "DOOM ROOM?" I think it looks like something that would play on the old "USA Up All Night" 1980s shock and schlock. There has not been a release date announced as of yet.
Stay Strong, Live Good, Love Movies!
Dannie aka Pekosa Peligrosa