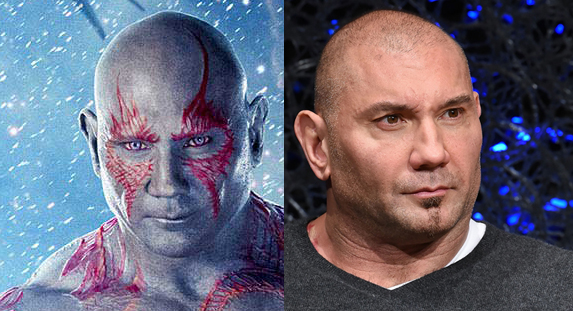 Hey folks, here's some news on the GUARDIANS OF THE GALAXY 3 front. It seems Dave Bautista has asked to be let out of his Marvel Studios contract unless director James Gunn's script for the third film in the outer-space superhero franchise is used for the film.
Speaking to Shortlist, Bautista has made it clear, without excusing the offensive Tweets, he sides with Gunn, over his future with Marvel Studios and Drax:
Nobody's defending his tweets, but this was a smear campaign on a good man. I spoke to Chris Pratt the day after it happened and he's a bit religious so he wanted time to pray and figure it out, but I was more like: f*ck this. This is bullshit. James is one of the kindest, most decent people I've met. Where I'm at right now is that if they don't use that script, then I'm going to ask them to release me from my contract, cut me out or recast me. I'd be doing James a disservice if I didn't.
That's a strong position, and Bautista is brave to make a stand like that, alone, without his co-stars. Asked in a Tweet by a fan if he'd quit the third GUARDIANS OF THE GALAXY film if the director wasn't reinstated as director, Bautista admitted he'd stay to fulfill his contract, but made it clear that, even if the script is used but Gunn is not allowed to direct, this would be the beginning of the end of his association with Disney:
I will do what Im legally obligated to do but @Guardians without @JamesGunn is not what I signed up for. GOTG w/o @JamesGunn just isn't GOTG. Its also pretty nauseating to work for someone who'd empower a smear campaign by fascists #cybernazis . That's just how I feel https://t.co/Ym4FwruVDu

— Dave Bautista (@DaveBautista) August 5, 2018
We've had conflicting reports this past week from Variety and DisInsider about how top brass at Disney is reacting to the cast's statement of support for Gunn... we'll keep you updated as the story progresses!
-- Precious Roy