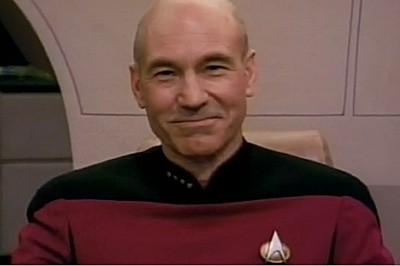 Hola Dannie aqui,
Today Trekkies across the globe rejoice! The Hollywood Reporter broke the news that Patrick Stewart will return as Jean-Luc Picard! Stewart signed on to the new Star Trek series for CBS All Access and released the following statement.
Statement from Patrick Stewart:
"I will always be very proud to have been a part of Star Trek: The Next Generation, but when we wrapped that final movie in the spring of 2002, I truly felt my time with Star Trek had run its natural course. It is, therefore, an unexpected but delightful surprise to find myself excited and invigorated to be returning to Jean-Luc Picard and to explore new dimensions within him. Seeking out a new life for him, when I thought that life was over."

"During these past years, it has been humbling to hear stories about how The Next Generation brought people comfort, saw them through difficult periods in their lives or how the example of Jean-Luc inspired so many to follow in his footsteps, pursuing science, exploration, and leadership. I feel I'm ready to return to him for the same reason – to research and experience what comforting and reforming light he might shine on these often very dark times. I look forward to working with our brilliant creative team as we endeavor to bring a fresh, unexpected and pertinent story to life once more."
The new show is said not to be a reboot of "Star Trek The Next Generation" it will, however, be a continuation of Picard's life. Maybe they are going to have him teaching at the Academy? One can only dream because right now they are keeping all other details under wraps. Alex Kurtzman (Star Trek Discovery) is involved which is delightful news as Discovery was enjoyable. Kurtzman commented on Stewart reprising the role of Picard.
Statement from Alex Kurtzman:
"With overwhelming joy, it's a privilege to welcome Sir Patrick Stewart back to the Star Trek fold. For over 20 years, fans have hoped for the return of Captain Jean-Luc Picard and that day is finally here. We can't wait to forge new ground, surprise people, and honor generations both new and old,"
Kurtzman's creative team consists of Kirsten Beyer (Discovery), Michael Chabon (wrote "John Carter" and is working on a "Star Trek: Discovery" short) and James Duff who worked on "The Closer," and "Major Crimes." I am overjoyed that CBS has a third Trekkie show in the works and I have always loved Picard. What do all of you out there in Geeklandia think?
Stay Strong, Live Good, Love Movies!
Dannie aka Pekosa Peligrosa