UPDATE!!
CBS All Access confirmed Saturday that a new series starring 78-year-old Patrick Stewart as Jean-Luc Picard is coming to the streaming serice. There aren't details on plot, supporting characters or launch date -- but we'll likely learn more when CBSAA hosts its TCA panel here in Beverly Hills Sunday afternoon.
The series is almost certain ro prove the sequel for which Trek fans, fatigued by seemingly endless prequels, have been clamoring. 2002's critical and box office bomb "Star Trek Nemesis," released 16 years ago, was the last time we saw we saw Picard in action.
ORIGINAL STORY FROM JUNE 19: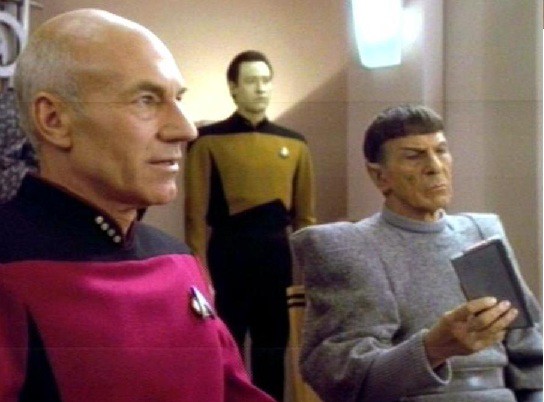 From the Hollywood Reporter's story about new "Star Trek Discovery" showrunner Alex Kurtzman signing a new $25 million deal with CBS to, among other things, gin up new Star Trek series:
"The new deal comes as rumblings about another Star Trek series, featuring Patrick Stewart reprising his role as Star Trek: The Next Generation's Capt. Jean-Luc Picard, have been getting louder. Sources say Kurtzman and Akiva Goldsman, who left Discovery after season one, are attached to the Stewart-led reboot. CBS TV Studios declined to confirm the Stewart project as sources say a deal is far from completed and may not happen despite the fact that the actor recently teased his potential return to the franchise."
Kurtzman, who co-wrote J.J. Abrams' "Star Trek" and "Star Trek Into Darkness" movies, took over CBS All Access' "Star Trek: Discovery" when "Pepper Dennis" creators and season-one "Discovery" showrunners Gretchen Berg and Aaron Harberts were fired.
The first five episodes of "Discovery" season two are already near completion. The show is expected to take a production hiatus following the completion of 2.5.
Kurtzman, credited with co-writing the "Star Trek Discovery" pilot script with "Dead Like Me"/"Pushing Daisies"/"Hannibal" creator Bryan Fuller, got his start in television writing scripts for "Hercules: The Legendary Journeys" before moving on to "Jack of all Trades." He co-wrote 10 episodes of Abrams' "Alias" before co-creating Abrams' "Fringe." Without Abrams he co-created "Sleepy Hollow."
Outside Trek Kurtzman's big-screen writing credits include "The Island," "The Legend of Zorro," "Mission Impossible III," the first two "Transformers" movies, "Cowboys & Aliens" and "Amazing Spider-Man 2." He directed and co-wrote 2012's "People Like Us" and last year's Tom Cruise vehicle "The Mummy."
Screenwriter Goldsman's big-screen work includes "Batman & Robin," the "Lost In Space" movie, "I, Robot," "I Am Legend," "Insurgent," "The 5th Wave," "Rings" and last year's Stephen King adaptation "The Dark Tower."
"Star Trek Discovery" is expected to return to CBSAA next year. Christ knows when we'll see the next Star Trek series, but producers reportedly pitched numerous Trek series to CBS before "Discovery" was greenlit, including one about the life of Khan Noonian Singh prior to the events of "Star Trek II," and a post-"Nemesis" series following the adventures of Captain Data.