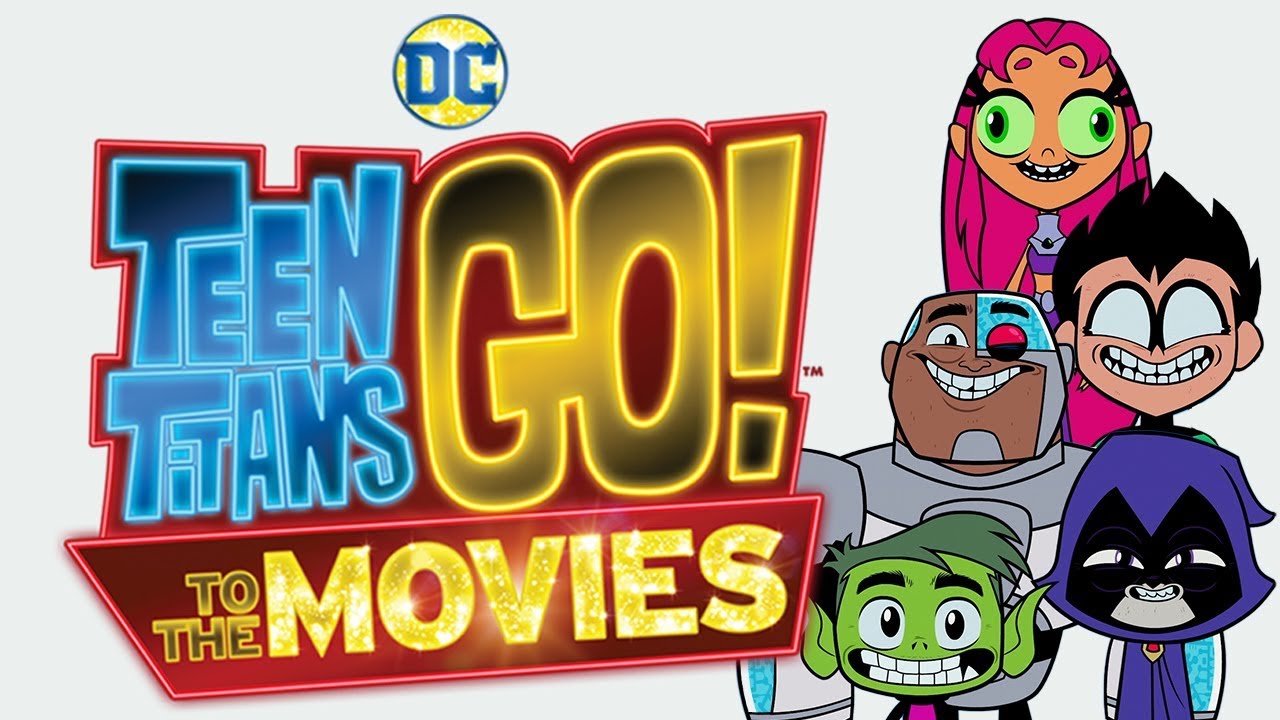 Warning! This review is full of spoilers!
TEEN TITANS GO! TO THE MOVIES is a roller coaster of extremely awesome moments, and not so great ones. The humor is often times wonderfully twisted, poking fun at the DC Universe, but is then diminished by tasteless poop, butt and fart jokes. For every ten good jokes there was some really terrible joke or cringe worthy scene that overshadowed the any pleasant feeling that came of the good jokes. I was definitely left conflicted on whether I liked or disliked it. Overall, though, there was a lot more to like about the movie than there was to hate.
Before the movie ever began, the bar was set kind of low by the animated short that played before it, called "The Late Batsy". I thought at first that perhaps WB was trying to capture the same greatness as the animated shorts that come before Pixar or animated Disney movies these days, but no. "The Late Batsby" was just a short promoting Cartoon Network's new series DC SUPER HERO GIRLS, which is based off of the web series by the same name. That short was… a whole lot of nothing. I think I witnessed Dannie have an aneurysm by the time the short ended. Here is the story of "The Late Batsby": teenaged(?) Barbara Gordon falls asleep while studying, and is awaked by a call from Wonder Woman to tell her that the girls were getting together to fight Mr. Freeze. Barbara is frustrated that she can't sneak out until her father falls asleep. He falls asleep. Barbara rushes out as Batgirl and finds that she's the first to show up. The end. Based on what I saw, I am absolutely NOT interested in watching DC SUPER HERO GIRLS.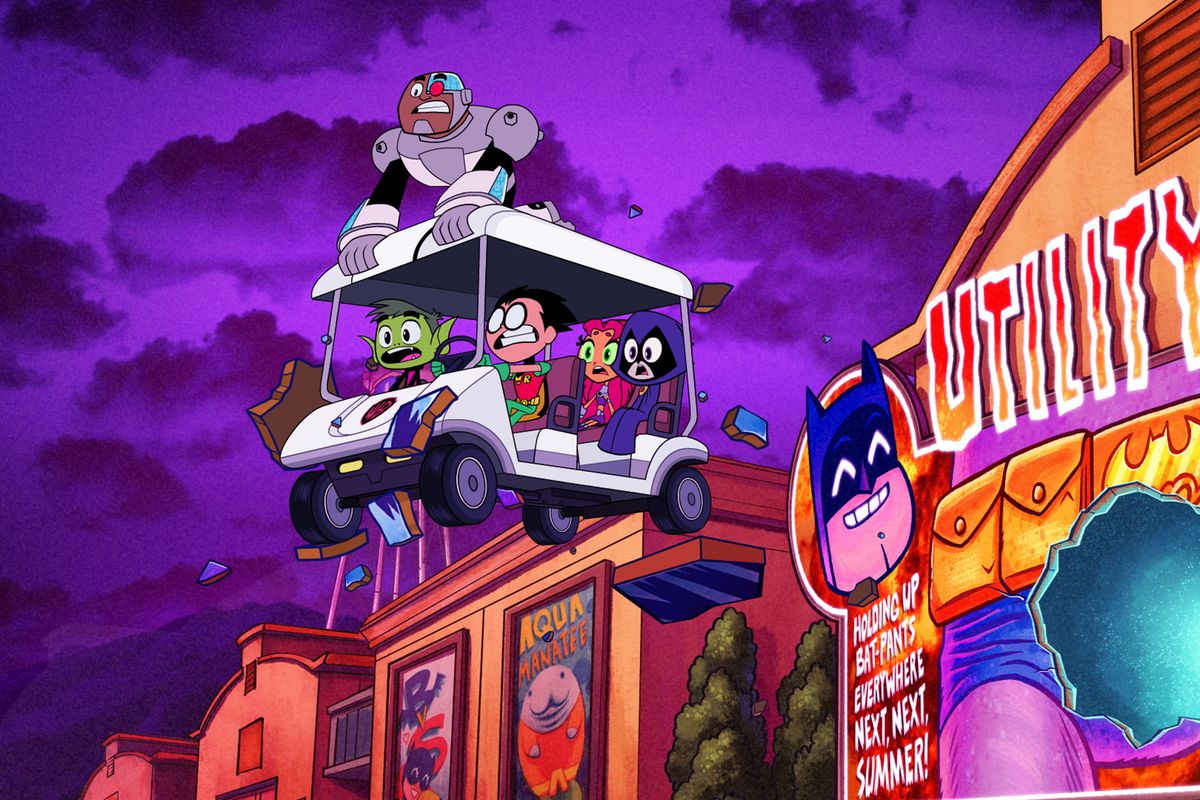 Fortunately, I can say that TEEN TITANS GO! TO THE MOVIES was nowhere near as bad as that short because it actually goes somewhere. Somewhere we've seen before, but somewhere nonetheless! It is a story of getting lost in ambitions before realizing what is really important.
I have seen a bit of the TEEN TITANS GO! TV series, so I had an idea of what I was getting into. Just like the show, it was as mixture of genius and the obnoxious.
Robin and the Titans realize they haven't gotten their own movie yet, and feel snubbed by the world because they aren't recognized as superheroes. Even the Challengers of the Unknown had reservations to Batman's new movie premiere, and not a single seat was held for the Titans. This was the straw that broke the camel's back for Robin, and he became obsessed with getting his own movie. Slade/Deathstroke plays into Robin's obsession to use it to take over the world. This reflects a bit of the obsessive relationship Robin had with Slade that was seen in the 00s TEEN TITANS TV series.
The Titans reveal that they are full on sociopaths in this movie. An example of this is when a director jokingly told Robin that she would make his movie if no other superheroes existed in the world, so the Titans set out to "prevent all of the other heroes from existing". From that, we get some hilarious scenes of the Titans traveling back in time to stop any tragedy or event that lead to the "birth" of any superhero. They may have also been guilty of a hit and run.
There were a lot of cool and fun scenes. One includes when The Titans used their time traveling trikes, the time traveling feature was activated when they gained enough RAD levels by doing "sick tricks" with A-ha's "Take Me On" playing in the background.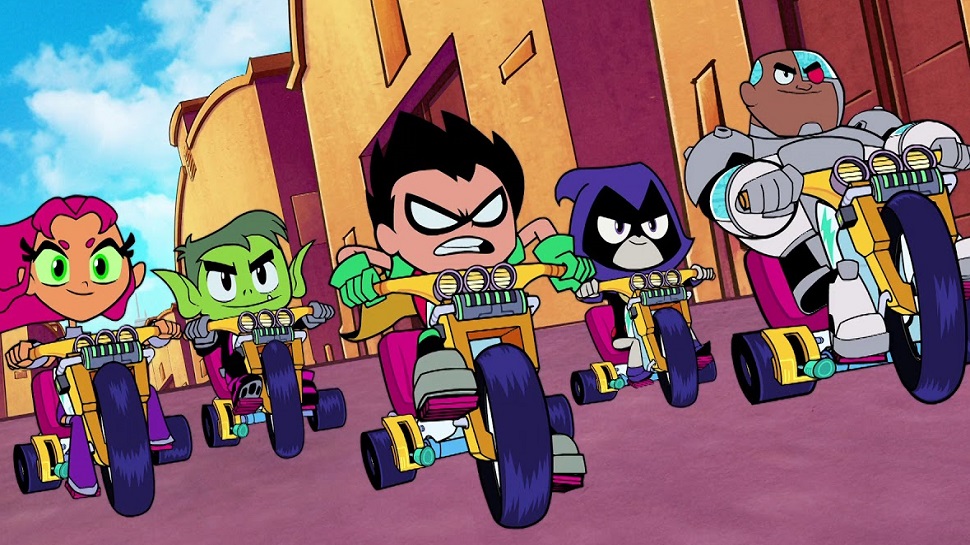 The animation throughout TEEN TITANS GO! TO THE MOVIES is great. They explore many different animation styles within the musical numbers, keeping the movie light and fun.
When it comes to the writing of this movie, I find myself strongly pondering what was really going on in the background. A lot of the jokes and slapstick were genius, so obviously the writers have strength in what they do, so I can't help but wonder if the toilet humor is the only way they feel that they can entertain the kids. Or perhaps if it's some kind of sour nihilism, especially when they ended the movie by having Robin urge the kids watching to ask their parents where babies come from. The writers even acknowledge TEEN TITANS GO!'s faults in their own show. Check out this clip from the show with a strikingly familiar red head yelling at the Teen Titans. This clip is a pretty good summary of what to expect in the movie.
If you stick around for a bit after the credits begin, you will be greeted with an extremely pleasant surprise. This a spoiler review so I'll go ahead and say what it is: We see the Teen Titans of the 00's TV series, and they tell the audience "We found a way back". This made my cartoon geek heart light and I may have gotten a little teary and openly cheered for it. Is this an official announcement for TEEN TITANS SEASON 6? It certainly appears that way.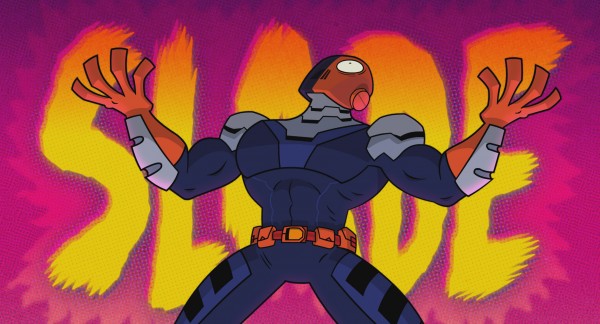 Looking back over TEEN TITANS GO! TO THE MOVIES, there's a lot of fun jokes I can look back on and talk about. I really feel that this is the kind of movie you can enjoy with each rewatch, because you'll already be desensitized to the awful toilet humor attached to it and will be able to enjoy the good highlights of it. Take your kids to it and have fun, you'll enjoy the twisted humor. Don't say I didn't warn you about the ending, though.
~Big Eyes