Hola Dannie aqui,
Today the great spy Derek Flint has returned to AICN with a review of "THE SPY WHO DUMPED ME!" I am excited to have Flint back on the team! "THE SPY WHO DUMPED ME" comes out in the U.S. on August 3rd, and hits the U.K. on August 22nd! Here is his review-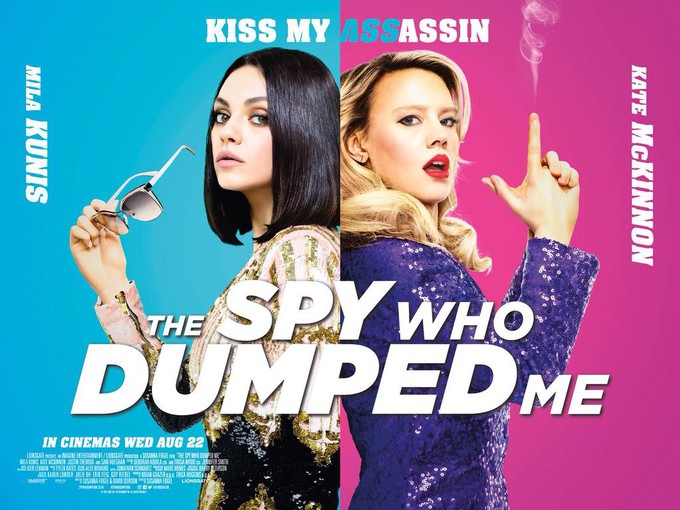 Derek Flint here-
A spy movie needs a great spy. A comedy spy movie needs a great funny spy. "The Spy Who Dumped Me" has neither, but to be fair this movie mines the Hitchcockian tropes of an average person getting caught up in espionage rather than the hi-jinks of horny superspy Austin Powers or desk-bound operative Melissa McCarthy thrust into the field in "Spy," which is a better movie than this. There are also large dollops of the 70s and 80s comedies like "Foul Play" and "Outrageous Fortune" sewn within this crazy quilt of movie clichés connected by a standard secret agent plot. You've seen this sort of story many times before. Nevertheless, I'll avoid spoilers.
Mila Kunis plays an underappreciated everywoman with the same sort of relationship woes Carrie Bradshaw and Hannah Horvath pontificate about on their HBO series. Justin Theroux plays the guy she's been seeing, the spy from the title, who has managed to keep his double life a secret. Only after Theroux dumps Kunis does she learn his true globetrotting vocation as well as the amount of trouble he's currently in. After a calamitous turn of events, Theroux deputizes Kunis and implores her to complete his critical mission. This entails Kunis trekking to Europe and bringing along the obligatory best friend, Kate McKinnon.
The humor in "The Spy Who Dumped Me" is mostly sitcom level. I felt like I was watching "Two Broke Girls Take a European Vacation" with action sequences instead of commercials. The dialogue has lots of obvious jokes and incidental characters show up for the sole purpose of delivering one-liners or broad reactions. Nothing feels real.
I'm a fan of McKinnon's work on SNL and she was about the only thing I enjoyed in the distaff version of "Ghostbusters," but McKinnon really isn't playing a character here, just herself. They've given her a Bohemian occupation to justify her eccentricities, similar to making Robin Williams a voice actor in "Mrs. Doubtfire," so she's relegated into the stock role of the wacky friend that riffs, mugs and comments on all the action nonstop. The subsequent home video release will no doubt feature endless "hilarious" outtakes of McKinnon's improvisations along with her fellow actors attesting how they couldn't keep a straight face during the shoot. Frankly, I would have preferred to see McKinnon in the lead. That isn't to say Kunis isn't good, she is… but the character as written feels beneath her. While Kunis isn't too funny in the role, she projects a tough, no-nonsense countenance and is credible in the action scenes that are often well-orchestrated ala "John Wick." I'd love to see her do some straight action films.
Gillian Anderson basically plays the same role she did in the "Johnny English" sequel and is fine. Sam Heughan carries the romantic lead duties and most of the movie's exposition, deftly straddling whether he's on the side of right or wrong, but what the film is missing is the sort of presence Jason Statham lent to the aforementioned "Spy," namely a real action star playing comedy, but bringing the authenticity of their previous roles to the party. I kept imagining if the spy that dumped Kunis were played by Matt Damon or Daniel Craig. This film also doesn't feature strong villains. Ivanna Sakhno looked like she was playing the same basic character Elizabeth Debicki did in Guy Richie's fun "The Man from U.N.C.L.E."
While "The Spy Who Dumped Me" is basically the sort of thing one watches on Netflix, the timing for the film is good in this age of female empowerment with "Wonder Woman" and "Ocean's Eight" filling theaters, so this flick will probably make some money. The problem with "The Spy Who Dumped Me" is the two heroines aren't progressive, just another version of "Laverne and Shirley."
Derek Flint