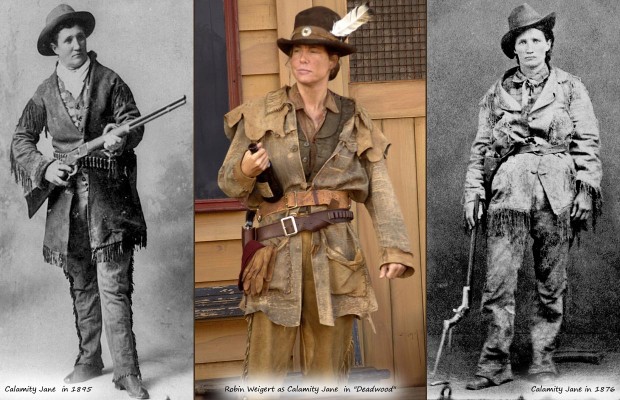 Hola Dannie aqui,
With some news on the Deadwood movie that we have all been waiting so long for. On July 20th, the L.A. Times reported that the film is closer than ever to becoming a reality. In an interview with the ever so talented actress Robin Weigert who played Calamity Jane, she said-
"It's safe enough to say it's happening this fall," Weigert said. "There's a set being built and tax incentives to get it done. A lot of [actors] have signed on. There's a 90% chance it'll finally happen."
Deadline reported back in April that the Deadwood film had garnered a California Tax incentive of about $4.2 million before being blessed with a green light. The project has had its ups and downs since the televisions cancelation back in 2006, because of a dispute between Paramount and HBO. The shows creator David Milch had mentioned in the wake of the cancelation that he wanted to do two 2 hour films for television if he could not get a fourth season. Those never came to fruition, unfortunately. Fans of the show have been haunting Milch and cast for twelve long years, with a neverending flow of fan mail, comments, and pleas for the return of one of the best shows to ever come out of the old idiot box.
I loved the series, I am a huge fan of the western genre and in particular the historic character of Calamity Jane. I also am obsessed with Annie Oakley, growing up in rural North Texas as a child I enjoyed hunting, fishing, barrel racing and roping cattle. My mother was a huge western geek, so she would read to me about many strong females from American history like Cynthia Ann Parker, Oakley, Belle Starr, and Calamity Jane. I would put money on us seeing more of those lady's tales hitting the screen due to the current evolving climate of take no shit females, and I would love to see this become a reality.
What do all you out there in Geeklandia think? I am super excited I love Deadwood.
Stay Strong, Live Good, Love Movies!
Dannie aka Pekosa Peligrosa