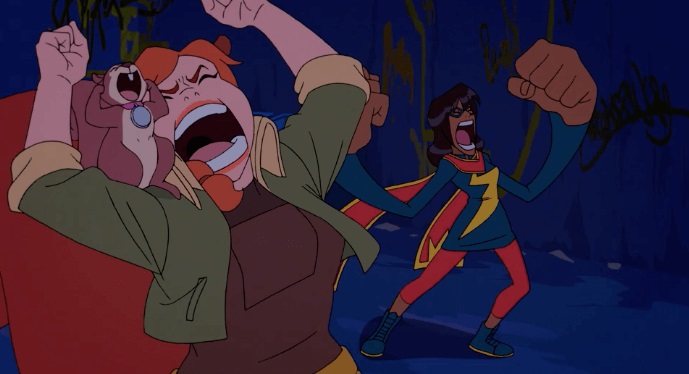 Morning, geeks!
Check out the trailer for the new six part animated series of shorts MARVEL RISING: INITIATION!
Seriously, though. This is our first trailer for the shorts and we are presented with an immediate fat joke on Squirrel Girl's behalf? I understand that Disney is eager to jerk themselves off for being inclusive but that is not the way to do it. Also, why does Spider-Gwen/Ghost Spider have Gwenpool's hair? If you read the comics, you'll know that they are NOT the same person. Those are the only things I'm feeling nit-picky about, but other than that, this show looks like a lot of fun!
As someone who grew up in the 90s with anime being looked down on by the masses, I actually don't mind seeing that new animation from America is taking on an anime-like design. AVATAR: THE LAST AIRBENDER proved itself as a GREAT show and laid down the foundation for more cartoons to look like it. (Anime actually took its design origins from old old American cartoons like Betty Boop, so really the style isn't that foreign to us.) The design for MARVEL RISING appears to be more unique and refined than other anime-looking American shows, which tells me that someone cared enough to put effort into it. Unlike what we saw in the pictures of the new SHE-RA.
They have a rather impressive list of characters who will appear in MARVEL RISING: INITIATION. If we don't see certain characters in the shorts, we will see them in the still in the movie MARVEL RISING: SECRET WARRIORS, which is still in production.
Kathleen Khavari – Kamala Khan/Ms. Marvel
Milana Vayntrub – Doreen Green/Squirrel Girl
Dove Cameron -- Gwen Stacy/Ghost Spider
Chloe Bennet – Daisy Johnson/Quake
Kamil McFadden – Rayshaun Lucas/Patriot
Tyler Posey – Dante Pertuz/Inferno
Cierra Ramirez – America Chavez
Dee Bradley Baker – Lockjaw/Tippy Toe
Ming-Na Wen – Hala the Accuser
Booboo Stewart – Victor Kohl/Exile
Kim Raver – Carol Danvers/Captain Marvel
MARVEL RISING: SECRET WARRIORS is to be animated as well! This is the second major animated Marvel movie from Disney focusing on second generation heroes, which is to join the ranks of the upcoming SPIDER-MAN: INTO THE SPIDER-VERSE, which we will see on Christmas this year.
"MARVEL RISING: INITIATION" airs August 13th on Disney XD.
~Big Eyes