Hello all, Mad Dashiell here and thanks for joining us. I was able to ask Andrew Maxwell a few questions about his new comic project. Without dropping any spoiler bombs for the first issue of "The Bawdy Tales of Lazlo Cale", I will say this comic is filled with fresh fun characters and even some that you might have known and loved for ages but due to insane events within will now be seen in a different light. It reads with a fun pacing as if you are watching your new favorite AdultSwim cartoon.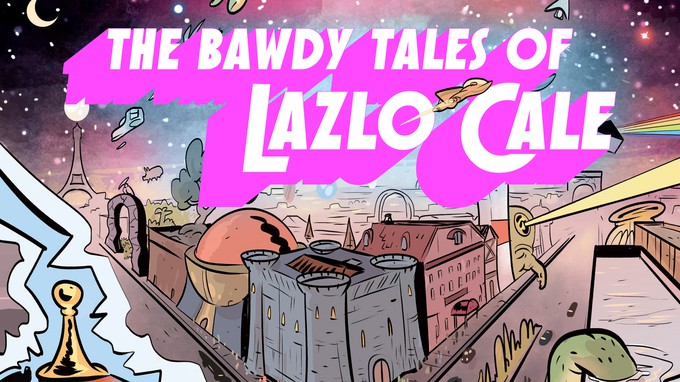 The Bawdy Tales of Lazlo Cale is a rollicking 48 page, sci-fi romp, created by Andrew Maxwell and Goran Gligović. The story takes place in a futuristic Paris, filled with interdimensional time portals, following an explosion of a literal time bomb. However, instead of erupting into chaos, the city became a unique ecosystem of different eras existing simultaneously together. Dinosaurs, samurai, and flying cars are just a few of the things you might see on the city streets. The protagonist of this tale is an ex-gigolo turned art dealer, who uses this new set of circumstances to profit and acquire art. He has recently been tasked with finding the city's most notorious gangster's stolen painting or suffer the consequences. Oh, and this mobster is his ex-boyfriend.
If you're a fan of films like The Thomas Crowne Affair or Ocean's 11, and sci-fi in the vein of The 5th Element, or Casanova, then you'll love Lazlo.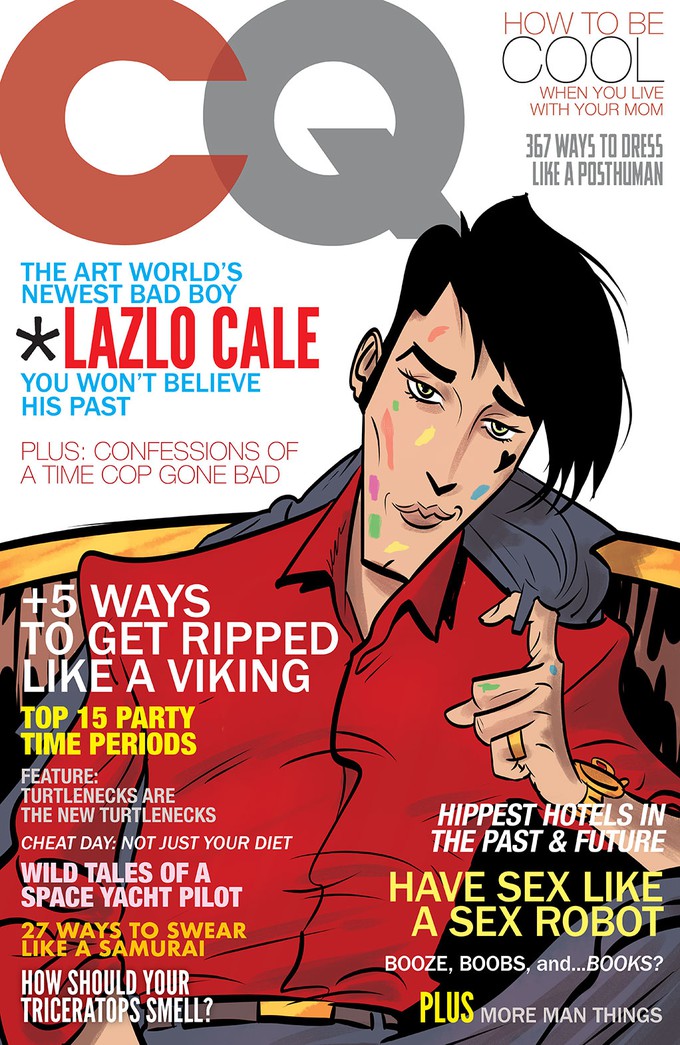 Mad Dashiell: How long have you been working in comics?
Andrew Maxwell: I self-published my first book, Rum Row, on Kickstarter back in 2014. But I started taking writing more seriously, a few years prior, during college. I was attempting stand-up, sketch comedy, and trying to write screenplays. During that time, I was also reading a ton of comics. I grew up on the 90s X-men and Batman cartoon, but when it came to actual physical books, I was late to the game. I was just blown away with what was out there. Garth Ennis's Preacher particularly sticking out in my memory. It made me realize comics could be about anything, all genres and art styles. I got pretty obsessed. So at the time, I was writing comedy stuff, I started researching and dabbling with comic scripting. First with quick 5 pagers and pitches here and there, and it sort of snowballed into where I am now.
MD: You certainly do have a good pacing with humor in your story. Tell us what was the Genesis of The Bawdy Tales of Lazlo Cale?
AM: The seed of the idea came to me when I was reading about stolen art and art thieves. Far less glamorous and exciting than anything you've seen in a movie, unfortunately. Although one thing I did take away, was that art can be stolen for a simple reason. Not for private collections, or secret black market auctions. Simply because some criminals have been known to use priceless works of art as a way to launder/transport money. It's far easier to disguise and transport a painting or parchment than it is a suitcase of hard currency or drugs. When I read that, a light bulb when off in my head. I don't want to spoil the ending of course, but there's more than meets the eye with the art wheeling and dealing in our little tale.
I'm also a big sucker for French crime films and was making my way through the Criterion Collection at the time. Godard's Breathless, and Melville's Le Cercle Rouge, and Le Samourai come to mind. At the same time, I was reading Paul Pope's Heavy Liquid, and Robert M. Beachy's Gay Berlin, focusing on the gay subculture of Berlin in the 20s before the Nazi takeover. For some reason, all of these pieces fit together perfectly in my brain and came racing out onto my laptop in the form of Lazlo.
MD: Interesting, can you tell us more about some of the artist's works that inspired your book?
AM: That's a tough question and definitely varies from project to project. I mentioned the films that inspired Lazlo, but creativity-wise, I think a big inspiration is other indie creators. The non-stop hustle, output, and ridiculous quality of books being put out now are amazing. I read Fraser Campbell and Iain Laurie's book Edge Off recently, and that was exceptional. Seeing books like that encourages me to want to produce at that level and make the best damn books I can. Not to mention, how supportive creators are, whether it's reading a script or helping to get the word out on a project. Making indie comics is no easy feat, but being part of this community is a huge bonus.
MD: Thanks for the insight into your process and delving into what inspires you. So, are there any comics you are looking forward to seeing?
AM: I'm always looking forward to more great indie books, and I try to pay attention to what's coming out on Kickstarter. I've also been meaning to read some Vault titles because the books coming out of there consistently look fantastic. Lastly, if I can carve out some time this summer, I'd love to finally sit down and read the manga title Monster. I've heard nothing but good things, so fingers crossed.
MD: When I read the first issue of "The Bawdy Tales of Lazlo Cale" I saw it animated in my mind while I was reading it. I want to see it animated for sure. It looks like you created a world that can just keep unfolding with wild characters emerging from any point in time throughout history. Do you already have an end game in mind or are you going jump from one awesome story arch to the next?
AM: Oh man, I would love to see it animated! I have two more oversized issues planned like the first one, and we'll collect those in a trade. So as of right now, I just have the first arc mapped out. But yeah, if people dig it, I have a ton of ideas.
MD: Tell us if you can what other projects do you see on the horizon?
AM: I'm just finishing up a script currently that is sort of like a BPRD / X-files style paranormal group during the birth of America. So I've been researching and writing that, and that's been a blast. I'm also in the middle of production for Aldous Spark Vol. 2, a sort of anarchist magician battling the powers that be in the Victorian era, in addition to putting together my first anthology for Rum Row, my prohibition themed aerial adventure series. Heh, so spinning a lot of plates, but that's a good place to be. Getting multiple art updates a week is now a drug I realize I can't live without. I'm definitely addicted.
MD: Well that sounds pretty damn cool! I guess In closing is there anything else you would like to tell the readers at AICN?
AM: Heh, well I guess the main thing, would be I hope that people check out the book. The Kickstarter for Lazlo goes live Tuesday, 7/10, and we have a whole host of rewards, including an awesome Jim Rugg variant cover. Not to mention options to read our other titles as well. If they back the campaign and message me that they heard about it here first, I'll send them a free digital download of one of our other titles to sample.
Otherwise, I think that's it. Thanks again, for letting me talk comics with you. It's been a real pleasure.
-Where to find the book:
The book is fully finished, and the correlating Kickstarter campaign for pre-orders just went live today!
In the meantime, interested readers can follow all updates and artwork on The Bawdy Tales of Lazlo Cale Official Facebook page: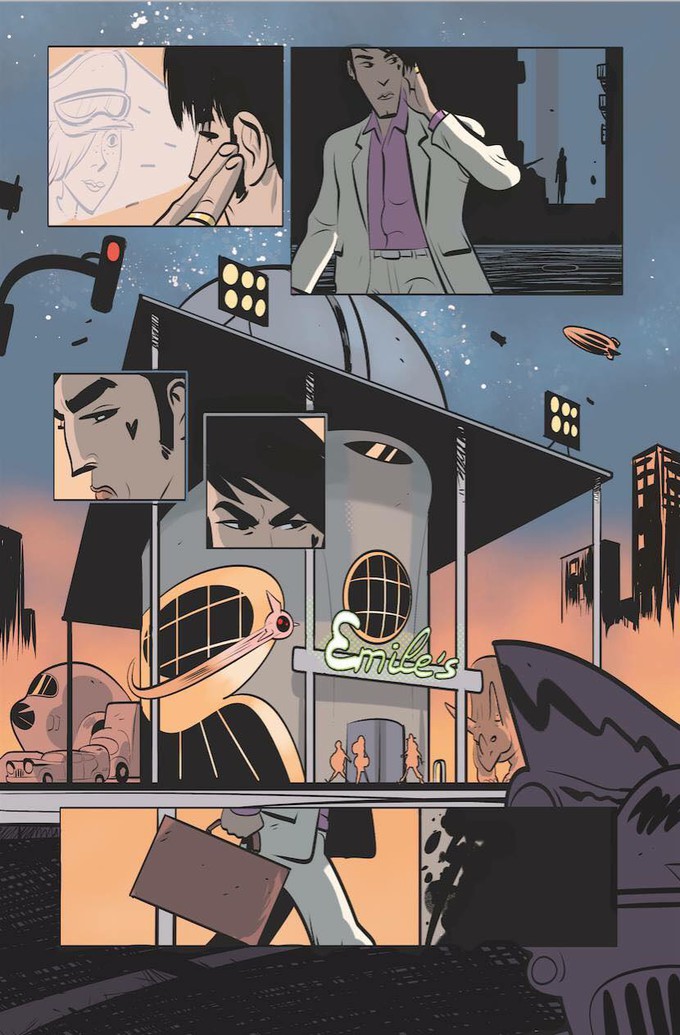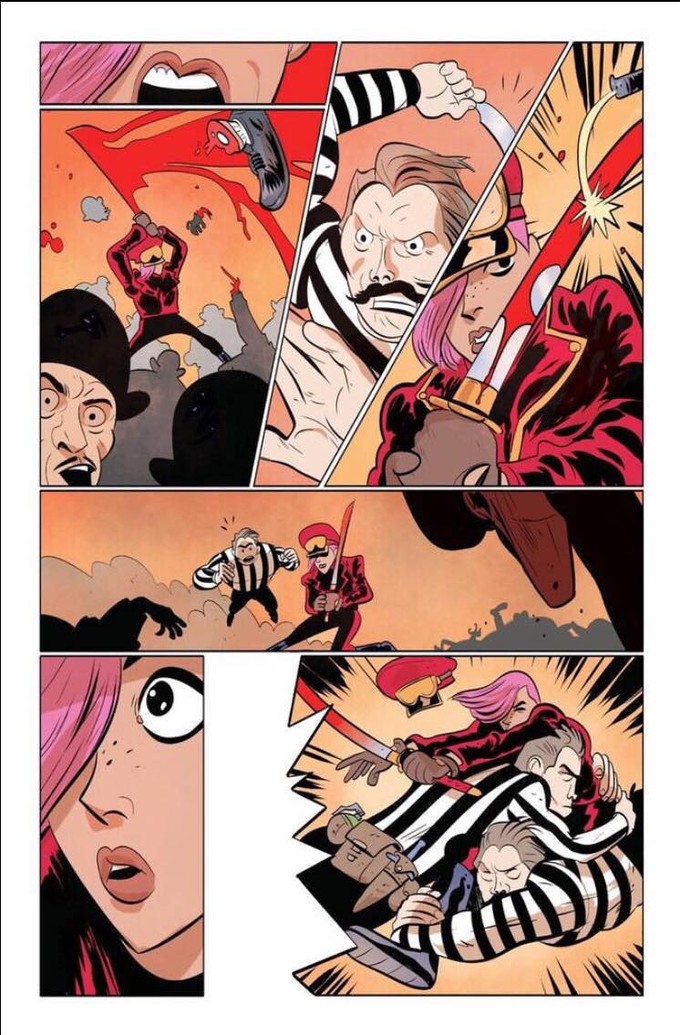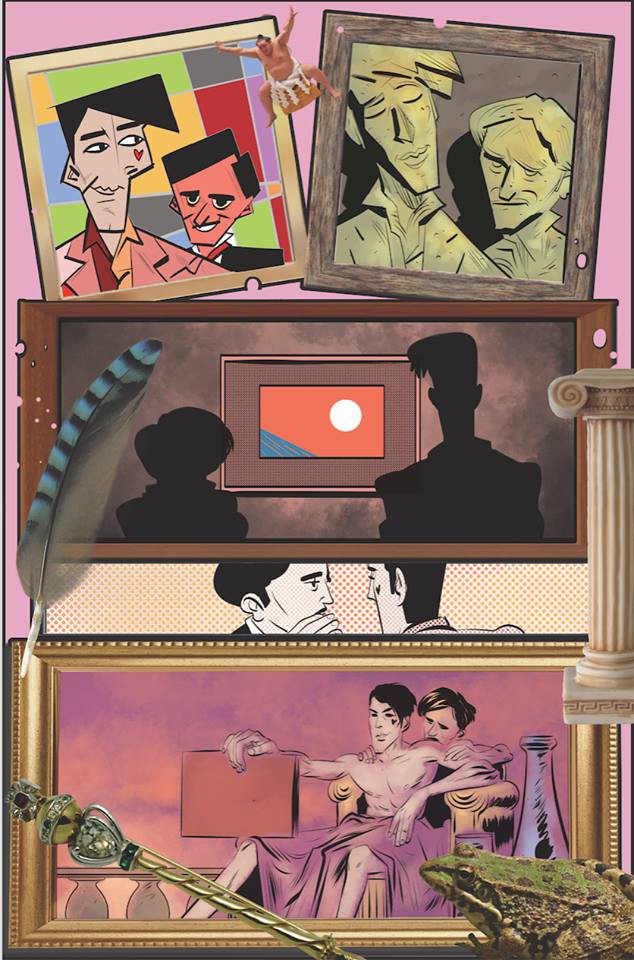 The Team:
· Art: Goran Gligovic
· Writer: Andrew Maxwell
· Letters: Bernardo Brice
· Logo/Cover Design: Sonia Harris
· Adam Pruett: interior designs, prepress, and assisting with editorial duties.
Variant Cover by: Jim Rugg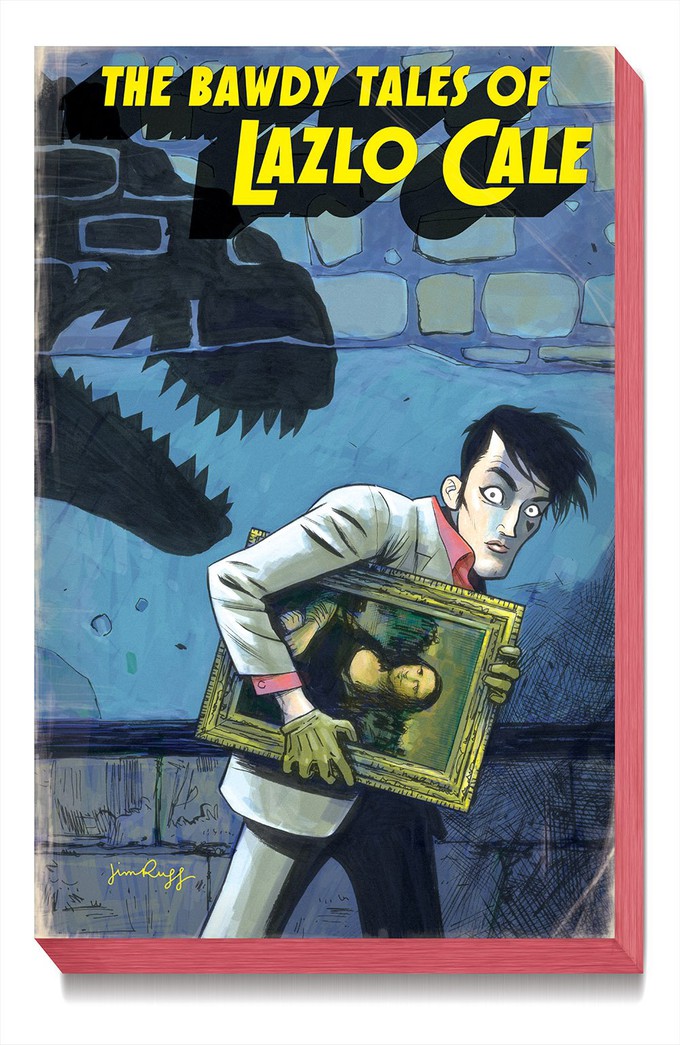 -Thanks for joining us, be sure to pre-order your copy today. I thought it was a fun ride. I'll say it again that it reads well and I want to see the bawdy tales animated. I will definitely be following the story as it continues. Well, tune in next time for more cool news and interviews from the comics corner. If you have a comic project you are working on or would like for me to have a look at then hit me up on Twitter @MadDashiell. This is Mad Dashiell your resident comic fiend signing off.