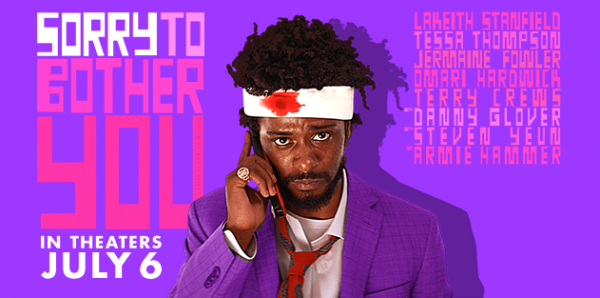 Hola Dannie aqui,
Last night I had the pleasure of attending an advance screening of "Sorry to Bother You" and wow, I went in expecting one thing and came out of the film in a disturbed and delighted haze digesting the film took an entire night. The film has an immense amount to say about race, classism, predatory capitalism, protests, art, politics, the entertainment industry, economic slavery, social media and the human spirit. The film had moments when the theater was engulfed in laughter; other moments were filled with an awkward and uncomfortable silence that filled the air with enough stifling tension you could cut it with a knife. The film digs up memories of the great satire "IDIOCRACY" with a hint of "Bamboozled" genius but goes quite a bit further down the rabbit hole.
This film is quite an ambitious first film for the controversial musician Boots Riley. Riley is known for the scathing social commentary he weaves throughout his music and music videos, as lead vocalist for the musical groups The Coup and the Street Sweeper Social Club. Riley also penned the script for this film, and I must say there are some one-liner's that are now filed permanently in my noggins file cabinet of quote-worthy wit. It makes sense that his first film would be an endeavor into the tangled world of social satire. By saying this film is ambitious, I do not mean that because of the political perspectives expressed but more because of all the Michel Gondry like moments that utilize multiple mediums throughout the film. The film even blatantly pokes fun at Gondry at one point.
I absolutely refuse to write a spoiler review of this. It should be seen with as virginal eyes as possible, as words would not give certain moments of this film justice. I will not cheapen the shock.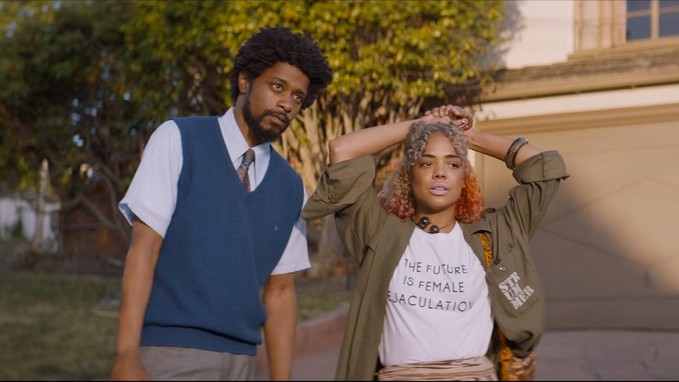 The two main stars of the film Lakeith Stanfield and Tessa Thompson putout stellar performances. Lakeith as the character Cassius Green a directionless young man from Oakland trying to scrape by and make a success of himself for his family, and mainly his love interest an artist and political activist simply named Detroit (Tessa Thompson). I love that they used the name, Cassius, possibly as a nod to Cassius Clay aka Muhammad Ali and like Ali, this film floats like a butterfly and stings like a bee. I want all of Detroit's earrings; they are themselves a character in "Sorry to Bother You."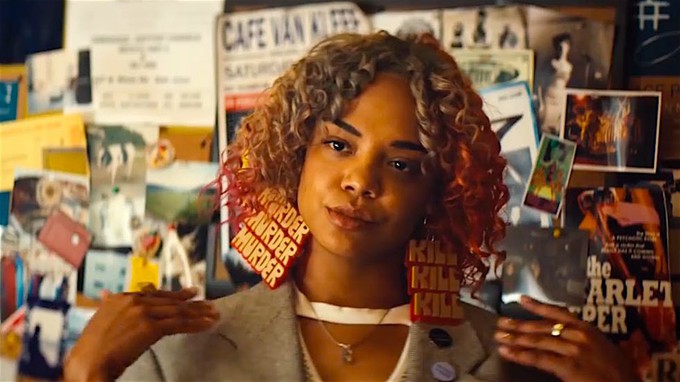 Actor Jermaine Fowler plays Salvador the childhood best friend of Cassius who brings him into the telemarketing world, the charisma between Fowler and Stanfield is golden. Actor Steven Yeun from televisions hit series The Walking Dead plays the part of Squeeze a political organizer with his eyes on Cassius' main squeeze the lovely Detroit. Yeun's performance is radical, to say the least. Omari Hardwick plays the mysterious and slickly dressed Mr._____. I don't remember ever hearing Hardwick's actual voice, only his magical "white" voice which is hilariously Patton Oswald! The use of the "white" voice is hilariously disturbing. Cassius' "white" voice is voiced by David Cross and is just so fucking unreal. Oldschool actor Danny Glover was given the part of Langston, the older man in the call center that shares the secret magic of the "white" voice, voicing Langston's "white" voice is Steve Buscemi. The "white" voices man, I can not express how weird it gets, you all just have to see for yourselves.
Cassius raises through the ranks of the corporate telemarketing giant, feeling financial security for possibly the first time in his life. However, Cassius soon realizes success has a massive cost, one he struggles with.
I highly recommend this film for anyone who loves 1995's "White Man's Burden," Mike Judges "IDIOCRACY," Spike Lee's "Bamboozled," Mel Brook's classic "Blazing Saddles" and Michel Gondry's aesthetic. "Sorry to Bother You" was unequivocal it will leave theatergoers in massive debates and lengthy conversations. "Sorry to Bother You" hits the cinemas on July 6th of this year, only days away! Be prepared for a cinematic mindfucking! Here below is the red-band trailer pretty spoiler free I'd say! I liked this so much; I already got tickets to take some friends and family to it on the 6th!
Stay Strong, Live Good, Love Movies!
Dannie aka Pekosa Peligrosa