Tapping screenwriter Andrew Dodge (BAD WORDS, SPACE JAM 2) to pen the script and produced by Michael Bay's (along with Andrew Form and Brad Fuller) Platinum Dunes, this third Turtles film from Paramount promises to reboot the series.
Now, this may seem like dismal news, but Paramount's chairman Jim Gianopulos has vowed to clean up the studio's output and focus cohesion on its tentpole franchises. More simply, he really wants to make "good" movies.
For the uninitiated, the Teenage Mutant Ninja Turtles began as a comic book launching in 1984 by creators Kevin Eastman and Peter Laird, and have since gone on to permeate every corner of pop culture in the last thirty years. From the five television series to the six films, the turtles have enjoyed varied levels of success and fame. Personally, as a writer of a particular age, I reflect fondly upon their first big screen adaptation, New Line Cinema's 1990 film TEENAGE MUTANT NINJA TURTLES.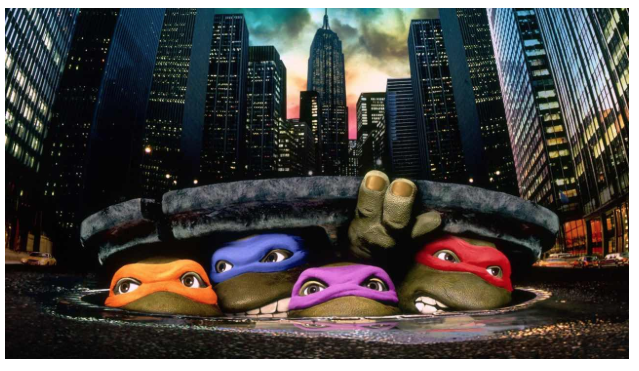 The film, along with its equally memorable preceding Pizza Hut commercial, is etched so firmly in my nostalgic memory that every subsequent revival is measured against it. Jim Henson's Creature Shop made film magic come alive back then, and since the advent of CGI, their creations remain the standard live-action pinnacle of Turtledom.
As mentioned earlier, this isn't Paramount's, nor Bay's, first stab (and I do mean that) at bringing the Turtles to the screen: 2014's TEENAGE MUTANT NINJA TURTLES and it's 2016 sequel OUT OF THE SHADOWS raked in over half a billion dollars at the box office. And, yes, I saw them both in the theaters.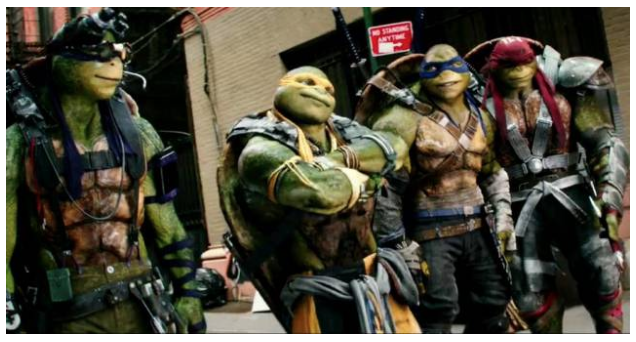 Just look at their adorable little nostrils!
To be fair, these outings weren't great, but still highly enjoyable. As incoherent and noisy as OUT OF THE SHADOWS was, it was a giddly delight to see the more ludicrous aspects of the Murakami-Wolf-Swenson cartoon series from the 80s come to the big screen. Tyler Perry as Baxter Sockwell was unexpectedly enjoyable (and brought the character back to his African-American comic roots), and seeing Stephen Amell as Casey Jones (well, a Casey Jones) was a nice surprise. That being said, there is no reason or desire to add a third chapter to this iteration. A reboot is the logical progression for the studio at this point.
Attaching Dodge to the project adds quite a bit of interest, and Nickelodeon's name is blissfully absent from the producing partners, as well, so I do hold some hope. Whether Dodge will base the adaptation on the 80s cartoon or the Eastman/Laird comics is the burning question. TMNT is one of the rare properties that came to fame as the diluted, child-friendly version of itself. There was no substantial die-hard comic fanbase to speak of before the brothers debuted in American homes on Saturday morning. If Dodge and company are to bring a comics-faithful adaptation to the screen, they'll be showing the majority of TMNT's fans a gritty, more violent take on their beloved characters, which would play into one of the largest arguments for superhero fatigue currently lodged against cinematic incarnations. However, to revisit the cartoon roots would just be more of the same, which is possibly the loudest and angriest rebuttal of these sorts of movies.
So what do you think? What would you like to see from a Teenage Mutant Ninja Turtle reboot? We'll be sure to update you with details as this project fleshes out, for better or worse.
Until then, see you at the movies!!
-McEric-