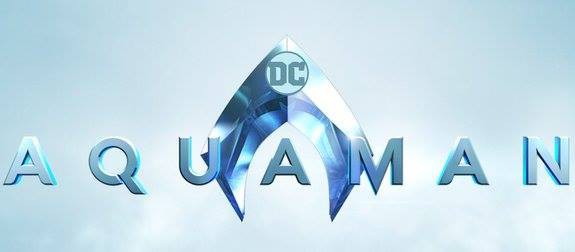 Hola Dannie aqui,
Our friends at Entertainment Weekly dropped a ton of pictures for the new AQUAMAN film! I have had the pleasure of meeting Momoa twice, he is a very nice guy even though he overheard me saying "This dude better not fuck up Conan" and he didn't all the issues I had with the film were outside of his control. When given the right part surrounded by talented directors and writers Momoa shines! Please, DC-verse let Aquaman be good! The bottom two pictures provide me with hope; they are gorgeous. I am hoping they give Aquaman a better go than Justice League did, I enjoyed Justice League it was fun. However, I want Aquaman to be more than just a one-dimensional waterslide into the lazy river. If handled correctly Aquaman could be fracking amazing. I would love for Aquaman to take an environmental stand against what us land-bound folk are doing, that would be cool. Global Warming, Oil spills, plastic pollution, setting off weapons in oceans/waterways and illustrating the effect this has on the Atlanteans and all creatures of the deep. I'm thinking an "THE ABYSS" like Atlantean revolt! Yeah, I know it will probably never happen, but a girl can dream can't she? Well, folks, I have kept y'all waiting too long for these pictures, so here they are!
The first here is Jason Momoa/Aquaman looking as moist as ever!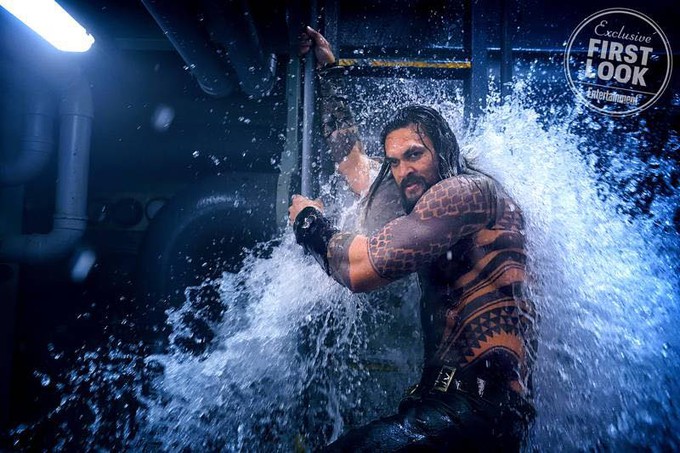 Another dripping wet picture of Momoa/AQUAMAN that made the cover of EW.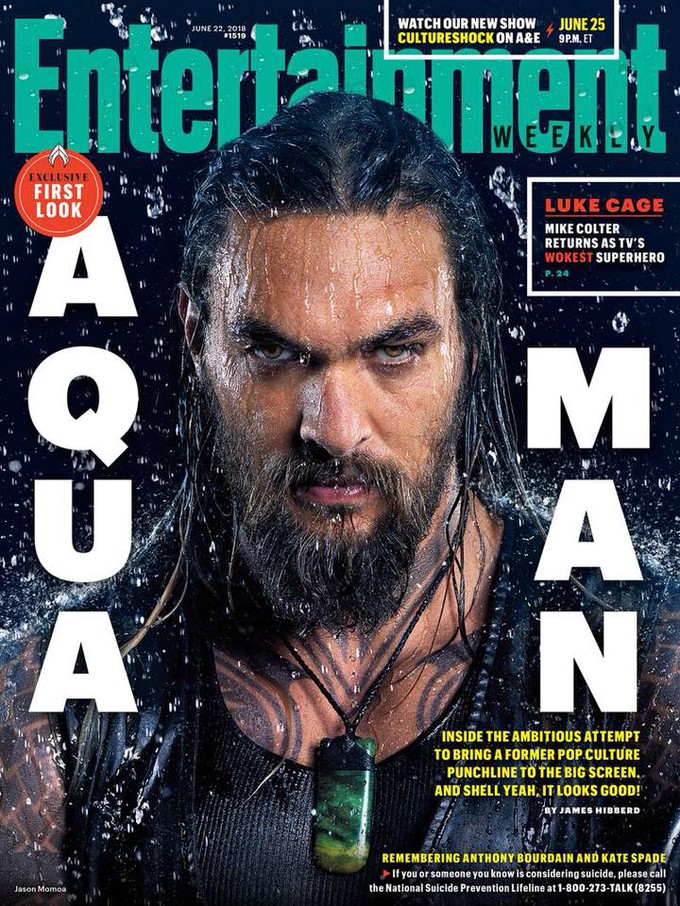 Another EW cover this one featuring Nicole Kidman as Queen Atlanna/AQUAMAN's Mommy, Actress Amber Heard returns as AQUAMAN'S scarlet-haired love interest Mera, and the AQUAMAN himself Momoa!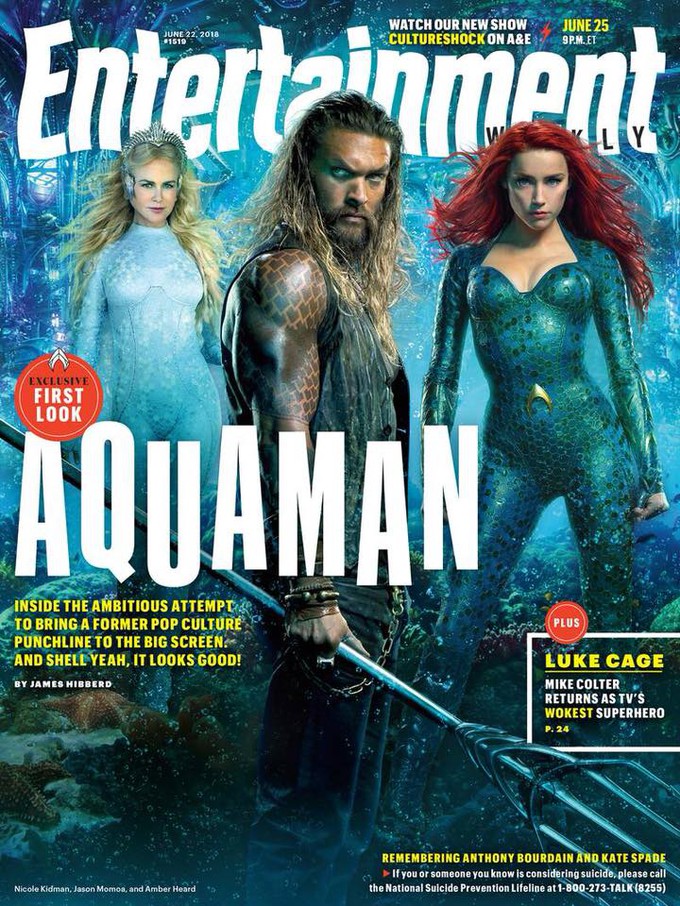 Here below we see director James Wan who brought us "SAW," "Insidious 1 & 2," "The Conjuring 1 & 2" and named as director of "The Tommyknockers" which was recently announced. Director Wan in this picture is seemly communicating and honing his vision for this scene with Momoa, Heard, and Nuidis Vulko. Vulko's character has been laid in the capable and experienced hands of actor extraordinaire Willem Dafoe! I love Dafoe, and I think he will rock the role of Vulko, who is Aquaman's mentor and father figure.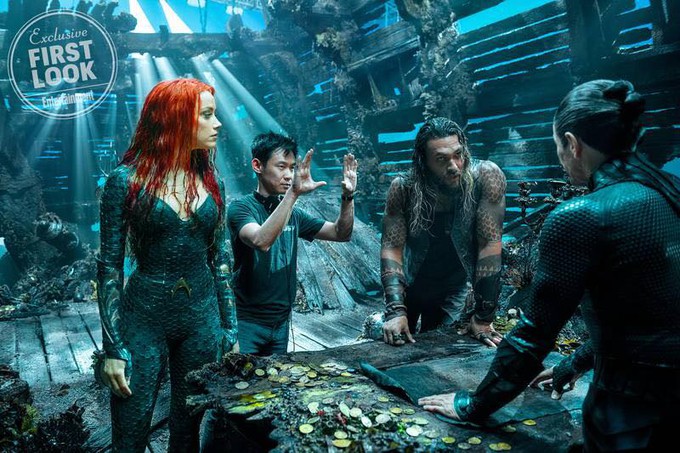 Here we see Queen Atlanna holding a wee Aquababy/Aquaman; I can only assume the back of that man's head must be Aquaman's Padre, Thomas Curry who will be played by Temuera Morrison. Yes, Temuera Morrison Jango Fett from "Star Wars" and his knockout performance in "Once Were Warriors" is unforgettable. If you haven't seen "ONCE WERE WARRIORS" find it right now, it is a spectacular piece of enthralling cinema.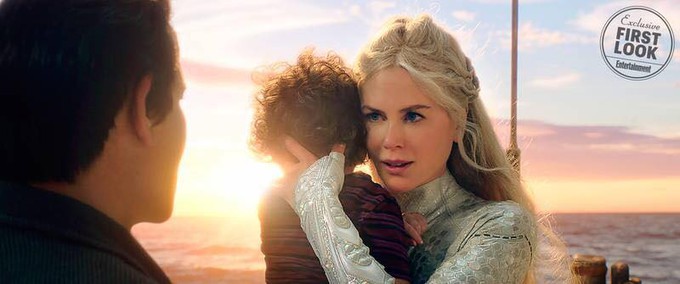 Here we see AquaMomoa standing toe to toe with King Orm, his brother from another Father who is played by Patrick Wilson. Many will recognize Wilson form his work with James Wan on "The Conjuring 1 & 2," "Insidious 1 & 2," as well as his work on 2004's "Phantom of the Opera," DC's 2009 "Watchmen" and the amazing film "Hard Candy." Again if you haven't seen "Hard Candy" wow, you are in for a whole twisted tale I refuse to spoil!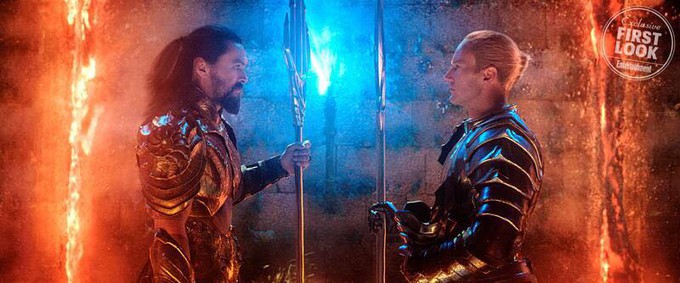 Below is the foe! Black Manta one of Aquaman's worst enemies! I shall not spoil this and drop the beans on why Manta is a significant foe, but if they go where one of the timeline/Earth One plots go, this should be badass and emotional. Fingers crossed. The part of David Kane/Black Manta is portrayed by actor Yahya Abdul-Mateen II. Yahya many may recognize from his work on televisions "The Get Down" or maybe his recent work on "The Greatest Showman," "Boundaries," "Baywatch" and "First Match."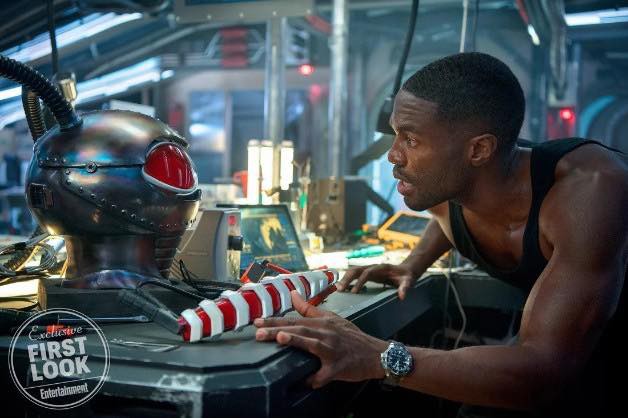 Ok, now for the two picture's that truly have me bouncing off the walls like DC's Bouncing Boy. As if sprung from Aphrodite's bosom, the artistic design and massive amount of work and care that went into transforming a conceptual painting/drawing into a moving, functional, and believable piece of film!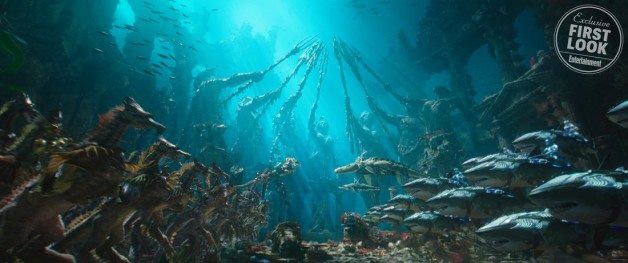 Holy DC Dios! The guardians of Xebel riding fracking giant seahorses and the Atlantean Army saddled upon great white sharks; perhaps we will see an epic underwater battle!!!
I believe here below, is the concept art they based the above photo on. All I can say is wow!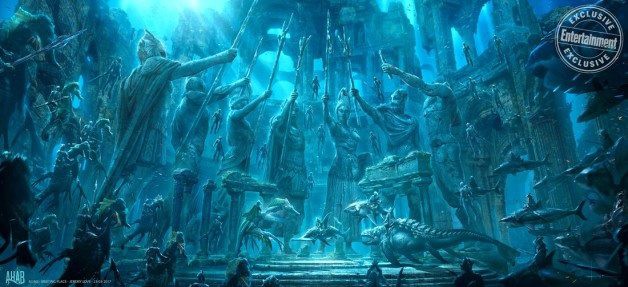 By Posidens beard, please let Aquaman be great. At the bare minimum, it looks visually like a fanboy or fangirls wet dream realized! Aquaman is set to engulf the theaters on December 21st of this year! What do all you Aqualad's and mermaids think?
Stay Strong, Live Good, Love Movies!
Dannie aka Pekosa Peligrosa