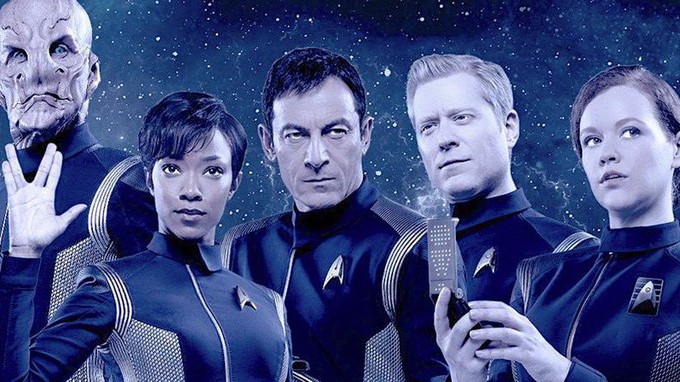 Alex Kurtzman, who co-wrote J.J. Abrams' "Star Trek" and "Star Trek Into Darkness" movies, will now serve as showrunner on CBS All Access' "Star Trek: Discovery."
Exiled from the series are "Pepper Dennis" creators and season-one showrunners Gretchen Berg and Aaron Harberts.
I take the departures as great news; the first season of "Discovery" was awful, worse even than the first two seasons of "Star Trek: The Next Generation."
Apparently others share my relief. "Insiders also stress that Berg and Harberts became increasingly abusive to the Discovery writing staff, with Harberts said to have leaned across the writers room table while shouting an expletive at a member of the show's staff," according to The Hollywood Reporter." Multiple writers are said to have been uncomfortable working on the series and had threatened to file a complaint with human resources or quit the series altogether before informing Kurtzman of the issues surrounding Berg and Harberts. After hearing rumors of HR complaints, Harberts is said to have threatened the staff to keep concerns with the production an internal matter."
Also departed from the series is screenwrite Akiva Goldsman ("Batman & Robin," the "Lost In Space" movie, "The Dark Tower"). Goldsman, according to the Reporter, "is said to have had a management style and personality that clashed with the writing staff." I regard Goldsman's departure as great news as well.
The first five episodes of season two are already near completion. The show is expected to take a production hiatus following the completion of 2.5.
Kurtzman, credited with co-writing the "Star Trek Discovery" pilot script with "Dead Like Me"/"Pushing Daisies"/"Hannibal" creator Bryan Fuller, got his start in television writing scripts for "Hercules: The Legendary Journeys" before moving on to "Jack of all Trades." He co-wrote 10 episodes of Abrams' "Alias" before co-creating Abrams' "Fringe." Without Abrams he co-created "Sleepy Hollow."
Outside Trek Kurtzman's big-screen writing credits include "The Island," "The Legend of Zorro," "Mission Impossible III," the first two "Transformers" movies, "Cowboys & Aliens" and "Amazing Spider-Man 2." He directed and co-wrote 2012's "People Like Us" and last year's Tom Cruise vehicle "The Mummy."
"Star Trek Discovery" is expected to return to CBSAA next year.