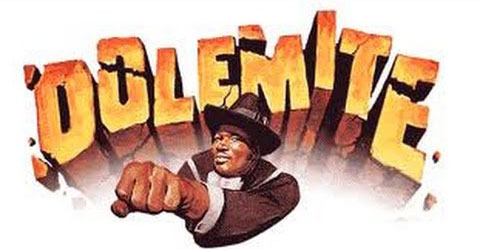 Eddie Murphy has inked a deal with streaming powerhouse Netflix to star as the legendary Rudy Ray Moore in a biopic titled, DOLEMITE IS MY NAME.
The film will be helmed by Craig Brewer (HUSTLE & FLOW) with a script by the writing team behind ED WOOD and THE PEOPLE VS LARRY FLINT!
Moore began his career as a spoken word artist/comedian before transitioning his earnings from that career in to the self-financed blacksploitation classic DOLEMITE. Moore's 2008 obituary described the film's lead character best: "the ultimate ghetto hero: a bad dude, profane, skilled at kung-fu, dressed to kill and hell-bent on protecting the community from evil menaces. He was a pimp with a kung-fu-fighting clique of prostitutes and he was known for his sexual prowess."
Moore followed up DOLEMITE with other low budget, but well-loved, films like THE HUMAN TORNADO and PETEY WHEATSTRAW.
Moore was a force of personality that has been hugely influential to pop culture. I could not ask for a better creative team to craft a biopic about Moore's rise from niche entertainer to cultural icon. I'm very interested to see what Murphy brings to the role. When he is motivated he can still create magic and you have to think that with the subject matter and this team involved he is going to bring his "A" game.
What do you guys think? Excited? Indifferent? Wish I had spent time talking about the obvious influence Moore had on BLACK DYNAMITE? Let us know!
Filming begins on
June 12th
. No word yet on when it will be released.
-Wheels