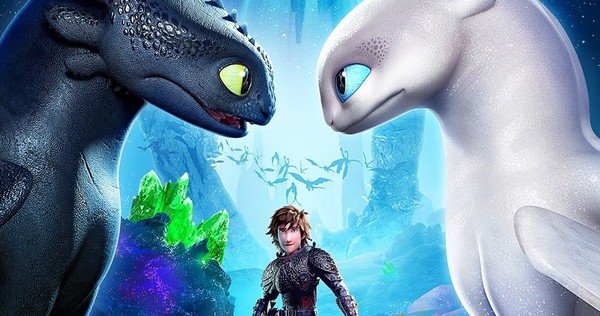 Evening, geeks!
The trailer for HOW TO TRAIN YOUR DRAGON 3: HIDDEN WORLD is here! The trilogy began back in 2010, and is finally coming to a close...Next Spring!
I recently went back and rewatched the original HTTYD, and the difference in the quality of CG is night and day. The third installment is looking to be beautiful! And speaking of night and day, did I hear them right, did they call the white dragon a "Light Fury"? (At least the first time it is said in the trailer.) As opposed to Night Fury like Toothless? I watched it three times and only heard Light Fury. So there's a love interest for Toothless, and they're going on the not so original route of him awkwardly trying to impress her. While it is anything but a new concept, I look forward to seeing the cute antics of Toothless, and all of the characters return against a new enemy!
This story is looking to be as touching and adventurous as the previous two, and I just cannot wait to see it. I gotta see more of dat Hiccup beard. It's so great that throughout this trilogy, they have had the characters age! You don't see a whole lot of transitioning from youth to adulthood in a lot of kid movies. I think they've been aged even faster than how many years have passed in real time between movies!
Looks like we have to wait all the way until March 1st, 2019.
~Big Eyes