Hello all, Mad Dashiell here and thanks for joining me today. I have some cool news for classic film fans today. As a big fan of Orson Welles, I couldn't be any happier. Let's dive in, shall we?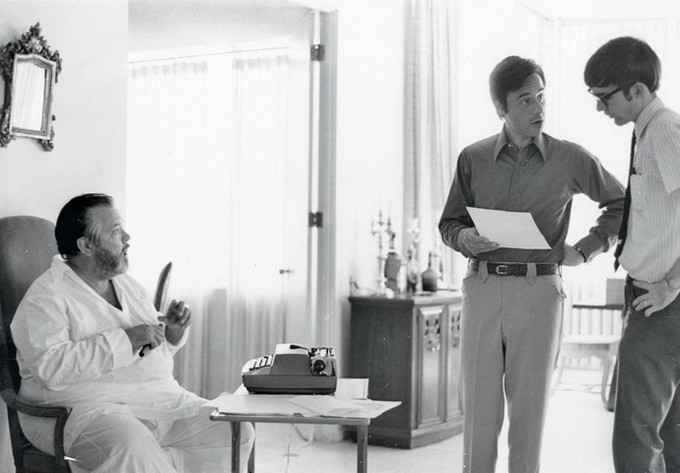 Welles, Bogdanovich, and Joseph McBride on the first day of shooting, in August 1970. By Felipe Herba/From Joseph McBride.
Netflix is heralding the film that will bookend the amazing collection of work by Orson Welles. Netflix now owns the global rights to THE OTHER SIDE OF WIND. Generations have been waiting to see Orson's final work now being brought to our digital and cineplex screens. Wellesnet was the first to break the silence of this theatrical release. It was revealed in a May 27th tweet from Frank Marshall. Marshall was the production manager during the original shoot in 1970-1976. Afterward, Welles worked on it until his death in 1985. Welles left behind a 45-minute work-print that he had to get smuggled out of France. Marshall has been leading efforts to complete the film now for over 40 years under the consultation of Peter Bogdanovich. Over 1,000 reels of the film negatives languished in film purgatory in a Parisian vault until March in 2017. After Netflix swooped in acquiring the archived footage it was immediately entrusted to a team of editors led by Marshall, and the streaming service footed all restoration and completion costs. This also entails the hiring of the Academy Award-winning duo Bob Murawski as the film's editor and Scott Millan as the sound mixer. Additionally, the producers tapped negative cutter Mo Henry, who holds over 300 films under his belt, and Ruth Hasty also joins the lofty project as post-production supervisor.
John Huston, Orson Welles, and Peter Bogdanovich take a break on the set of The Other Side of the Wind in the early 1970s. By Steven Jaffe/Courtesy of The Welles-Kodar Collection, University of Michigan, Special Collections Library.
"After all these years, I can't quite believe we are starting post-production on 'The Other Side of the Wind,'" Marshall said. "Thanks to Netflix, we have been able to assemble an amazingly talented post-production team to take on the exciting and daunting challenge of completing Orson's last film. It was an extraordinary experience to work with him 40 years ago and it will be an honor to help see his vision finally come together on the screen." He went on to say "It's a surreal honor to be working on a 'new' movie directed by the legendary Orson Welles, and starring filmmaking giants John Huston and Peter Bogdanovich," he said. "I feel 'The Other Side of the Wind' is the most important film project happening in the world right now, and I am thrilled, and humbled, to be part of it."
The film was shot from a screenplay Welles had co-written with Oja Kodar. It film hosts an amazing ensemble of big names like John Huston, Peter Bogdanovich, Robert Random, Kodar, Lilli Palmer, Edmond O'Brien, Cameron Mitchell, Susan Strasberg, Mercedes McCambridge, Paul Stewart, Norman Foster, and madman Dennis Hopper. The character in the film portrayed by Huston had originated from an encounter between Ernest Hemingway and Welles way back in 1937 (Only four years before the release of Welles's iconic classic CITIZEN KANE) when a whiskey-drinking Hemingway is reported to have thrown a chair at Welles. Welles, as he is known for borrowing from real life characters then decided to use Hemingway as the backbone for Huston's character just as William Randolph Hearst was for Charles Foster Kane. Huston plays a hothead filmmaker battling with Hollywood executives to finish a film he is working on. Not too dissimilar from the trials Welles faced throughout his career after making an enemy of Mr. Hearst.
As of now, there has been a source close to the studio that has confirmed with the folks at IndieWire that THE OTHER SIDE OF WIND will be planned to roll out a number of cinema showings, however, details for that are still being worked out. Netflix is moving towards a plan for a 2018 release.
-Thanks for joining me Welles fans, this is Mad Dashiell signing off.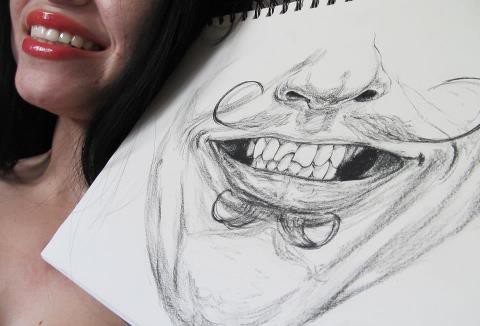 Art Credit:
Dulce Brassea