Freddy Beans here,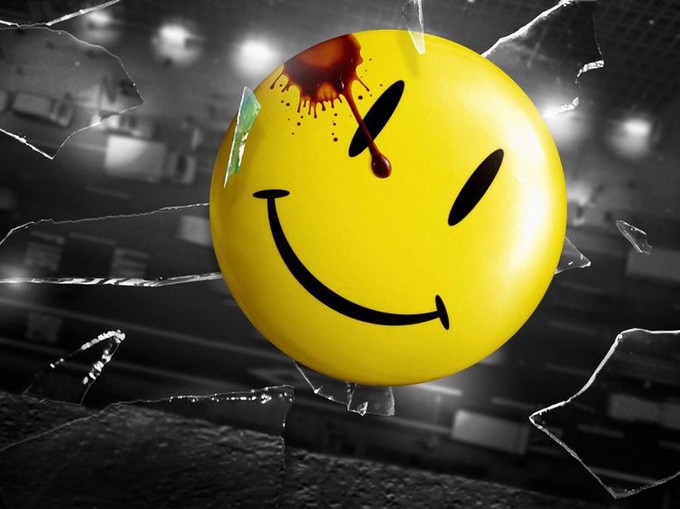 Yesterday Damon Lindelof started his marketing campaign for the new WATCHMEN tv series. And today it continues with news from VARIETY REPORTS that Regina King will star as the lead in the new series with Don Johnson, Louis Gossett Jr., Blake Nelson, Adelaide Clemens and Andrew Howard rounding out the cast for now.
Below I've included the twitter missive Damon sent to all his fans yesterday.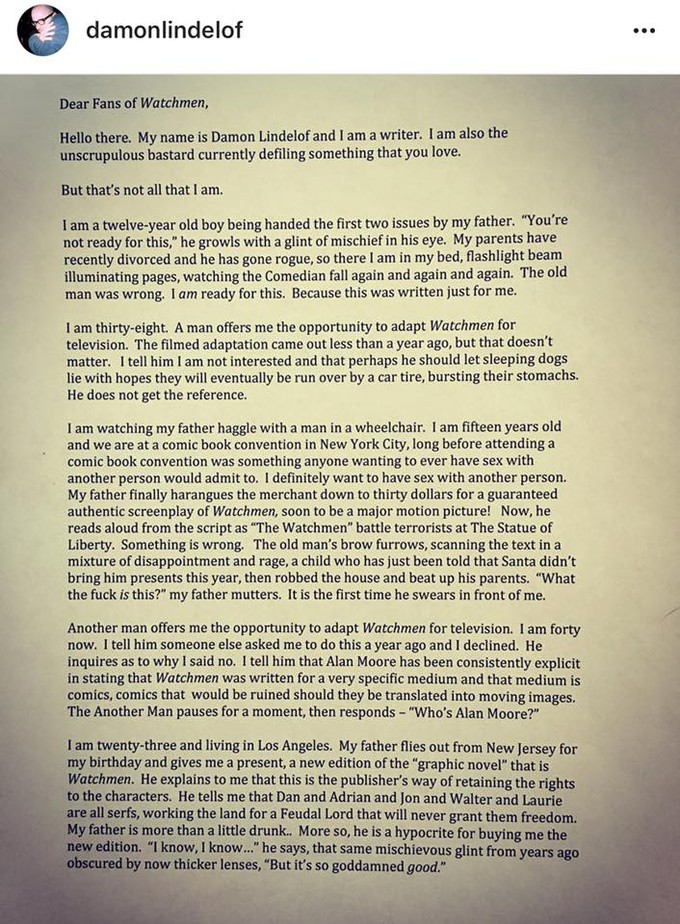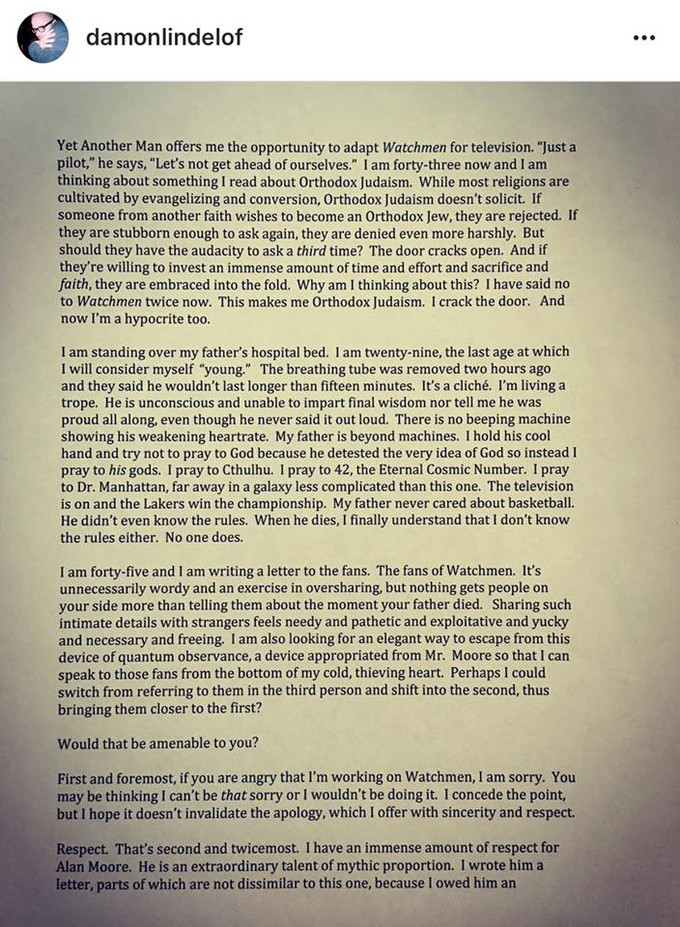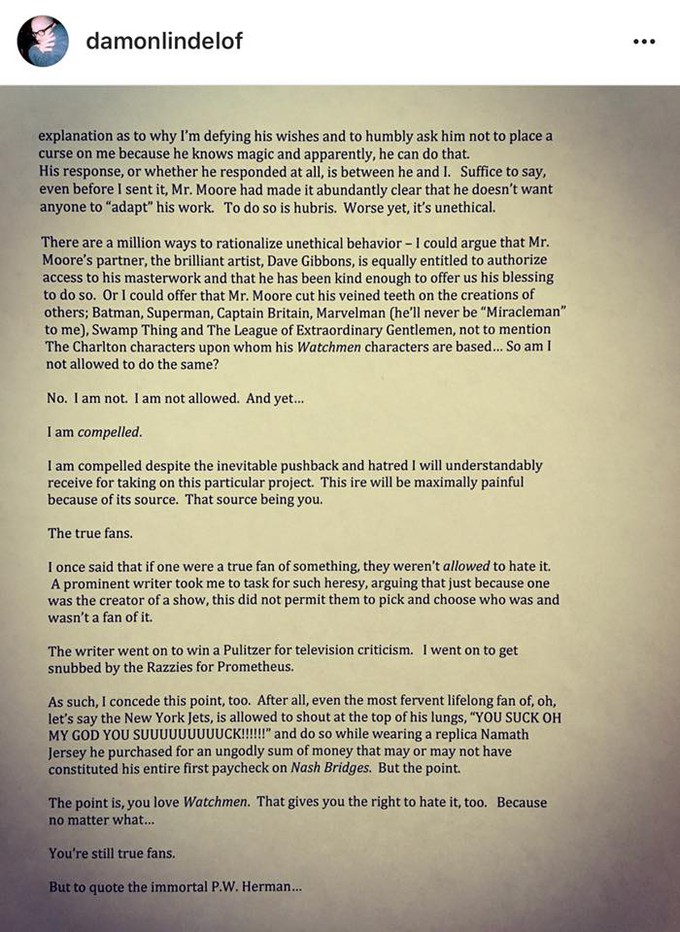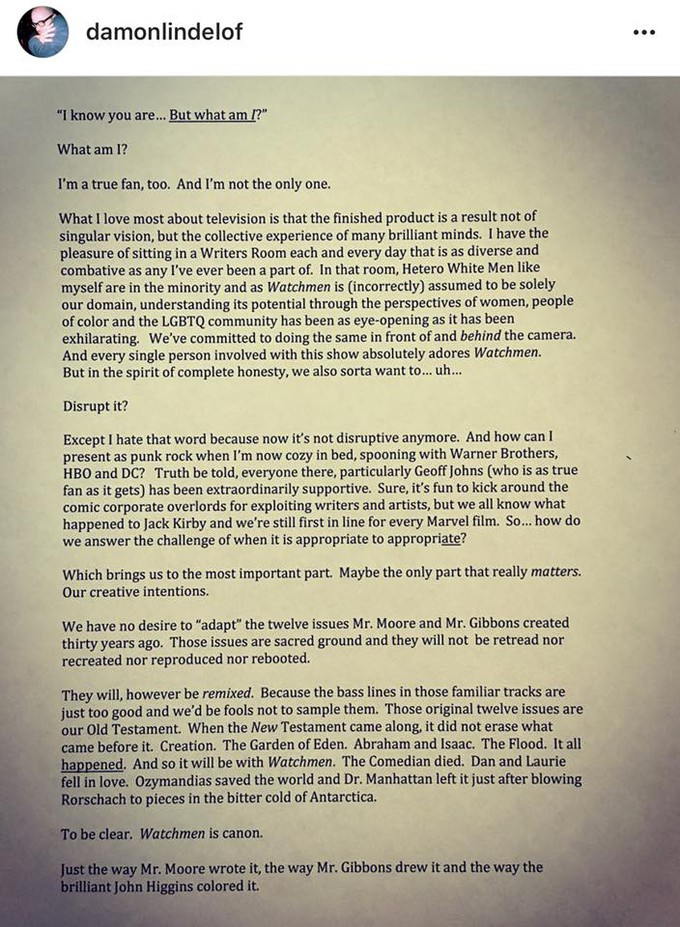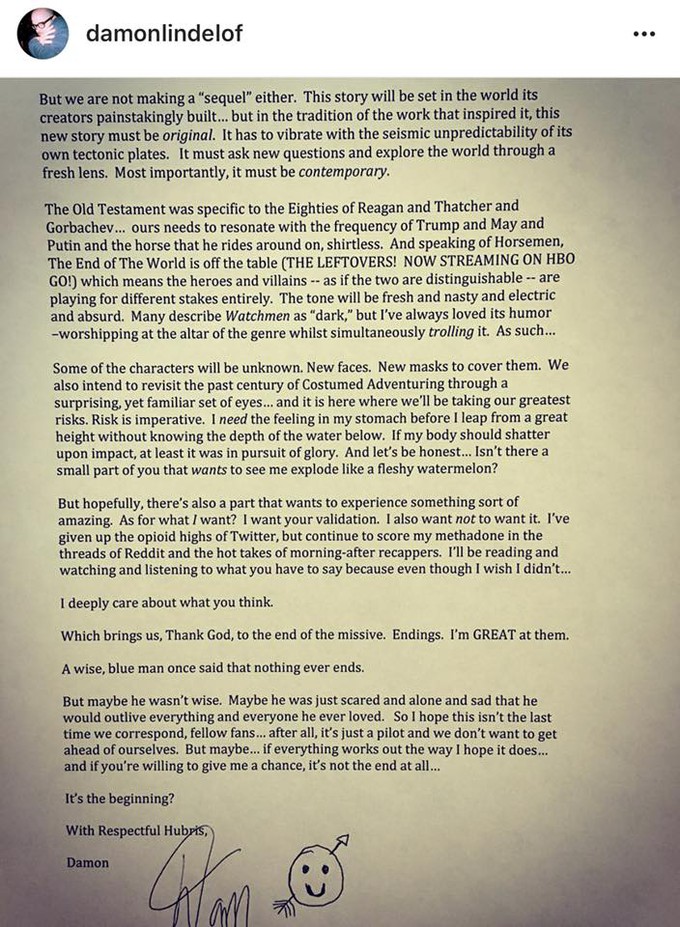 The original comic, written by Alan Moore, drawn by David Gibbons, & colored by John Higgins was originally published way back in 1986. I had ignored the comic for years before absently picking it up from an enormous fan and begrudgingly reading it only because i'd read everything else he had already. I read it in one night. It's nothing short of a masterpiece. I totally get why fans had a hard time with the movie. Personally, I liked it. Yes it had major shortcomings but I got to see my type of heroes on the screen. The type that are conflicted and have emotional depth like THE DARK KNIGHT the year before.
Any WATCHMEN fans out there interested in this tv series?
I mean Damon even plied your emotions with the death of his father (RIP) where's your heart? The way he even writes that letter screams Watchmen. I'm convinced after reading it he deserves the key to this Model T and I hope he Tesla's the fuck out of it. Yeah, I speak blasphemy, but since we obviously don't have a choice in all the sequels, retreads, remakes I've fallen in line and look forward to the ones that touched me back when. Hold your molestation jokes you perverts!
While I didn't know I wanted to see Damon's head "explode like a fleshy watermelon" now that he mentions it, that's a fantastic visual!
I told you so!
It's hard for me because if I'm to be honest I was all about Rorschach. He was the one modeled on what Batman could have been. You all know I prefer the dark stuff but even I know there's no coming back from this.
Yet then again, that's Dr. Manhattan, anything is possible isn't it?
I've been rereading my PREACHER graphic novels in anticipation of season 3 on AMC. But looking at my shelf, I think it's time I dipped back into this WATCHMEN world and swallowed whole what will be the 5th time reading the series.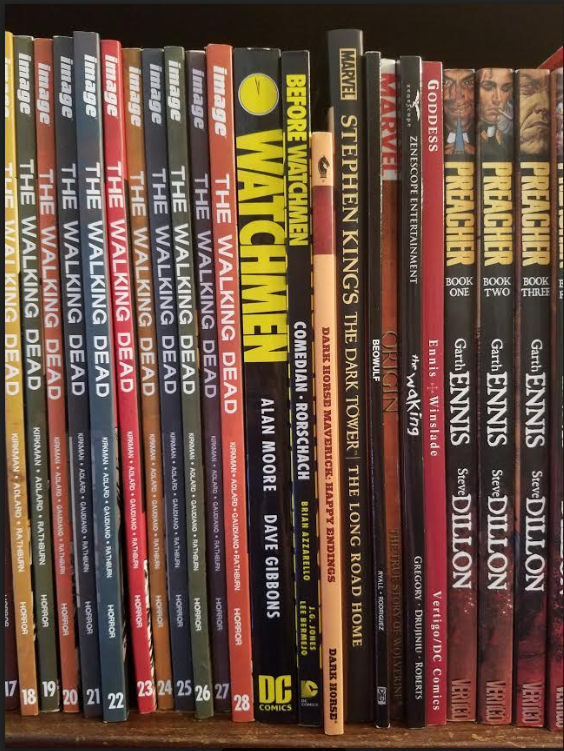 Then today it was announced that Louis Gossett Jr, Don Johnson, Regina King, Andrew Howard and Adelade Clemens were announced as starring in this Second Testement of the Watchmen as envisioned by the great Lindelof!
Til next time kids
Freddy Beans
Follow me on Facebook @https://www.facebook.com/FreddyBeansWrites/?ref=bookmarks
Instagram "@freddybeans_aicn"
Contact me @freddybeans@gmail.com