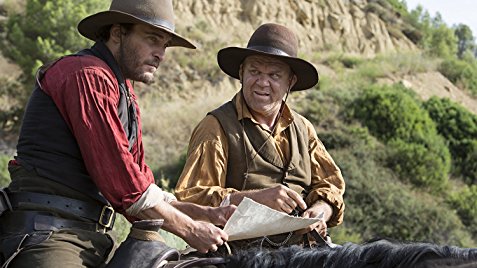 Hey folks... just a couple of days after the DAMSEL trailer, we have a trailer for THE SISTERS BROTHERS, which could be an indication that the western is coming back in vogue, or at least that we may be seeing some offbeat westerns in our near future.
THE SISTERS BROTHERS is co-written (with Thomas Bidegain, from the Patrick deWitt novel) and directed by Jacques Audiard (RUST AND BONE) and stars Joaquin Phoenix and John C. Reilly as brotherly assassins with the surname Sisters on the hunt for a gold prospector who is using science to get a leg up on other prospectors.
The terrific cast includes Riz Ahmed, Jake Gyllenhaal, Rutger Hauer, and Carol Kane. From the opening realism of a night gunfight in the old west, to the surreal inclusion of an old-fashioned music box playing "Tainted Love", this trailer suggests something unusual. It feels like it could bend sinister with an interesting level of humor to keep it all from being too heavy to be enjoyable.
--Precious Roy