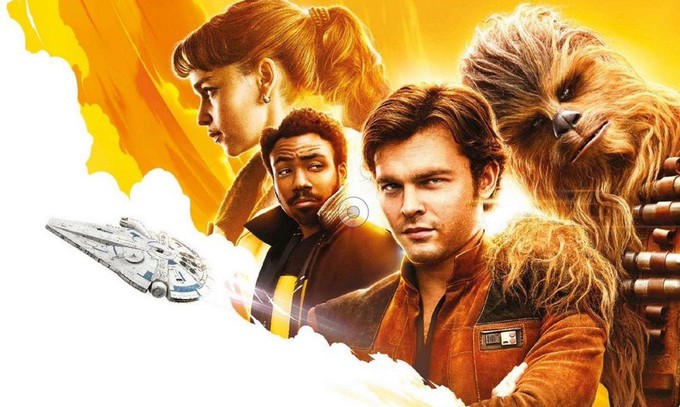 Hola Dannie aqui,
Yesterday evening I had the opportunity to see SOLO: A STAR WARS STORY at an advance press screening. I walked into the theatre giddy with dreams of Star Wars goodness, and fear of the possibility this could be utter garbage. I prayed for the film to be good. The galactic geek gods were listening and heard my plea's praise be to the force!

The film starts off on an unexpectedly dark note both in lighting and storywise, the likes of which I would never have expected from the non-offensive, family-friendly Disney corporation. It is always a delight to get what you want, thank you, Disney, for the many surprises, and the ballsy movie making.
What do I mean by ballsy, well you know how in prior films they reference how Chewy (Joonas Suotamo) could rip arms off and was a titan of a badass... We get full Wookie rage, also the way in which Han (Alden Ehrenreich) and Chewbacca meet is dark as all hell and illustrates the absolute inhumanity of the empire and most of those living in this dire era. The interactions between Chewy and Han are jammed packed with all the ingredients needed to start an inseparable partnership, and their first conversation is dynamic, to say the least. Every second of Solo and Chewbacca's interactions filled me with immense joy, approached in a fashion that illustrates a mutually respectful bond that shall be a perpetual thorn in the empire's side.
Han's relationship with the character Qi'ra (Emilia Clarke) is one that sprung from his traumatic childhood, the twists and turns that motivate, separate, and unite them are sprawled throughout the thrilling, emotional, sci-fi- adventure. The sparks between them, of course, existed, it is Han Solo after all.
Through the character Qi'ra- Mr. Solo meets his clever and equally charismatic counterpart Lando Calrissian (Donald Glover). Holy shit Lando is so, so cool, and at moments more of a scoundrel than Han would ever be (that we have seen thus far). There is one moment between Lando and L3-37 ( his droid, and copilot voiced by Phoebe Waller-Bridge ) that almost brought a tear, but not quite. The environment was too chaotic in the film to indeed focus on the emotions concretely at that moment. It was a thrilling ride, one that I in looking back on am honestly touched by the relationship between L3 and Lando. What becomes of L3 is a spoiler I will not divulge, however, I personally think it is an immensely interesting fate, and can not fracking wait to hear the talkback responses/conspiracies once you all see the film.
Beckett (actor-Woody Harrelson) character was immediately identifiable as an immense influence upon the young, impressionable, and apt Han Solo. The brief love affair we were introduced to between Beckett and Val (played by West World's Thandie Newton) pulled at my heartstrings a bit. However, no tears, again this is like a combative war film where you feel the loss, for seconds and then realize there are still living out there to worry for.
The villian.... well you will all see. I will not spoil it for Sith's, Jedi's or rebels.
This film is full of twists, unexpected turns, loopty loops and above all the fight between the dark side and not just the Sith and Jedi. It is about the power of the unrelenting individual spirit, no matter the husk. Humanoid, Wookie, whatever the fuck the other thousand types of creatures I saw on screen tonight were (and most importantly the viewer I hope).
This film further sunk its teeth into the prior films stances on forced labor, slavery and inequality in the galaxy in the grip of tyranny, darkness, and genocide. There is a striking contrast in this film between the impoverished and the greedy, gluttonous, power/fear motivated, brutes that wield the whip for the dark side.
This film is dark, there is some bloodless dismemberment I think done in the utmost non-gory low lit so didn't suck way. I would love a gorey Star Wars, I am a gorehound. But that would not be mother loving STAR WARS-VERSE. Star Wars is an all age adventure, this one is a bit darker than I think anyone expects. I fucking loved it, I enjoyed the entire film with very minimal complaints, that would be spoilers if I were to speak.
Out of utmost respect, I bid you all a good evening, and I can not wait to talk about it again once I don't feel like being a blatant spoiler queen!
Stay Strong, Live Good, Love Movies!
Dannie aka Pekosa Peligrosa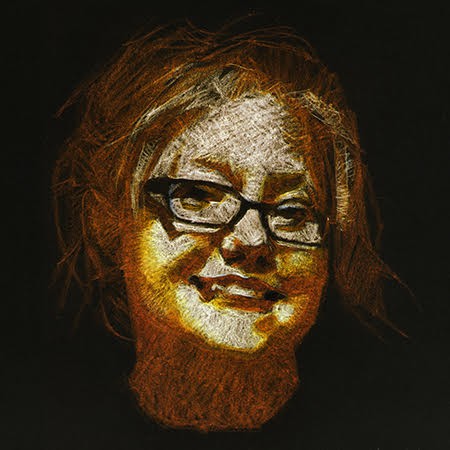 Art by Visual Jedi Paul Russel