Hello all, Mad Dashiell here and thanks for joining me today.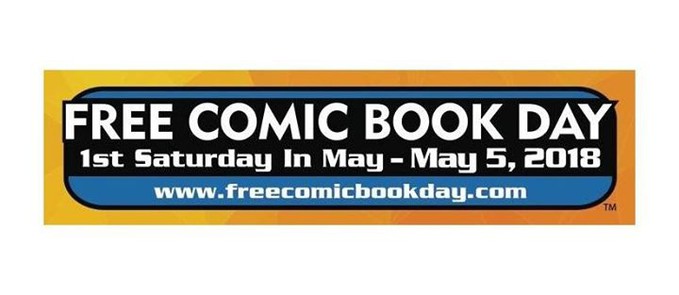 Well, another Free Comic Book Day has come and gone. I hope you made it out to your local comic shops early and didn't miss any of these free giveaways. I have selected and read my top five favorites from various publishers. Let's talk about some free comics, shall we?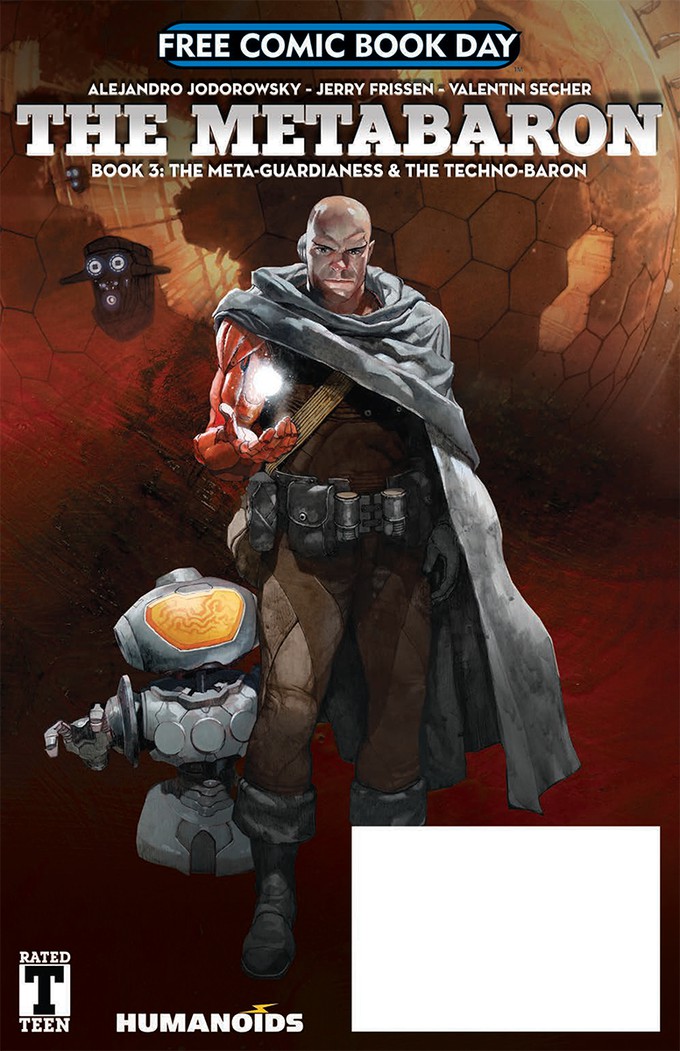 1- "THE METABARON, BOOK 3: THE META-GUARDIANESS & THE TECHNO-BARON" -Of all the Free Comic Book Day's I have attended, this particular issue jumped out at me as quite a treat. Jodorowsky is still the mind behind the story so at that I knew I was in for a real treat. The writing is done by Jerry Frissen, Frissen is the senior graphic designer at Humanoids as well as the author of several other best-selling graphic novels. The inside did not disappoint either, the eye-popping artwork is glorious to behold. The ever impressive Valentin Secher, the illustrator of KHAAL, is the spectacular artist and colorist bringing this Metabaron chapter to life. Mukesh Singh works with various international comics book companies like Liquid Comics and Marvel comics and is the layout artist for the comic.

-THE INCAL and THE METABARONS are two of the best-selling graphic novels of all time. The spin-off space opera continues as the Metabaron is faced with potential extinction as he unlocks the mysteries of Epyphite in hopes of finding the key to the future of the universe. Its Jodorowsky, your either an enthusiast, or not amused.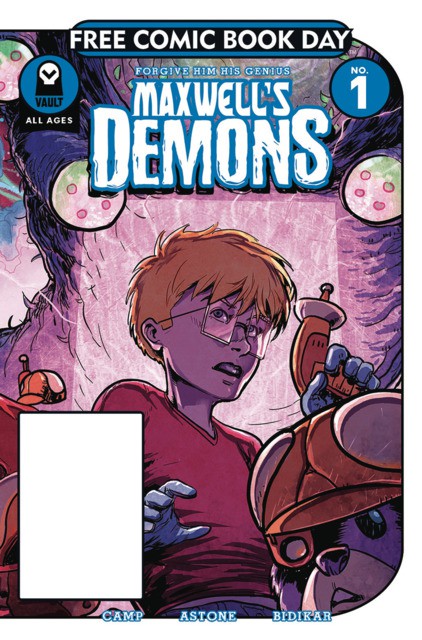 2- "MAXWELL'S DEMONS" Deniz Camp sets the comic world on fire with his story and brought to life with art by Vittorio Astone and Aditya Bidikar. This was one of those never choose a book by its cover moments. I wasn't initially impressed by this all-ages comic and after opening it I felt like I was reading some fans take on Bill Watterson's SpaceMan Spiff. It's almost reminiscent of SpaceMan Spiff meets Rick and Morty.

Well, that was until I turned the second page. The story pulls you in fast, the writing is really dark, and witty as hell. The title alone is a nod to a thought experiment created by the physicist James Clerk Maxwell where he suggested how the second law of thermodynamics might hypothetically be violated. The 10-year-old embarks on adventures to distant worlds through his makeshift multiversal closet door, the boy quickly finds greatness and goodness on a cosmic scale. But will Max realize what dangers lurk beyond as he plumbs the depths of the cosmos? When you open some doors you might have to close some others before it's too late...

-It feels funny to follow up a Sc-Fi Jodorowsky comic with saying this but, if you appreciate stories where characters are facing off against classic metaphors with an engaging sci-fi twist then you will get a big kick out of MAXWELL'S DEMONS.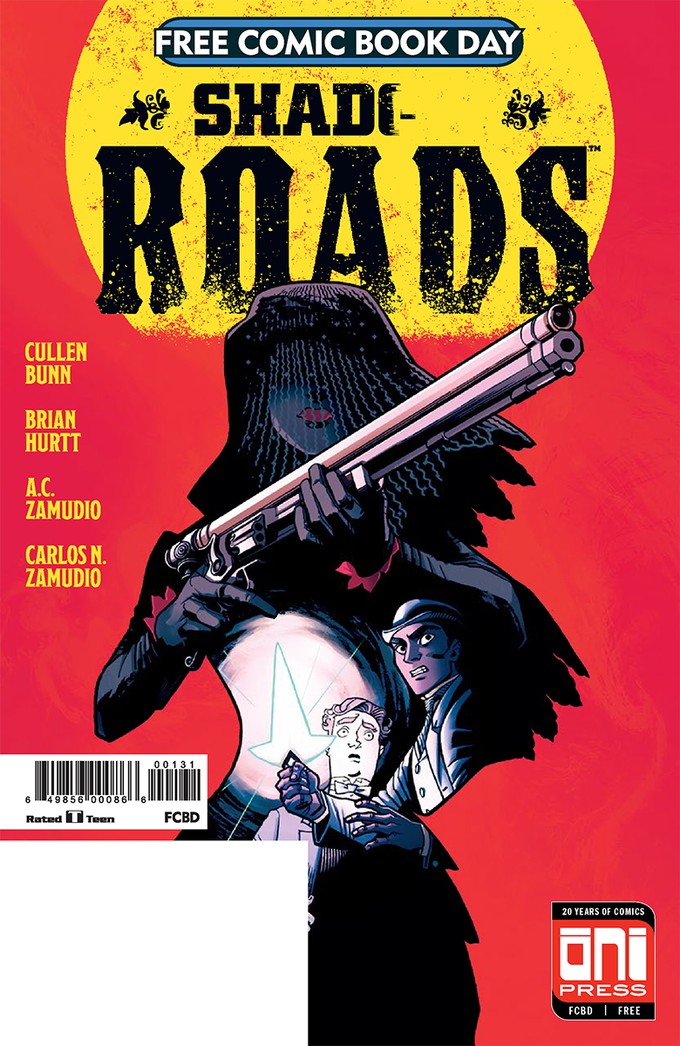 3- "SHADOW ROADS" Written by Cullen Bunn and Brian Hurtt. Cullen Bunn and Brian Hurtt are also the minds behind THE SIXTH GUN, published by Oni Press. A.C. Zamudio did the fine illustrations, Zamudio worked on THE SIXTH GUN as well. Colors are by Carlos N. Zamudio and the lettering was done by comic letterer Chris Crank.

-The world is its thinnest at The Crossroads, here with the help of Kalfu, a mysterious gatekeeper, and a band of adventurers is gathered to battle otherworldly beings whose presence threaten the fabric of creation. In the vein of Lovecraftian horror meets Annie Oakley, fans of cosmic horror comics will not want to miss out on this tale.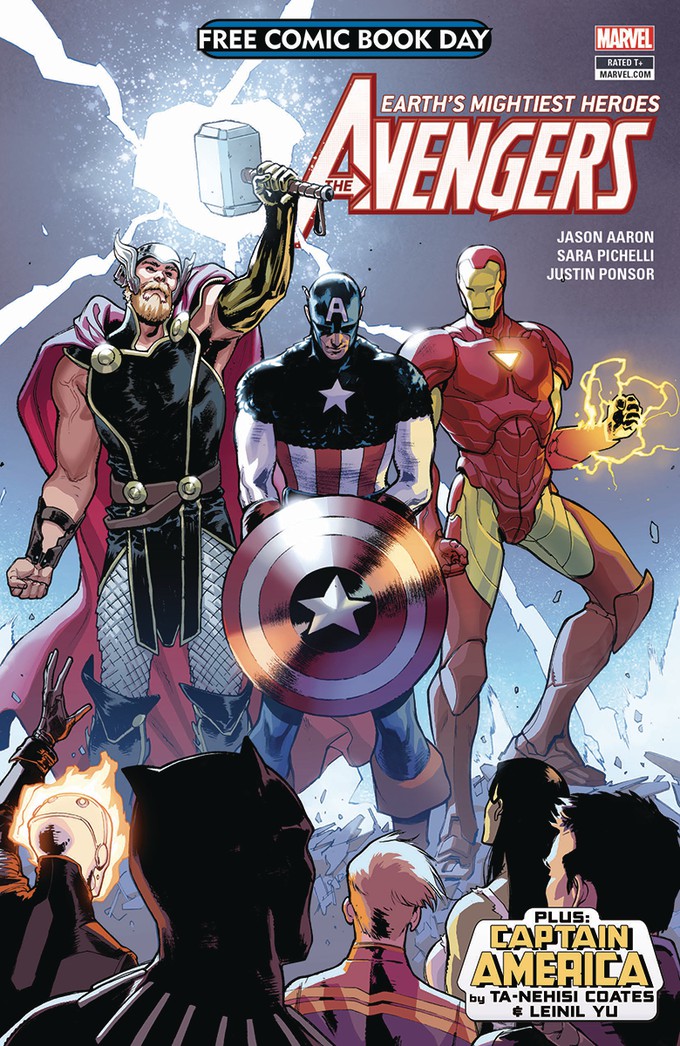 4- "THE AVENGERS, EARTH'S MIGHTIEST HEROES" -With a story from Jason Aaron and beautiful art by Sara Pichelli. Aaron is known for his prolific works on Thor, The Other Side, Scalped, Ghost Rider, Wolverine, and PunisherMAX. Sara Pichelli is well known for her work on SPIDER-MEN 2 and together this team will set the stage for a new epic direction in the Marvel Universe.

It begins at a new starting point with Black Panther answering a summons from the All-Father Odin himself. A tale of Midgard is told that takes place 1,000,000 B.C. with Odin and ancestor of Black Panther. The sins of the forefathers run deep and Black Panther is charged with a heavy task that will leave you pre-ordering future issues.

The second story in the back- "CAPTAIN AMERICA, WE WHO LOVE AMERICA: A PROLOGUE" The writing is done by Ta-Nehisi Coates. Coates is a national correspondent for The Atlantic, where he writes about cultural, social and political issues. Needless to say, I am impressed by their choice and immediately note a difference. The pencils of Leinil Francis Yu and inks by Gerry Alanguilan will be illustrating this refreshingly new, bold Marvel tale.

- I am reminded of the new life Steve Englehart breathed into Captain America decades ago by exploring how Cap is jaded from the Vietnam War, leading him and Falcon on a crusade against a crooked US government controlled by a faceless villain, but the implication was very clear in the end. -*SPOILER*- Richard Nixon, or at least the Marvel Universe equivalent of Richard Nixon, was leading the Secret Empire. Captain America has ideally, since his origin, always been a reflection of the times. In this politically tumultuous time we live in, our heroes will reflect humanity.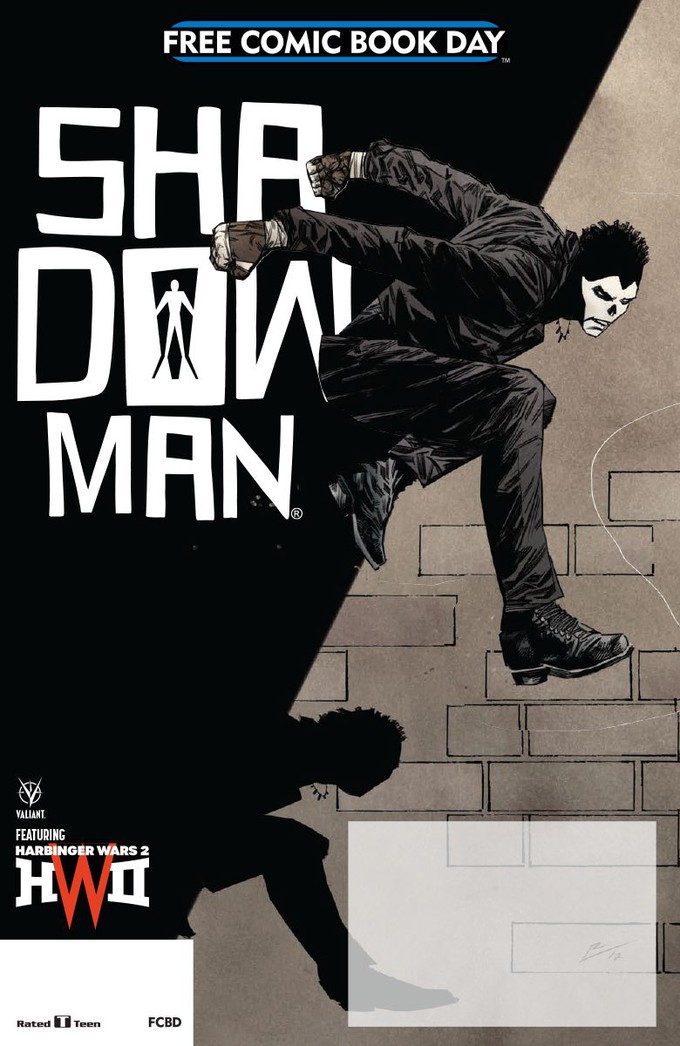 5- "SHADOWMAN" -The writer, Andy Diggle is a former editor of 2000 AD. Diggle is best known for his work on Silent Dragon, Swamp Thing, Adam Strange, Hellblazer, and The Losers at DC Comics and later for his run he did on Thunderbolts and Daredevil after he made the move to Marvel. Steven Segovia has been currently drawing Dark Wolverine for Marvel and Reign in Hell for DC Comics. The world is seamlessly brought to life with colors by Ulises Arreola.

-The story starts in the murky swamps of New Orleans as SHADOWMAN reemerges as Jack Boniface from the Deadside to reclaim his birthright… The art is perfect and the story immediately gives readers who are steeped at all in voodoo lore or the urban legends of New Orleans a feeling of legitimacy and backbone to the storytelling.

-Then in the back, "XO: MANOWAR" New York Times best-selling writer Matt Kindt team with legendary artist Ariel Olivetti to return Aric of Dacia to Earth in X-O MANOWAR –the seismic comics event of 2018 await!

Last but not least, "HARBINGER WARS 2" -for the final story we have Academy Award-nominated writer Eric Heisserer and artists Raúl Allén and Patricia Martín hurling the entire Valiant Universe into a power struggle heralding HARBINGER WARS 2!

-Well, that's my top 5 this Free Comic Book Day. If you are working on a comic project then hit me up on Twitter. Thanks for joining me comic fans, well until next time this is Mad Dashiell signing off.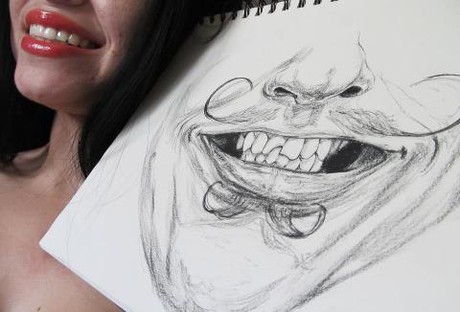 Art Credit: Dulce Brassea