George Clooney is still in the pilot seat for directing and producing with Hulu as they put their own tailspin on Joseph Heller's classic satire, CATCH-22.
Clooney was previously cast to play the master of political doublespeak Col Cathcart himself. Recent news from TheWrap, however, tells us that Clooney will be switching roles with Friday Night Lights star Kyle Chandler. Clooney will still be directing all six episodes alongside his regular production partner Grant Heslov, as well as appearing in the miniseries himself. The megastar will now be playing a smaller part as the idiocentric training manager Scheisskopf. As announced prior, Hugh Laurie has been cast as the top-ranking officer Major de Coverley, while Christopher Abbott stars as the B-25 bombardier protagonist Yossarian.

A film was originally adapted by Mike Nichols back in 1970. It was brimming with an all-star cast of Orson Welles, Alan Arkin, Bob Balaban, Martin Sheen, Martin Balsam, Marcel Dalio, Richard Benjamin, Olimpia Carlisi, Jack Gilford, Charles Grodin, Bob Newhart, Anthony Perkins, Paula Prentiss, Jon Voight, and Art Garfunkel. Catch-22 follows the hijinks of Captain John Yossarian (Christopher Abbott), a US Air Force bombardier who is mad because his own military is trying to kill him. The Army keeps increasing the number of must fly missions in order to complete their service. Yet if Yossarian makes any attempt to avoid the perilous missions he's assigned, he'll be in violation of Catch-22, a bureaucratic loophole that specifies any concern for your own safety in the face of real danger is the process of a still rational mind. A man can only be considered insane if he willingly continues to fly dangerous combat missions, however, a request to be removed from duty is evidence of sanity and therefore making him ineligible to be relieved from his duties.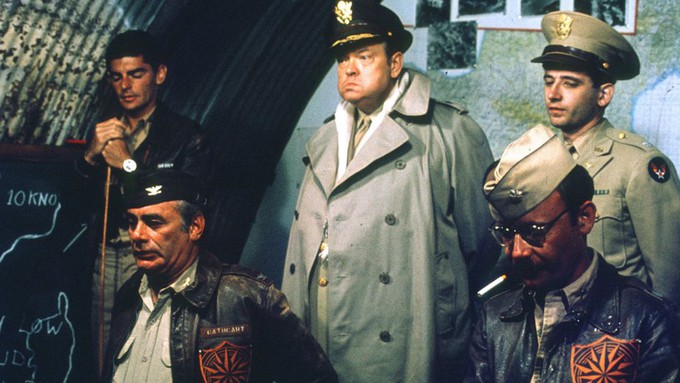 "There was only one catch and that was Catch-22, which specified that a concern for one's safety in the face of dangers that were real and immediate was the process of a rational mind," -(A line in Heller's 1961 novel)

---Worthy Note: George Clooney is also working on Netflix Watergate TV series.
---Thanks for joining me today, Mad Dashiell signing off.