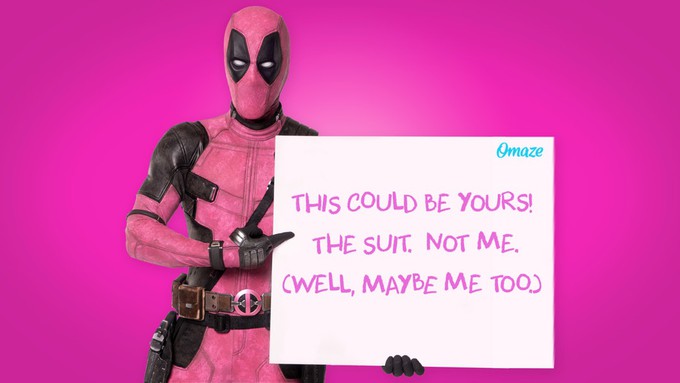 We have something a little different for you here. You could score a custom-made, pretty 'n' pink Deadpool suit. That's right, now is your chance to own a piece of film marketing history.(potentially with perspiration from Wade Wilson) Join Deadpool in sending a big'ol F-you to cancer by supporting the incredible work of LetsFCancer.






"Hey, you. Yeah, you. We're breaking the fourth wall (do websites have a fourth wall?) to tell you all about the awesome thing you just won: an official, custom-made Deadpool suit of your very own. Since Deadpool isn't like any superhero, this suit isn't just like any movie prop… it's pink and helps an awesome cause kick cancer's butt just like Deadpool does. Whether you want to rock it at the grocery store (please do that!), wear it to your wedding (please don't do that!) or give it to a friend, this exclusive piece of film history is all yours."

"LetsFCancer believes that people diagnosed with cancer, as well as their families and support network, should have equitable access to early detection, prevention, and psychosocial support. This incredible organization creates campaigns around behavior change and promotes scientifically proven routes for cancer prevention. It supports and runs programs around early detection and screening, in addition to providing psychosocial support to their community through retreats and events. And it provides the cancer community with a space to be heard, feel connected and unite both digitally and in person. LetsFCancer's not just an organization, it's a movement. Thanks for joining."


Thanks for taking a moment to share or donate if possible and thanks again for joining me, Mad Dashiell, signing off.

link to campaign here- https://www.omaze.com/experiences/deadpool-suit?utm_source=facebook.com&utm_medium=social&utm_content=Influencer&utm_campaign=experiences.deadpool-suit&utm_term=PitchSTC&oa_h=6kvtfu