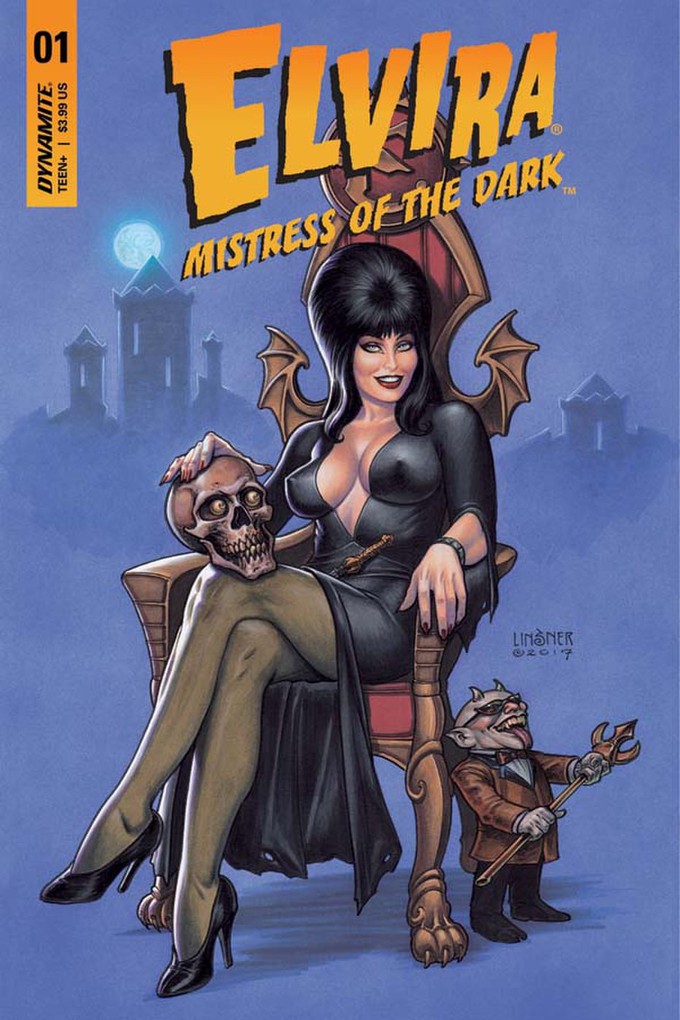 Hello all, Mad Dashiell here and thanks for joining me. Dynamite Entertainment has just announced their new partnership with one of the most iconic pop culture scream queens ever, Elvira: Mistress of the Dark. They will be starting a lineup of comics and graphic novels. New haunted trailer park tales steeped in gothic beauty with the razorblade wit to back it up. With art by Dave Acosta (Doc Savage) and writing by David Avallone (Bettie Page, Twilight Zone), Keep a lookout this July at your local comic shops for all the CHILLS, THRILLS, and double-entendres bounding out of chapter one of this four-issue miniseries!
The Mistress of the Dark has become unstuck in time in more ways than one and crashes Mary Shelley's monster weekend, embarking on a madcap journey throughout horror history, while being stalked by the most terrifying nightmare to ever walk the Earth. --No spoilers today kiddies!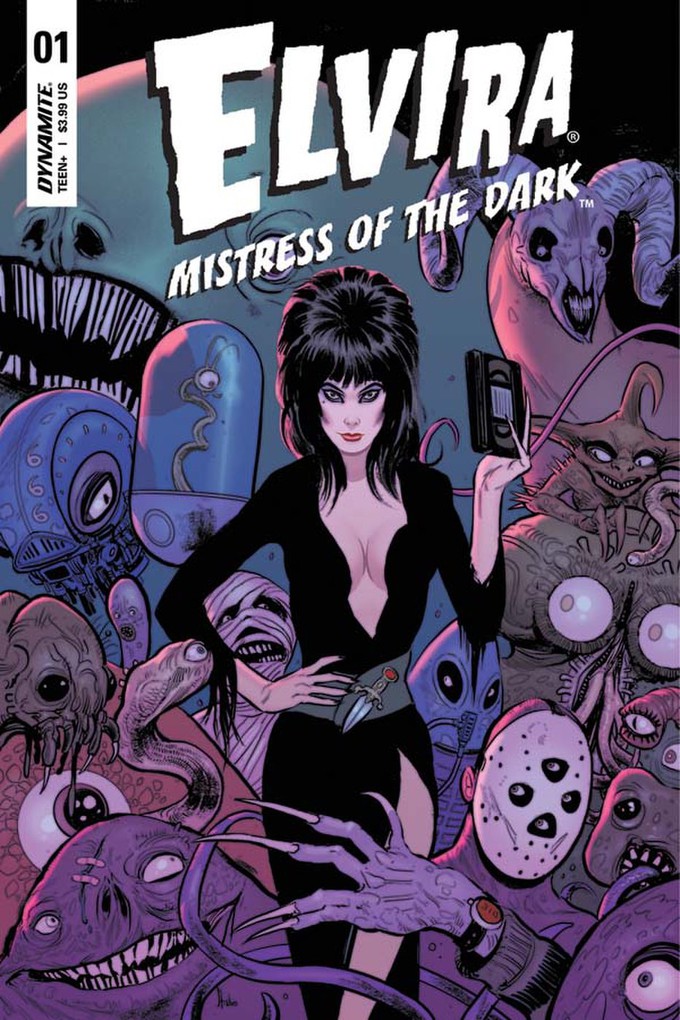 "I really want to capture the essence of what Cassandra Peterson created and bring it faithfully to the comics page," explained writer David Avallone. "The story is a horror tale (or a quartet of connected horror tales) with a nightmarish villain and danger and action… but at its center is this wise-cracking, plucky, sexy, unflappable heroine. Elvira is incredibly charming and funny and delightful and she maintains that in the face of whatever happens."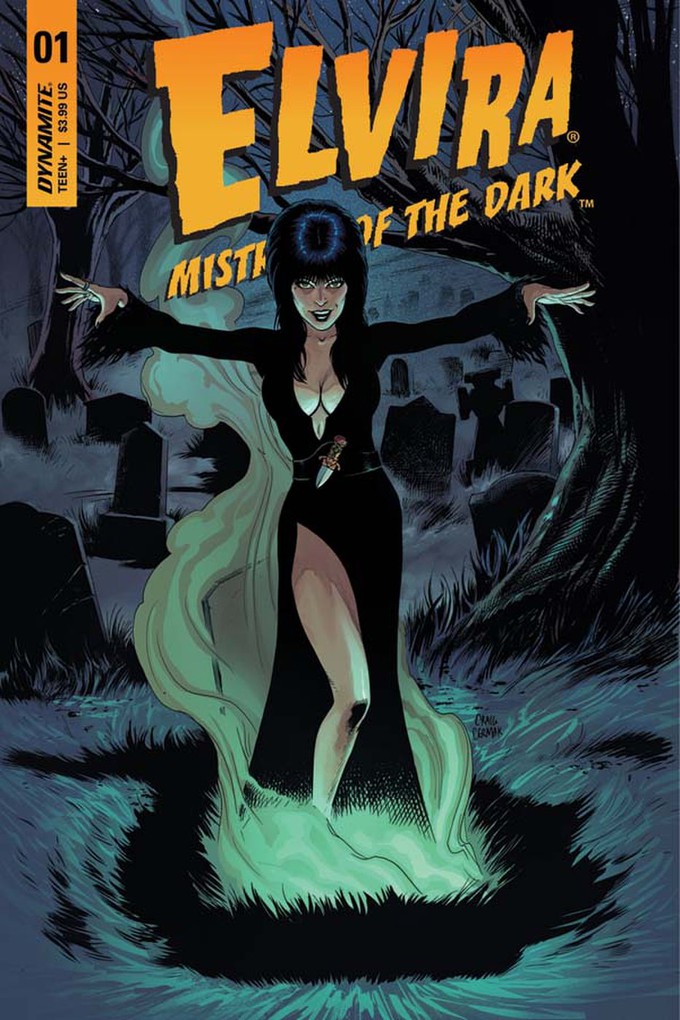 Avallone created quite a following through his known and celebrated comic art. He has a way of breathing a fresh life into pulp heroes like The Shadow and Doc Savage, taking you to another dimension with the Twilight Zone and weaving bizarre fun adventures for another iconically timeless classic beauty, Bettie Page. The project will reteam Avallone with frequent collaborator, Acosta. Together the dynamic duo of talented creators worked on many projects together including and I again credit the works --Doc Savage: Ring of Fire, Twilight Zone / The Shadow and a story in the Love is Love anthology (This project raised money for the Pulse Nightclub shooting victims.)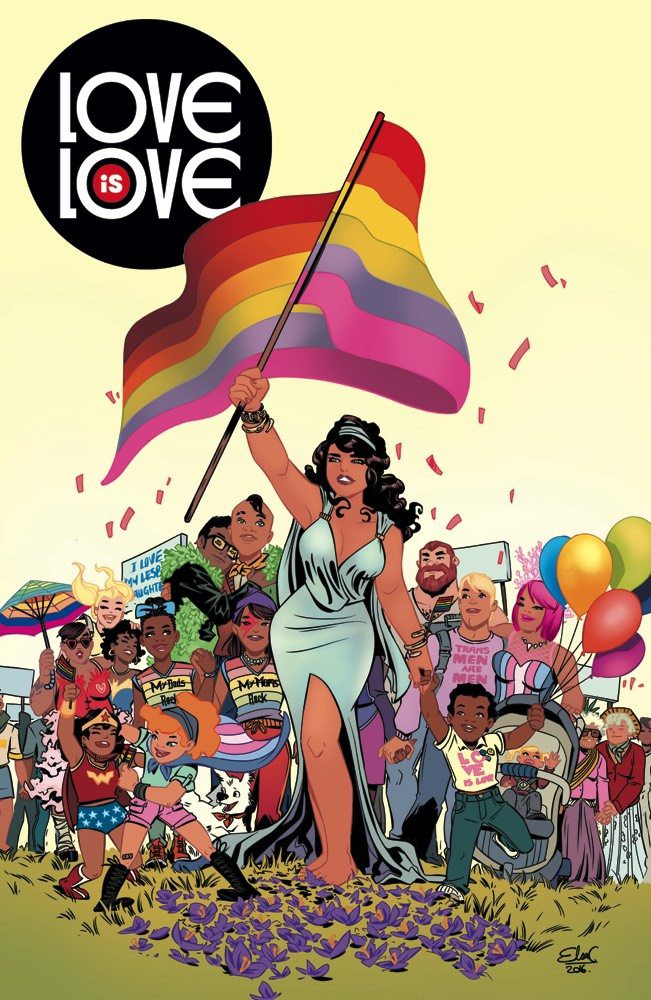 "After his work on our Bettie Page series, David has become my go-to guy in finding the narrative with properties that require an extra level in their development. And just like Bettie, David has exceeded my expectations and created something fun and dark and all meeting with Elvira's high expectations!" says Editor Joseph Rybandt "Being able to reunite David with Dave Acosta makes this an all-star creative team for one of the most iconic horror properties in existence!"

"Working with Elvira has been really exciting, and we wanted to ensure that we would execute as perfectly as possible, we needed a writer who could do just that in David Avallone." States Dynamite CEO/Publisher Nick Barrucci. "David's writing is crisp and he knows how to capture the voice of the characters he works with incredibly well. So much so, that the last series he wrote, Betty Page, we were approached by Playboy to create a story for them. I can't wait to show the fans where David takes Elvira and hew new adventures!"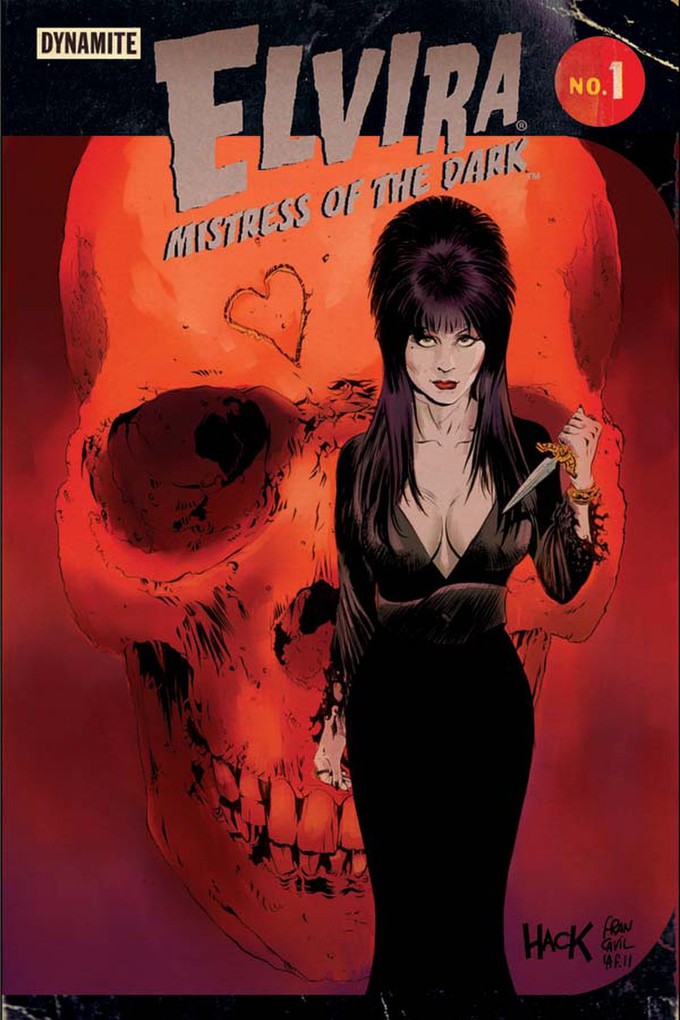 "I'm thrilled to partner with Dynamite! I've been working hand in hand with them over the past year to put together the best comic series possible. Elvira's new dark adventures continue starting this July!" Stated The Mistress of the Dark Herself – Elvira!
Elvira: Mistress of the Dark #1 has a cover by superstar artist Joseph Michael Linsner (Dawn, Vampirella: Roses for the Dead) and variant covers by J. Bone (Will Eisner's The Spirit), Kyle Strahm (Spread), Craig Cermak (Red Team) and Robert Hack (Chilling Adventures of Sabrina) with colors by Francesco Francavilla (Detective Comics). Plus, a photo variant cover featuring Elvira from the set of her classic television series. It will be sold in the May issue of Diamond Previews catalog and scheduled to ship in July of 2018. Readers are encouraged to order through their local comic retailers or if not possible --through digital platforms. Fans can follow Dynamite Entertainment's social media channels for the latest updates on Elvira: Mistress of the Dark comics and graphic novels at the link below.
--
https://www.dynamite.com/htmlfiles/
---Cassandra Peterson brought Elvira to life decades ago as star and writer of ELVIRA, MISTRESS OF THE DARK. Of all the horror host's she was the first to ever reach national syndication. Elvira emerged as one of the most outrageous characters in popular culture history while still spanning decade after decade. She reigns as 'Queen of Halloween' and in the past thirty-five years, she gathered two nationally syndicated television shows, two features (ELVIRA, MISTRESS OF THE DARK and ELVIRA'S HAUNTED HILLS), an IMAX film, she appeared in Coors and Pepsi National ad campaigns, recorded five music CDs, penned four books and licensed mountains of products action figures, guitars, booze, sodas, perfume, slot machines, the best-selling Halloween costume of all time, and while I'm endlessly digressing a couple really fun pinball machines. Well, what else can I say, you either really really love Elvira or you just missed the boat in the 80s or you have something against ample talent. My favorite memories of the old Elvira show were her 3D specials. Pretty amazing for the time as lackluster and headache-inducing as it really was. I still have one of the 3D glasses for it picked up at 7/11, anyhow thanks for joining me today, unpleasant dreams Talbackers, Mad Dashiell signing off.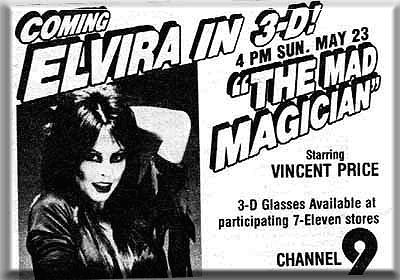 --Special Thanks to Dynamite Entertainment
[All Cover Art Credit: Dynamite Entertainment]