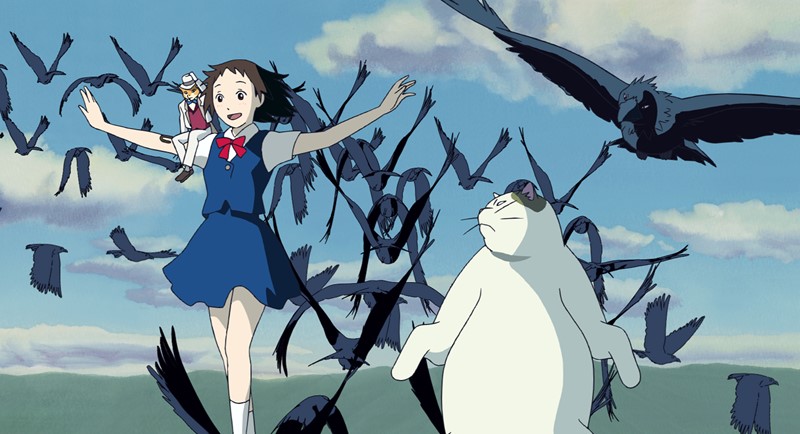 Evening, geeks.
Have you guys seen Miyazaki's WHISPER OF THE HEART? The story of that film was a slice of life tale, that involved a cat figurine called "The Baron". THE CAT RETURNS is a sort of spin-off of WHISPER OF THE HEART that feels far more like a whimsical Miyazaki story, where the cat figurine returns in its own movie, but has NOTHING else to do with WHISPER OF THE HEART
Now, THE CAT RETURNS is about a girl who finds herself slowly turning into a cat, and The Baron aids her in breaking the spell by taking her to the some kind of cat town where it is under the rule of an old scraggly cat voiced by Tim Curry! Of course it's Tim.... he loves those weird parts
While THE CAT RETURNS is in fact a Ghibli animation, it doesn't look the same as their other films as you would come to expect seeing the look of all of the others! Miyazaki didn't even direct this one, instead, it was Hiroyuki Morita! The story still carries that mystical fantasy feel that has charmed animation lovers for decades that we have known Ghibli to share with us. Go see it and have fun!
Here's the press release so you can find where to buy tickets and where to view the film!
STUDIO GHIBLI FEST 2018 Continues
with 'The Cat Returns' in
Select U.S. Cinemas April 22, 23 and 25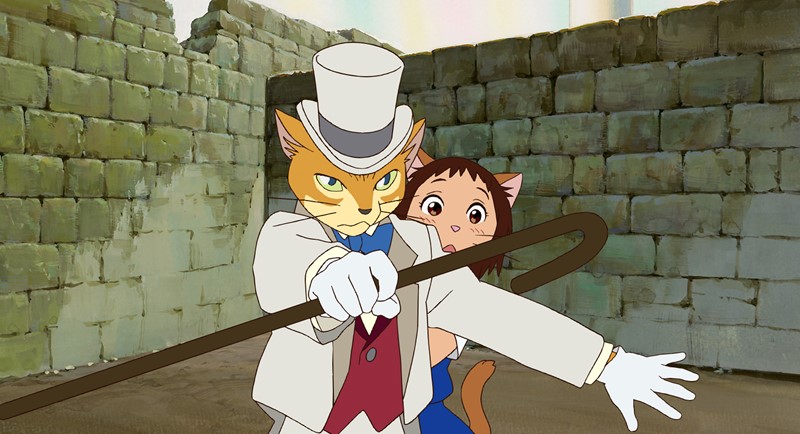 WHAT: STUDIO GHIBLI FEST, a nine film monthly series of anime classics, continues with the "The Cat Returns" from the legendary Studio Ghibli creators of "My Neighbor Totoro" and the Academy Award®-winning "Spirited Away", comes a charming and magical adventure that will delight the entire family. This special event will play in movie theaters nationwide for three days only on April 22, 23 and 25.

Haru is walking home after a dreary day of school when she spies a cat with a small gift box in its mouth crossing a busy street, and she jumps in front of traffic to save the cat from an oncoming truck. To her amazement, the cat gets up on its hind legs, brushes itself off, and thanks her very politely. But things take an even stranger turn when later than night, the King of Cats shows up at her doorstep in a feline motorcade. He showers Haru with gifts, and decrees that she shall marry the Prince and come live in the Kingdom of Cats!

WHO: Fathom Events and GKIDS

WHEN: Sunday, April 22 at 12:55 p.m. local time (English- dubbed).
Monday, April 23 at 7:00 p.m. local time (English-language subtitled).
Wednesday, April 25 at 7:00 p.m. local time (English-dubbed).

WHERE: Tickets for "The Cat Returns" can be purchased online by visiting www.FathomEvents.com or at participating theater box offices. Moviegoers throughout the U.S. will be able to enjoy these events in more than 700 select movie theaters. For a complete list of theater locations visit the Fathom Events website (theaters and participants are subject to change).
~ Big Eyes