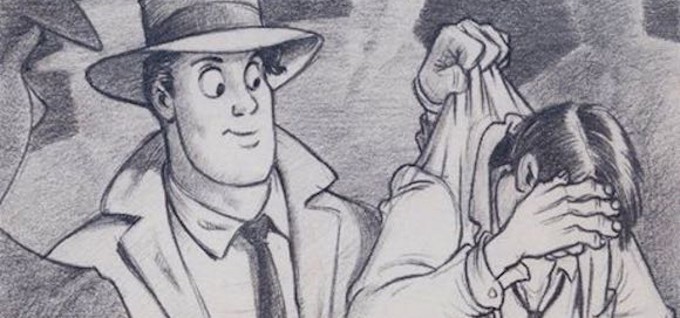 Hola Dannie aqui,
Today I stumbled upon a lost animated pencil-test for Gary Kurtz, Steven Paul Leiva and Brad Bird's 1980 "The Spirit" animated project, and man oh man it is very stylized and perfectly set in the correct era. Steven Paul Leiva is known for his work on 1992's "Stay Tuned" and "Space Jam." Gary Kurtz many know for his work producing on "American Graffiti," "STAR WARS: A New Hope", as well as "The Empire Strikes Back," "Return to Oz," and "The Dark Crystal." Brad Bird is a name many already know well in animated circles, his work on "The Iron Giant," "Ratatouille," live action "Tomorrowland," and but of course the family favorite "The Incredibles" as well as the upcoming sequel. This short little pencil test trailer is beautiful and taboo (the character of Ebony White and how that's handled, I can already hear the TalkBacks). I would love to see a feature done in this adult sultry and somewhat silly way, lost gems like this make my day! I would love to see it colored in the style of the old Max Fleischer Supermans, they still to this day are some of my favorites!

Well, folks what do you all think? I would watch it in a New York minute! Also, I am positive they would not make the character of Ebony White quite this um... let's just say racially insensitive. However, when The Spirit came out Ebony was a star character beloved by a myriad of peoples and cultures, but in this day and age we have (hopefully) evolved and could give Ebony a more mature and intellectually stimulating role.
Stay Strong, Live Good, Love Movies!
Dannie aka Pekosa Peligrosa