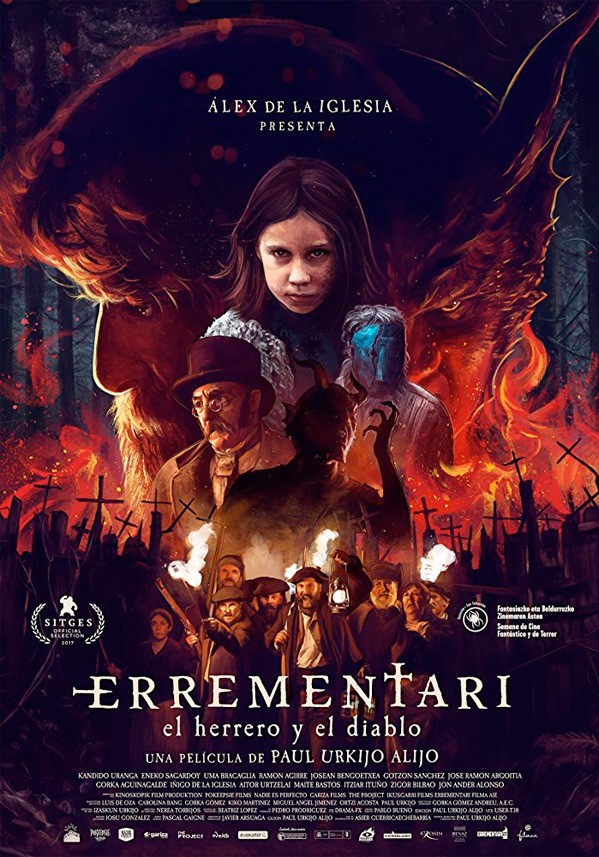 Hola Dannie aqui,
Today brought us a trailer that has me incredibly excited, the fantasy-driven Spanish horror film "Errementari: The Blacksmith and the Devil." This film is presented by the eternally kick ass Alex De La Iglesia ("El Dia de la Bestia," "Acción Mutante" "Dance with the Devil," "800 Balas," and "The Last Circus"). If you have yet to delight in Iglesia's work find it as soon as possible, he is a poetic maestro of violence and the spectrum of humanity. "Errementari: The Blacksmith and the Devil" is written and directed by Paul Urkijo Alijo who is making his feature theatrical debut with this film. Fans of Spanish short cinema may recognize from his work on short films such as "El Bosque Negro," Monsters Do Not Exist," "Jugando con la Muerte," and "Ohe Azpiko Zera." Joining Paul at the writer's table is Asier Guerricaechevarría who also has a history in television and short film. All I have to say is the trailer is impressive I speak Spanish, so the lack of subtitles was ok. I do promise to bring a subtitled version as soon as available, and to be truthful this trailer is enthralling enough to take hold of you, no matter the language barrier!
Check out the trailer and read on-
"Errementari: The Blacksmith and the Devil" will first be released in Spain this March, and unfortunately no other release dates have been set in stone. I can not wait for this one, the makeup at the end of the trailer is a beautiful piece of sculpture and I am frothing at the mouth in anticipation. Iglesia has an eye for finding and producing gems I believe I will not be let down. Stay tuned for more news on this project, I will do my best to find a subtitled version ASAP :) In the meantime-

Stay Strong, Live Good, Love Movies!
Dannie aka PeKosa Peligrosa