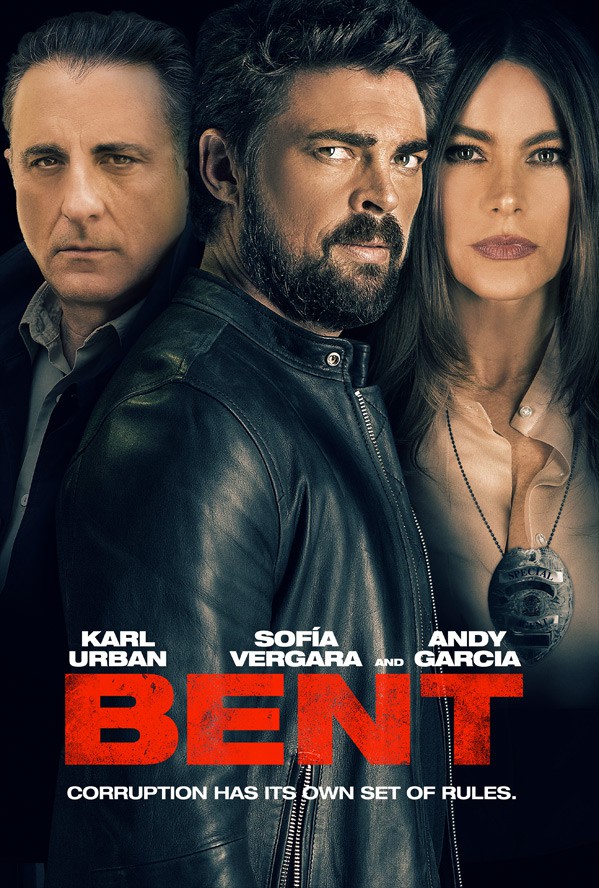 Hola Dannie aqui,
Today Lionsgate debuted a trailer for the film "Bent" a thrilling action crime film from director by Bobby Moresco ("10th & Wolf" and "One Eyed King"). "Bent" is based on the novel titled "Deadly Codes" by J.P. O'Donnell and Moresco penned the screenplay this is his 11th project he is credited as a writer for.
The film stars Karl Urban ("Star Trek," "The Lord of the Rings," and "Dredd"), Sofia Vergara (televisions hit show "Modern Family," ), Vincent Spano ("ALIVE" and "Rumble Fish"), John Finn ("Glory," "Catch Me If You Can," and "True Crime"), Grace Byers(televisions music driven drama "EMPIRE"), Tonya Cornelisse ("Abigail" and "Zombie Honeymoon"), Patrick Brennan ("Twilight Saga: Breaking Dawn" and T.V.'s "Agents of S.H.I.E.L.D."), and the always great Andy Garcia ("The Untouchables," "Stand and Deliver," "Black Rain," "The Godfather Part III," "Dead Again," and "Things to Do in Denver When You're Dead"). Considering the cast I will see the film however, the trailer did not make me eager, here is the trailer for you all to check out and let us know what you think!? Read on for a bit more information-

"Bent" comes out in select theatres and VOD on March 9th, I look forward to seeing anything with Andy Garcia and Bones, oops I mean Karl Urban!
Stay Strong, Live Good, Love Movies!
Dannie aka Pekosa Peligrosa