This fan-made SOLO trailer deserves a Han, but fails to stick the Lando!
Hey folks, Precious Roy here with a fan-made trailer (faked footage) for SOLO!
Fan made trailers are a mixed bag; they can be so convincing at times that they can actually confuse viewers, which is kind of the intention. That's why it brought a chuckle when I saw this SOLO fake trailer in the AICN news chat today. While most of it is a well-done wildly eclectic remix of the things we kind of expect a SOLO movie to be, there are a few moments that I wish would be a part of the Lucasfilm production.
Speaking of the actual film… it's due in May and we still don't have a trailer. Do you remember when those posters started going up in cineplexes, and some of us (me included) were expecting to see the trailer on Episode VIII? I take this as the fandom going delightfully stir-crazy and producing something fun.
With the recently announced reshoots of the reshoots, it's a potentially worrisome film. I take the reshoots to mean that they are willing to spend the money to get the feel and flow of the film right, rather than "everything we've shot is terrible and we need to go back to script."
There are parts of this trailer I really dig. I hated Dash Rendar (and always will), but since he's canon, it's actually fun to see him turn up here just long enough to confirm he is crawling around that universe (but not long enough to ruin everything by speaking).
I certainly don't speak for any of the Star Wars fandom other than myself, but I think the bar for Alden Ehrenreich was just set pretty high by that "I can explain" line delivery. Granted, later on, the Han looks off, and the Lando is sort of like what it might have looked like if Avery Brooks had taken over the role of Lando in Episode VII; much too muscular and intense to be the smooth, sleazy wheeler-dealer we love from V and VI.
But it's fun, and, yeah—I want them to hurry up and get a trailer up so we can see what's what… but I concede that I'd rather they just reshoot until they have exactly what they need. Today, Lucasfilm released this promo sheet that reveals some cool news about the plot, that actually gives me a little more hope for this venture; that's a story I'd like to see.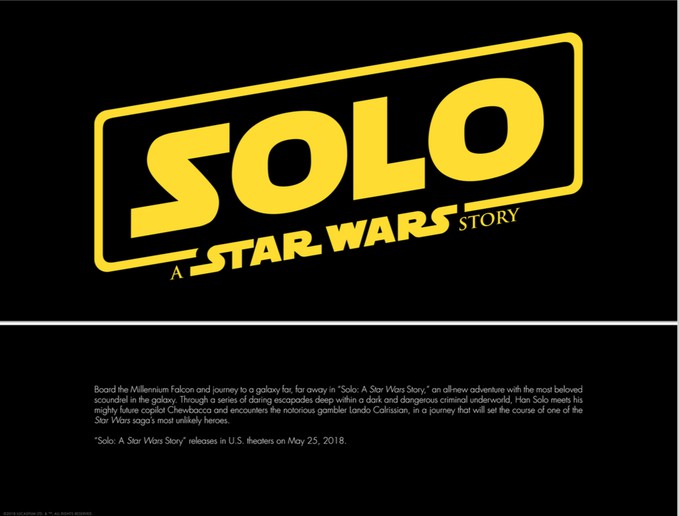 Precious Roy OUT!