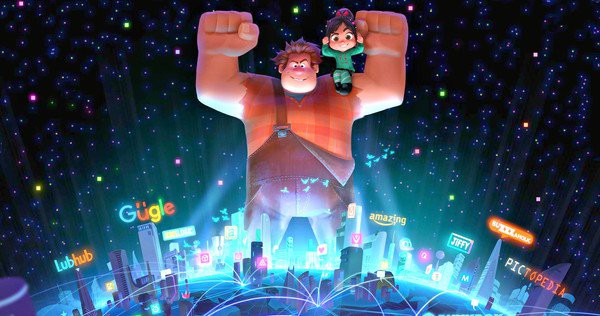 Heya geeks, animation geekette Big Eyes checking in!
I can't believe I almost missed this one! Disney dropped a teaser for "WRECK IT RALPH 2: RALPH BREAKS THE INTERNET" yesterday, and I'm pumped! Upon seeing it I opted to rewatch the original "Wreck-It Ralph" and further put off watching the newest season of "Black Mirror" (Don't worry, I'll get to it. Just wasn't in the mood to be emotionally ravaged this evening, as "Black Mirror" can do.)
I LOVED the original "Wreck it Ralph". The cast was great; and the movie told a moving story, using well known and original video game characters, about belonging and taking fate into your own hands. The game that Ralph was from, "Fix-it Felix Jr.", was made into a real game on the promotional website back when it was released. It was actually pretty fun felt like a legit old school arcade game. It's still actually on the Disney webpage if you want to check it out! Unfortunately they don't still have the "Sugar Rush" game on there with it. Maybe Nintendo had a problem with the similarity of it to "Mario Kart".
As per usual in a teaser, we don't get very much about the film other than it's coming out later this year. The promotional poster is more informative, with amusing imagery that references real internet giants. I wonder what the appeal for "RALPH BREAKS THE INTERNET" will be for the sequel. In the first we knew that we were going to see familiar video game characters. Since Ralph enters the internet this time around, will we see memes? Hopefully we'll find out more soon in a full trailer!
"RALPH BREAKS THE INTERNET" is set to be released November 21, 2018!
~Big Eyes