With the coming of a new Star Wars film, the cinematic universe takes on a crackling excitement that is hard to ignore. Many of my fellow cinephiles are huge fans of the franchise, and anticipate each new film with the fervor of a child awaiting Christmas morning. My biggest issue with this is that few critics are truly objective when it comes to the actual films, as die-hard Star Wars fans will even defend the deplorable Episodes I-III. Due to my personal detachment with the lore and franchise, I promise to offer the closest I can get to an objective review of the latest installment, Star Wars: The Last Jedi, directed by Rian Johnson. And I shall do so with no spoilers, as I know the beauty of discovering a beloved film first hand.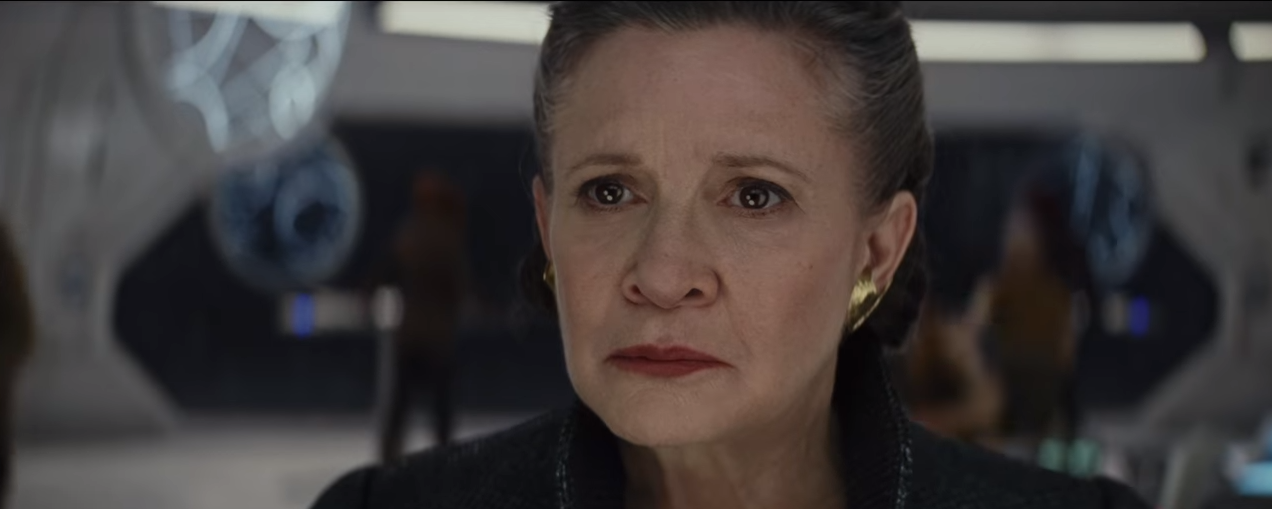 Let me first say that this is a great film. It's exciting, interesting, and a perfect example of a solid science fiction fantasy. This may seem like a "duh" kind of way to describe a Star Wars film, but I disagree. Just because you grow up with iconic characters, doesn't mean you should ignore that this film must have the basics down to be good. As much as you like Chewbacca, using him gratuitously in certain scenes just to have him in the film is a fault, and in The Last Jedi, this is exactly the case. He doesn't really belong, and you'll get a lot of these types of easy-gimmes in the film. And while I say this with a negative slant, I also give merit to the film as a whole. If the film wasn't exciting, interesting, and a solid science fiction fantasy, gratuitous Easter eggs and references, clearly interjected for the audience's sake would not be forgivable. But the movie is really good, so it can slide.
Technically, the movie stands on the massive talent and resources that guarantee it to be a commercial success. A lot of money went into making it beautiful, with state-of-the-art special effects and wonderful sound design. We are treated to a familiar soundtrack as John Williams continues to remix his original themes to match the current installment. The score is as beautiful as it always was, no doubt about that.

The Last Jedi is a lot of the same ilk as its predecessors and it works on most levels. We have the same tropes that the world has come to know and love. Wise master Jedis, eager young students, inherent daddy issues, The Force, allies, traitors, and plenty of creatures that help or hinder along our adventure. Oh, and lots of battle scenes involving speedy vehicles with large exploding ships and last-minute savior moments. It's big fun and even if you see it coming, you'll have a great time. Enjoy the ride and know that you're probably going to have a similar experience in the next one. Beloved characters are honored and treated to grand destinies. Committed fans will be pleased with the splendor of the saga, as much as casual viewers will appreciate the spectacle and robust story-telling.
The movie also touts a feminist message as the filmmakers make it a point to have a lot of strong and capable women in positions of power. This may be a response to erase the misogyny of the original films, where a bikini-clad Leia (Carrie Fisher) spends quite a bit of screen time as a chained-up party favor, and is never given an opportunity to develop her inherited Jedi potential. Or it might just be staying on trend with the current cultural movement to empower women in media. Considering the huge crowds that the film will draw, it's nice to see this message broadcast to the masses. Leia is a powerful force in this film, manifesting as an apt and effective leader of the rebellion. Rey (Daisy Ridley) continues to be a staunch and dynamic figure and we meet two new characters, Rose (Kelly Marie Tran) and Vice Admiral Amilyn Holdo (Laura Dern), who rise to hero status. The boys take second stage in The Last Jedi, unless they're villains. Only one female villain exists, and she gets minimal screen time.

My biggest criticism of The Last Jedi is that it's all too familiar. The film stands on the fact that you want to see certain things to fulfill your geeky fantasies and it delivers, in loads. This to me is a criticism as much as it is a source of wonder. As a global community, Star Wars stands as inarguably a "bigger than Jesus" cultural phenomenon. As I watched other critics file into the theater, I instantly noticed two things. One, they were giddy. To see the biggest nay-sayers in the Austin film critic community literally vibrating with excitement was unique. Second, the theater was FULL. Monday, press-only, daytime screenings like this one are usually filled with thirty to fiftyish people, including their plus ones. Folks took time off work to make it to this screening, an honor that few films receive. This creates an interesting sociological quirk that I find both fascinating and irritating. It means that a lot of what you'll read about the film will have an epic bias. And I guess that's okay because film critique by definition, is biased. It's an opinion after all. The movie would stand on its own two feet even if it didn't have the clout of it's cinematic inheritance, although it would probably be much shorter with a lot of those aforementioned Easter egg moments cut out.
Full of exciting action and crackling light sabers, Star Wars: The Last Jedi, was built to please and does so without missing a beat. Pulling from decades of cherished mythos and treasured characters, it carries the weight of its pop-culture gravitas with grace. I'd tell you to check it out, but you probably already bought tickets a month ago, so instead I'll say, enjoy the show and be respectful to your fellow audience members. I know you'll have a good time.