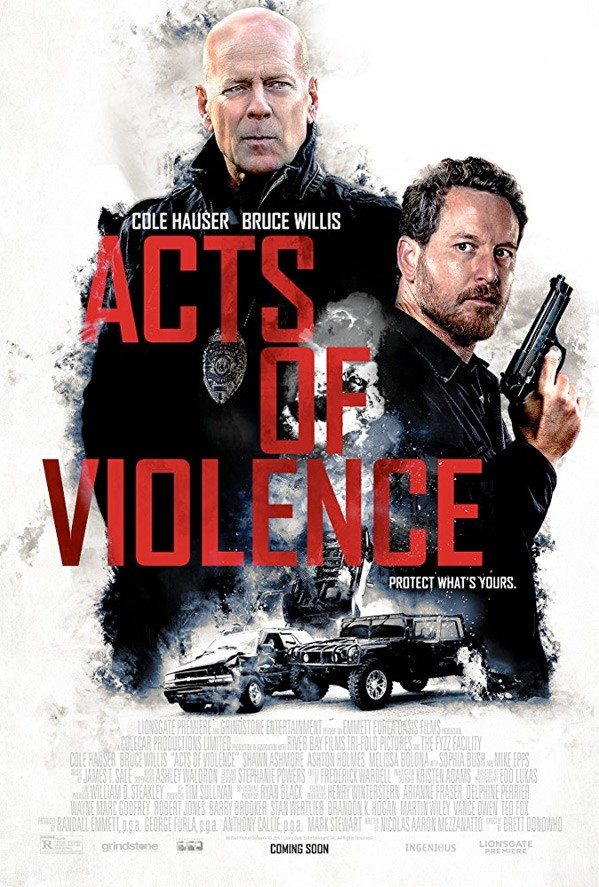 Hola Dannie aqui,
Today Lionsgate released the first trailer for "Acts of Violence" set to come out January 12th, 2018. The film is starring Bruce Willis as a lead detective set to investigate the abduction of a woman and her possibly being used in human trafficking, joining Bruce onboard is actor Ashton Holmes ("A History of Violence" and "Smart People"), as well as actor Shawn Ashmore that is right Iceman/Bobby Drake from the many X-Men projects! Also, starring is actor Cole Hauser who many remember from the films "Dazed and Confused", "Higher Learning", and "Good Will Hunting" alongside them set in the role of the villain Max Livingston is actor Mike Epps ("Next Friday," "Friday After Next" and "The Hangover" 1 and 3).
Check out the trailer!

I hope this movie is good, but in all honesty, this trailer is umm, forgettable, and the music/sound editing is annoying. I wish they would have concentrated a little more on giving us better character content in the trailer, this being the first trailer released, hopefully, the next trailer will be superior. However, the actors involved all tend to put out great performances so the trailer might just not be doing them or the subject matter justice. Fingers crossed.
Stay Strong, Live Good, Love Movies!
Dannie aka Pekosa Peligrosa