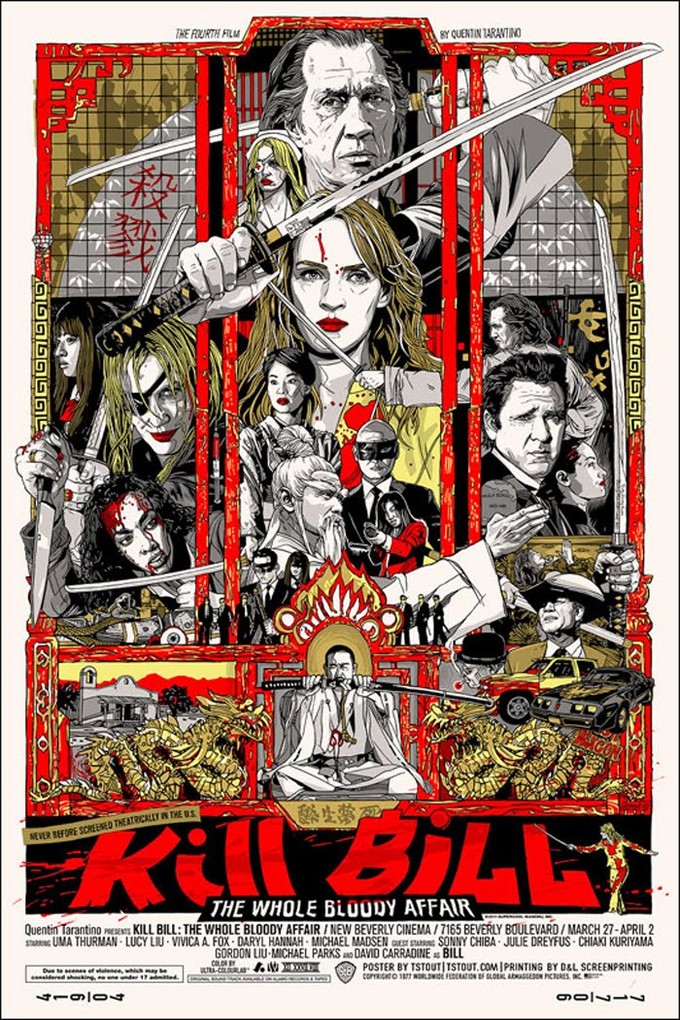 The way I see it, I've never really seen KILL BILL. The film was shot as a 4-hour epic, but the Weinsteins balked at releasing a film with such a massive runtime (and were eventually vindicated by the commercial failure of GRINDHOUSE), and split the film up into two halves: one where The Bride faces off against O-Ren Ishii and Vernita Green (though not in that order), and one where she takes on Budd, Elle Driver, and finally, Bill. For a myriad of reasons, the Weinsteins and Tarantino have held off on releasing THE WHOLE BLOODY AFFAIR to mass audiences, save for a few one-off screenings at the New Beverly back in '11. We keep hearing that it's coming, maybe with a longer anime section, but Comic-Con gave QT a venue to give us an update on its eventual release.
During the panel for the DJANGO/ZORRO crossover comic, Quentin said that he's been in discussions with the Brothers Weinstein to release THE WHOLE BLOODY AFFAIR sometime next year. He confirmed that I.G., who did the animation for KILL BILL VOL. 1, has completed all-new scenes for the cut, including O-Ren's face-off with the long-haired badass who took part in the murder of her parents. The release would ostensibly be on Blu-Ray, but he also alludes to a possible "limited theatrical engagement", which would be fitting for us fans who've waited a decade-plus for the full version of the auteur's original vision.
In the maestro's own words:
"What's going on with that is originally back when KILL BILL was going to be one movie, I wrote an even longer anime sequence. So you see in the movie [O-Ren] kill her boss but then there was that long hair guy… The big sequence was her fighting that guy. I.G. [The Japanese Anime Studio] who did GHOST IN THE SHELL said we can't do that and finish it in time for your thing. And [plus] you can't have a thirty-minute piece in your movie. I said okay. It was my favorite part but it was the part you could drop. So we dropped it and then later when I.G. heard we were talking about doing KILL BILL: THE WHOLE BLOODY AFFIAR — they still had the script so without even being commissioned, they just did it and paid for it themselves. It's really terrific. Anyway, The Weinstein Company and myself were talking about actually coming out with it sometime, not before the year is out, but within the next year with limited theatrical engagement as well."
Fitting that this update comes out right before another long-awaited release, the deleted footage from TWIN PEAKS: FIRE WALK WITH ME that's been compiled into a 90-minute feature film of its own. THE WHOLE BLOODY AFFAIR has been something us fanboys/girls have been panting over for since Dubya's first term. Hopefully, these talks Tarantino refers to are going amazingly well, and we'll get a full theatrical rollout for the full version of KILL BILL sometime in 2015.
And now for one of the best teasers I've ever seen (Tarantino yelling "Action!" gets me every time).
-Vincent Kim-Zahedi
"Papa Vinyard"
vincentzahedi@gmail.com
Twitter