When America's Navy SEALs are wiped out trying to penetrate the island lair of a deadly despot who has captured one of the world's top nuclear scientists, it becomes clear that there is no such thing as the right man for the job and that this is a mission so impossible that only women can handle it. The only way in: some of the world's deadliest female operatives must pose as high-class call-girls shipped in by private plane to satisfy a dictator–and instead save the scientist and the day.
…is Deadline's description for THE EXPENDABELLES, long positioned as a female version of THE EXPENDABLES.
The site also reveals that Robert Luketic will direct the picture, which is scripted by Kirsten Smith and Karen McCullah. The trio previously directed and scripted (respectively) LEGALLY BLONDE back in 2001.
Much has been rumored about which female badasses might appear in this picture - at one point Meryl Streep, Cameron Diaz and Milla Jovovich were in the mix. Word is that the casting 'short list' is only now narrowing - thus it may not be too much longer before we get a clearer sense of who will star.
Who should the contenders be? Katie Sackhoff? Sigourney Weaver? Michelle Rodriguez? Angelina Jolie? Who might not jump to mind at first consideration, but be a worthy ass kicker all the same? Angela Bassett? Can a movie like this be made without some form of appearance by Tina Turner, Sybil Danning, or Angie Dickinson (not necessarily in an 'action' capacity…maybe as mentors or something?)
This fan art has some fun notions...it originates HERE.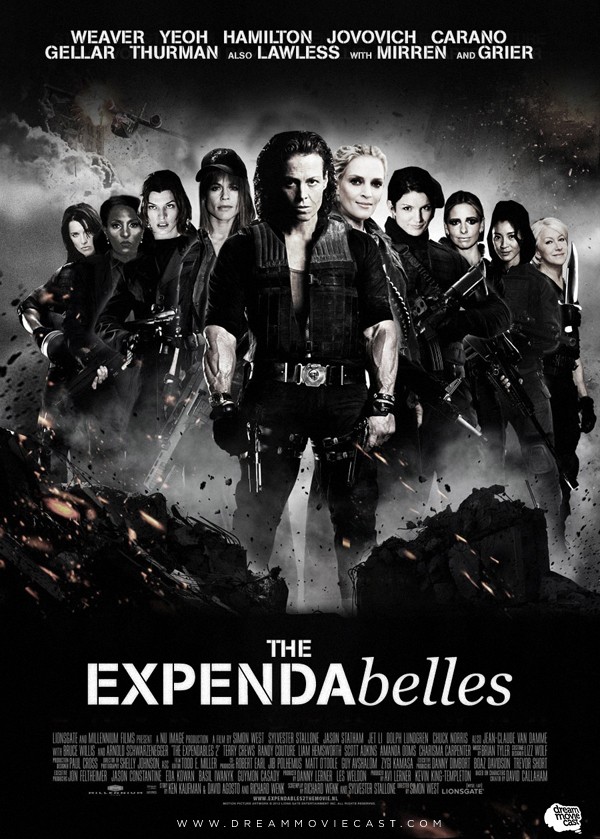 Discuss!
—————-
Glen Oliver
"Merrick"
- e-mail
- Twitter
- Google +