Papa Vinyard here, now here's a little somethin' for ya...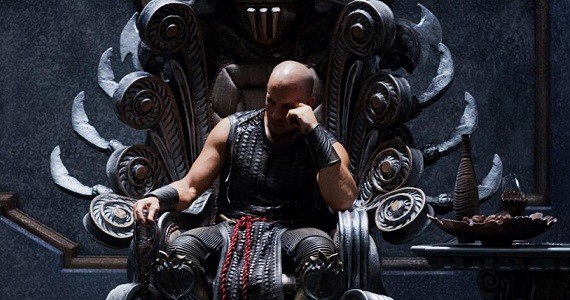 Though it came at the tail end of a brutal summer that featured bombs starring Will Smith, Johnny Depp, and Jeff Bridges, Vin Diesel's RIDDICK did pretty well for itself, scoring just under $100 million on a 38 mil budget (not including marketing). Now, the DVD is apparently selling well enough (and with good cause…the movie held up nice for me on second viewing) that Universal wants more RIDDICK.
Vin announced this himself on his ever-famous Facebook page, along with video of him dancing around to Katy Perry and Beyonce. His exact words were:
Universal just called me and told me that RIDDICK is number one on the DVD charts. There's no way in the world RIDDICK would have been made without you guys. You know that. And you guys have been a part of our page since 2012 and remember how arduous a road it was to get the movie made, and to make it rated R, and to do it with such a low budget. It's a win for all of us and I really, really, really thank you so much. Yeah, I'm kind of excited, and of course, Universal's also saying that they want to develop the next one!
Of course, this is all very unofficial stuff, and it took 9 years for RIDDICK to get made, so God knows how long a fourth movie will take, but it seems like there's evident interest on the studio's part. The ending of RIDDICK certainly left the door open for more films, especially the unrated director's cut (which also helps flesh out the backstory significantly), so it's just a matter of whether the financial investment is sound, and it would seem like Uni certainly thinks it is.
Since DISTRICT 9 showed how possible it is, I've been all onboard the idea of studios making mid-budget, hard-R genre movies and allowing their directors full reign to go the tote and make something striking and memorable. RIDDICK was a great example of such a movie, and I'm hoping its success inspires Universal not only to greenlight more adventures of Richard B. Riddick, but also to keep making similar films with that same strategy.
What do you guys think? More RIDDICK, or was three movies quite enough?
-Vincent Zahedi
"Papa Vinyard"
vincentzahedi@gmail.com
Follow Me On Twitter